Reid Neurology Associates

Neurology
Neurology is the branch of medicine that deals with the anatomy, functions, and organic disorders of the nerves and the nervous system.
The nervous system is a complex, sophisticated system that regulates and coordinates body activities. It has two major divisions:
Central nervous system: the brain and spinal cord
Peripheral nervous system: all other neural elements, such as eyes, ears, skin, and other "sensory receptors"
Some of the conditions that neurologists may treat include:
Headache disorders
Seizure disorders, such as epilepsy
Movement disorders, such as Parkinson's disease
Neurodegenerative disorders, such as Alzheimer's disease or Lou Gehrig's disease (ALS)
Neurologists do not perform surgery. If a patient requires surgery, they will be referred to a neurosurgeon.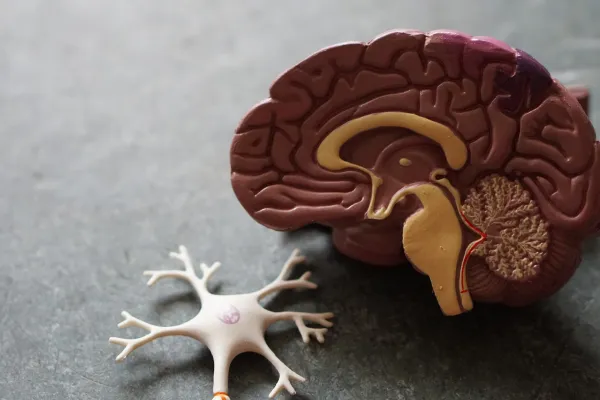 Neurodiagnostics Electromyography (EMG) Testing
Reid Neurology Associates not only has skilled technicians and practitioners who can diagnose conditions via electromyography but also a group of board-certified neurologists who can further evaluate and treat neurological conditions that are discovered using these studies. If you have questions about the diagnosis or treatment of a neurologic condition, please contact us at (765) 939-7711.
What is electromyography?
Electromyography (EMG) is a test used to assess the health of the peripheral nervous system -- the system that controls our voluntary and involuntary movements. The study determines the electrical activity of a nerve by measuring the speed and strength of signals between two or more points along the pathway of the nerve.
The needle electromyography exam records electrical activity of a muscle by inserting a needle electrode directly into the muscle. A nerve conduction study uses surface electrodes to measure the speed and strength of signals traveling between two or more points.
What conditions can EMG be used to diagnose?
EMG helps with the evaluation of symptoms including weakness, numbness, and neuropathic pain that might be caused by the peripheral nervous system. Neurological conditions that can be diagnosed via EMG include:

Polyneuropathy (i.e. diabetic neuropathy, along with inflammatory neuropathies such as Guillain-Barre syndrome and CIDP)
Mononeuropathies such as carpal tunnel syndrome or cubital tunnel syndrome in the upper extremity and peroneal neuropathy in the lower extremity
Radiculopathy originating from the cervical and lumbar spine
Plexopathies in the upper and lower extremities
Disorders of the neuromuscular junction including myasthenia gravis
Motor neuron disease such as ALS
Myopathy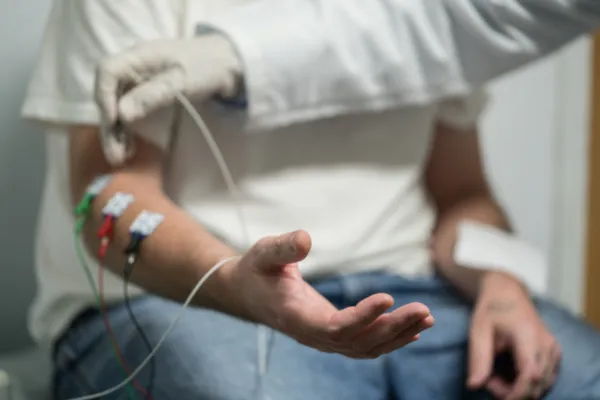 Patient feedback
Patient review, March 2022
Reid Neurology
Dr. Gogginsis incredible, he is kind, caring & he listens if I have an issue with myhealth, he has always been so helpful & informative with any questions Ihave.
Dr. Goggins
Dr. Goggins grew up in Linton, IN (near Terre Haute), and has a very interesting background. He has experience as a financial representative, and insurance salesman, Sales, direct patient nursing care, and became the resident physician at Vanderbilt University Medical Center.

Dr. McMillion
Dr. McMillion worked as a neurologist for the U.S. Army for five years, serving in South Korea, Afghanistan and Honolulu. He is glad to be back seeing patients in his home state and close to Selma, IN, where he grew up.

Dr. Raynor
Dr. Raynor is an Indiana native and is also an adjunct clinical professor of neurology at the Indiana University School of Medicine. He brings with him a wide variety of academic research and teaching experience.

Reid Health offers a Stroke Support Group. Click here for the calendar and RSVP link.
Cerebrovascular disease
lschemic stroke
Hemorrhagic stroke
Cerebral aneurysms
Arteriovenous malformations
Cavernous malformations
Movement disorders
Parkinson's disease
Essential tremor
Cervical dystonia
Focal dystonia
Ataxia
Chorea
Myoclonus
Epilepsy and seizures
Focal motor seizures
Complex partial seizures
Tonic-clonic seizures
Myoclonic seizures
Atonic seizures
Disorders of the peripheral nervous system and neuromuscular junction
Plexopathies such as brachial plexopathy and lumbosacral plexopathy
Polyneuropathies such as Guillain-Barre syndrome, chronic inflammatory demyelinating polyneuropathy and motor neuron disease
Mononeuropathies such as carpal and cubital tunnel syndrome
Neuromuscular junction disorder such as myasthenia gravis and Lambert-Eaton syndrome
Neurodegenerative disorders and dementias
Alzheimer's disease
Vascular dementia
Lewy body disease
Huntington's disease
Frontotemporal dementia
Primary progressive aphasia
Autoimmune and inflammatory encephalopathies
Demyelinating disorders
Relapsing remitting multiple sclerosis
Primary progressive multiple sclerosis
Secondary progressive multiple sclerosis
Neuromyelitis optica spectrum disorder
Neurodiagnostic tests and other procedures
Adult and pediatric electroencephalography (EEG)
Adult electromyography and nerve conduction studies (EMG/NCS)
Botox for post stroke spasticity, dystonia, hemifacial spasm & chronic migraines
Nationally recognized stroke care
Reid Health has been recognized by the American Heart Association, receiving the organization's Gold Plus Get With The Guidelines® - Stroke quality achievement award for its commitment to ensuring stroke patients receive the most appropriate treatment according to nationally recognized, research-based guidelines, ultimately leading to more lives saved and reduced disability.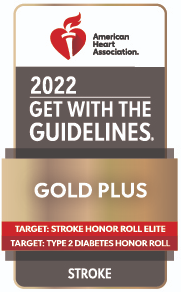 Stroke is the No. 5 cause of death and a leading cause of disability in the country. A stroke occurs when a blood vessel that carries oxygen and nutrients to the brain is either blocked by a clot or bursts. When that happens, part of the brain cannot get the blood and oxygen it needs, so brain cells die. Early stroke detection and treatment are key to improving survival, minimizing disability, and accelerating recovery times.

Get With The Guidelines - Stroke is an in-hospital program for improving stroke care by promoting consistent adherence to the latest research- and evidence-based guidelines, which can minimize the long-term effects of a stroke and even prevent death.

Reid also has received the American Heart Association's Target: Stroke Honor Roll EliteSM award. To qualify, hospitals must meet specific criteria that reduce the time between an eligible patient's arrival at the hospital and treatment with the clot-buster alteplase.
Additionally, Reid has received the association's Target: Type 2 Diabetes Honor Roll award. The recognition aims to ensure patients with Type 2 diabetes, who might be at higher risk for complications, receive the most up-to-date, evidence-based care when hospitalized due to stroke.
Rock Steady Boxing
Rock Steady Boxing is a non-contact boxing program that was developed to improve the quality of life for those who have been diagnosed with Parkinson's disease. The classes are designed to accommodate individuals of all fitness levels and no prior boxing experience is required.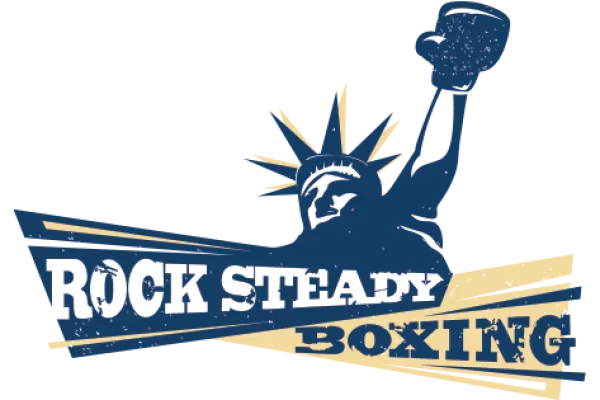 1050 Reid Parkway Suite 210
Richmond,
IN
47374
Hours
Monday: 8am - 4:30pm
Tuesday: 8am - 4:30pm
Wednesday: 8am - 4:30pm
Thursday: 8am - 4:30pm
Friday: 8am - 4:30pm