Reid Health Interior Maps
Lower Level
The lower level of the hospital includes our Pharmacy, Kitchen and Biomed/Engineering areas. The Reid Pharmacy serves Reid patients in the hospital, emergency patients, the Reid team and volunteers. The pharmacy is a short walk from the main inpatient tower elevators. Separate drop-off and pick-up windows minimize waiting.
The Lingle Hall and Auditorium is available to the community for specific health-related events. State-of-the-art audiovisual equipment allows projection into both the auditorium and hall when necessary. For more information, contact the Reid Innovation Center at (765) 983-3094.
1st Floor
In addition to the grand fireplace and "Dreamworks" cloud sculpture suspended over our main lobby, the first floor also includes the Reid Cancer Center, Breast Center, Outpatient Lab Services, Occupational Medicine, Outpatient and Inpatient Radiology, Administrative offices, Human Resources, the Ginkgo Boutique, Espresso Bar, Café at Twelve Hundred, Occupational Medicine and several classrooms and conference rooms. The Cancer Center has its own convenient dedicated entrance to the north, with outpatient lab, radiology, the Breast Center and the main concourse readily accessible from the main entrance.
2nd Floor
The second floor includes inpatient and outpatient surgery, Critical Care, the Golay Chapel, varied services that are part of the Heart & Vascular Center, and massage therapy.  The Golay Chapel is available to anyone and is open 24 hours a day.
3rd Floor
The third floor is home to the Family Birthing Center and the specialized Acute Rehabilitation Unit. The birthing unit offers home-like environment with its labor/delivery/recovery and postpartum rooms and an extensive electronic security system to protect our newborns.
4th Floor
The fourth floor includes two nursing units. Our private rooms are equipped with a patient education system that allows patients and their visitors to enjoy television, Internet and email access, movies on demand, games, gift shop use and meal ordering.
5th Floor
The fifth floor is also made up solely of patient rooms. Every unit has dedicated family areas. And our rooms include sofas for visitors that fold out into a bed for overnight accommodations.
6th Floor
The sixth floor includes three Psychiatric units – Gero, Outpatient and Adult Psych. The views from patient rooms on the upper floor "oasis" areas are part of the healing environment.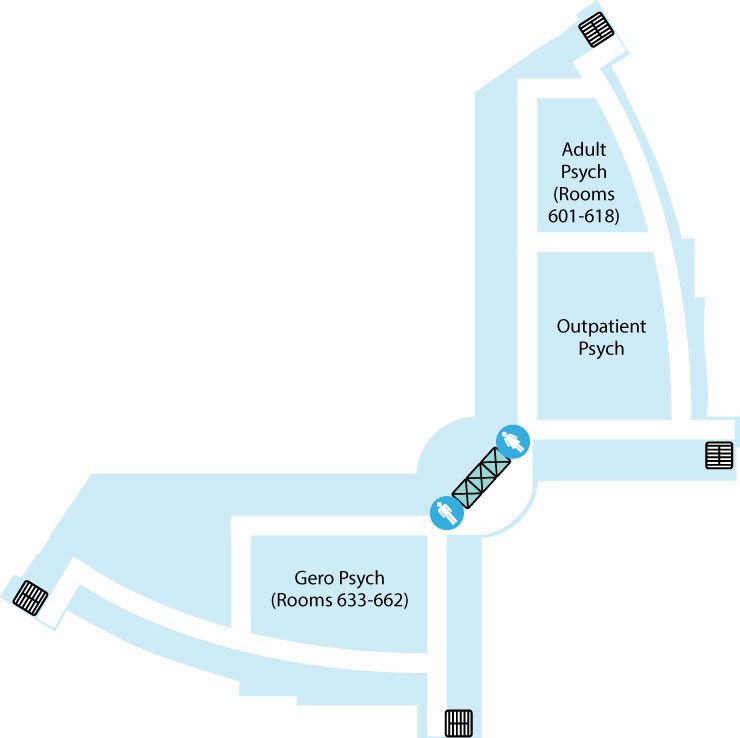 1st Floor
Richmond Rheumatology Center
General Surgeons
Central Indiana Orthopedics
Reid Health Wellness
Pulmonary and GI Medicine
2nd Floor
Reid Neurology Associates
Reid OB/GYN
Reid Infectious Disease
Reid Pulmonary Care
Center for Pain Management
3rd Floor
Urological Care
Reid Endocrinology Center
Diabetes and Nutrition Education
Reid EAP