School of Radiologic Technology
School of Radiologic Technology
A career in Radiologic Sciences
Radiologic Science is a profession combining advanced technology and human compassion. Technologists use their knowledge of physics and human anatomy and physiology to create permanent medical images. This is a profession requiring dependability, maturity, and a caring nature. Radiologic services are offered in various settings such as hospitals, health care facilities, physician's offices, mobile imaging companies, industrial plants, research centers, government agencies, commercial sales, and marketing.
A person educated in this profession may specialize in their own area, as listed below or pursue careers as educators, researchers, consultants, or administrators. Constant growth in this field has created many new and exciting career opportunities. There are several choices to make when considering a career in radiologic technology.
Reid Health's radiography program will educate students in a hospital environment. Upon graduation and passing the American Registry of Radiologic Technologists certification examination, our graduates can work in General Radiography (X-Ray). With additional training or education, they then can specialize in a wide variety of modalities such as Computerized Tomography (CT), Magnetic Resonance Imaging (MRI), Nuclear Medicine, Sonography/ Ultrasound, Interventional Radiology, Mammography, and Radiation Oncology.
Students learn all examinations performed on the skeletal anatomy. They will have opportunity to learn additional skills to make them more marketable such as, venipuncture, EKG, basic lab procedures, vital signs, and patient assessment.
Salaries vary nationwide and are reflective of training, education, and experience. In this particular area, full-time entry level radiographers make $40,000-$45,000 annually. Employment opportunities have been affected by the economy; however, most graduates find the job market better than with most other professions.
Read what our grads are saying
So, are you considering a career in the radiologic sciences? If so, ask yourself:
Why do I want to become a radiologic professional?
Do I have enough concern and emotional strength to bear people's pain, even when they are at their worst? Do I retain my composure when everyone around me appears to be losing theirs?
How effective am I in solving technical problems?
Am I a "natural" in the courses required by this program? Will I enjoy these courses and recognize that they are basic to advanced professional credentials?
Do I mind working some nights, emergency calls and weekend and holiday hours?
What sort of study and work habits do I have? Am I able to maintain a commitment to something when its novelty wears off?
Your candid responses might help you determine whether a career in the radiologic sciences is a good option for you. If you do possess the intellectual and emotional traits necessary in this profession, this website might be helpful.
Our Program's Mission & Goals
The mission of the Reid Health School of Radiologic Technology is to provide an educational experience that will develop a proficient, compassionate, and employable radiographer who will fulfill regional needs and serve as a positive example for the profession.
Goals
Goal #1 Our students will practice as entry-level radiographers. They will…
…produce diagnostic radiographs.
…employ applicable principles of radiation protection.
…administer excellent patient care.
Goal #2 Our students will apply effective problem-solving and critical-thinking skills necessary for professional practice. They will…
…modify imaging protocols to accommodate non-routine patient limitations.
…evaluate radiographic images for diagnostic quality.
Goal #3 Our students will use appropriate communication skills at all levels within the healthcare environment. They will…
…employ effective oral communication skills with professional staff and patients.
…demonstrate effective written communication skills.
Goal #4 Our program will exceed effectiveness standards set by the Joint Review Committee on Education in Radiologic Technology.
Students will complete the program within the appropriate timeframe.
Graduates will pass the ARRT certification exam on the first attempt.
Graduates pursuing a job in the field will be employed within 12 months.
Alumni will be satisfied with their radiography program experience.
Employers will be satisfied with the preparation of our graduates as entry-level radiographers.
Accreditation
Our program was awarded an eight-year accreditation in 2017 by the Joint Review Committee on Education in Radiologic Technology (JRCERT). The JRCERT requires public access to Program Effectiveness Data. Reid's data may be validated on the JRCERT website: www.jrcert.org.

Effectiveness Data
Click HERE to view the data.
To apply to the School of Radiologic Technology, please fill out the online application. The deadline for applications, references, and transcripts is FEB. 15.
What our grads are saying
Graduates of the School of Radiologic Technology often move on to join Reid Health. A few such graduates share their stories of what it's been like to be part of the Reid team.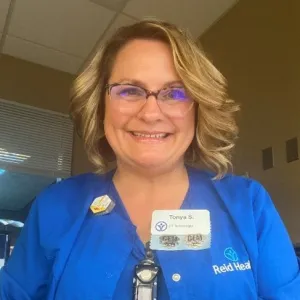 Tonya S.
Longtime CT tech still at Reid thanks to family environment, excellent patient care
More than 20 years ago, Tonya S. came to Reid Health as a student in the organization's X-ray program. She has been here ever since because of the quality workplace she found herself in. Tonya has spent 24 years at Reid, with all but the first two of those coming as a CT technologist. She graduated from the X-ray program and began working at Reid just two days later. "I came to Reid as a student, but I have remained at Reid because of the family environment it has and the excellent patient care we provide," Tonya said. "The very same thing is what has kept me here for 24 years." It's the opportunity to care for her patients and be a part of their lives that brings the most joy to Tonya while on the job. "I enjoy the sense of satisfaction it gives me to help my patients and interact with each one of them individually," she said. "I enjoy getting to know each one of them and sometimes doing follow-up procedures or scans on them along their journey."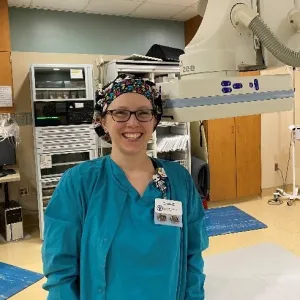 Casey E.
It's the people – patients and co-workers – that keep Casey at Reid
A self-described "people person," Casey E. loves taking care of her patients. "Getting to listen to the patient's story no matter how big or small it might be is always interesting," she said. "I want to make the patient feel comfortable in the journey they are taking. Make sure they understand everything that is going on and answer questions. "And in my job, I get to see people return multiple times for different procedures and it's nice to see the familiar faces and talk to them." Casey has worked in Reid Health's Radiology Department for 23 years, more than 20 years of that time as an interventional radiologic technologist. She joined Reid after attending the health system's X-ray schooling program. "I came to Reid for x-ray school. I loved my experience that I had during the two years I was in school. I enjoyed the people and the atmosphere working here," Casey said. It's for those same reasons that she has remained a Reid team member for more than two decades. "I love my job. I love the people I work with," Casey said. "The physicians are very easy to get along with and very encouraging and willing to keep teaching me new information. "The people are like family to me. I feel like I count in every process. I can express my concerns and feel like someone is listening to me."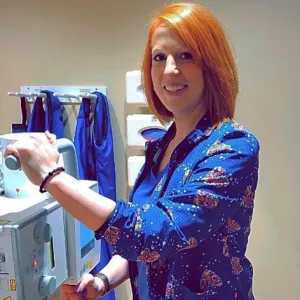 Brandi S.
Working at Reid Health is a childhood dream come true
Growing up, when Brandi S.'s family drove past the hospital, she would imagine herself being a Reid Health employee. "Richmond is my hometown," she said. "I was born at Reid, was a patient at Reid my whole childhood, and have watched Reid grow throughout my time living here." For the past three-plus years, that dream has been reality for Brandi, who now works for the health system as a radiography technologist. Brandi came to work at Reid after graduating from the organization's School of Radiologic Technology. "My co-workers are like my family," she said. "The radiology team is one of the most hard-working, dedicated teams I've ever been a part of. Not to mention I have amazing bosses in the department." But what Brandi likes most about her job is the connections she makes with those she serves. "I enjoy having conversations with patients, learning new things every day, and most of all, feeling like I'm making a difference for people in need, day in and day out," she said.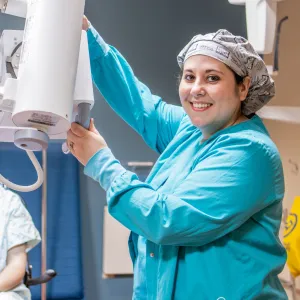 Liz S.
X-ray tech: Working in healthcare is opportunity to serve others when they need it most
At an early age, Elizabeth "Liz" S. was taught "life is all about service." Nearly 13 years at Reid Health as an x-ray tech has allowed her to put that lesson to good use. "I really enjoy thinking outside the box when patients aren't able to do exactly what we need them to do for x-rays, all while still helping to keep them calm and comfortable," she said. "Working in healthcare gives me the opportunity to serve others and help patients when they need it most." Liz knew in high school she wanted to pursue a career in healthcare as an x-ray tech. That led her to apply for Reid's School of Radiologic Technology. After graduating from the program a couple years later, she became a part of the Reid team. "I chose to come to Reid because it was close to home for me, I knew some of the staff already, and had only heard positive things about the hospital," she said. "I enjoy coming each day and working as a team with my co-workers and other staff members. Lifelong friendships have been made, and I truly love making a difference each day and being a part of such a great hospital." Now one of the Lead Technologists, Liz enjoys the added responsibilities that come with the position as well as a greater sense of purpose and desire to remain at Reid. "I have always stayed in x-ray because each day is something new," she said. "No x-ray we take is ever the same as another. We get the opportunity to take x-rays on ER patients, outpatients, and inpatients as well as in surgical cases. "Each day is truly something different depending on where we are in the hospital that day."