Welcome to
Reid Health Breast Center

According to the American Cancer Society, women sometimes have no symptoms of breast cancer, making annual screenings very important. Finding breast cancer early before it has spread is one factor in successful treatment of the disease. Reid Health understands that early detection makes all the difference, so we have reached the highest level of standards set forth by the National Accreditation Program for Breast Centers (NAPBC). NAPBC accreditation means that Reid Health Breast Center has met the rigorous standards set forth by the organization to be qualified as a center that offers the highest-level of quality care in breast health.
BRAvo!
In addition to providing the best level of care, Reid Health wants to ensure that mammograms are available to all women, regardless of price. Through Reid Health Foundation, funds are raised to support women who would not otherwise have access to this life-saving screening. If you would like to learn how you can request a mammogram at no charge, please call (765) 983-3358.
Who is eligible for a screening mammogram?
Screening mammograms (requested without a specific provider's order) are self-referred. The eligibility for a mammogram are as follows:
Women less than 30, requiring breast imaging need an order from their provider
Women 30 - 39, may schedule an annual self-referred mammogram, but should check with their insurance about coverage.
Women 40+, should have an annual screening mammogram.
Request an Appointment
Services now available in Connersville!
Reid Health is so excited to announce that screening mammograms are now available in Connersville at Reid Health - Connersville Radiology. Appointments are available as follows:
Monday - 7:00am - 6:30pm
Tuesday - 7:00am - 3:30pm
Wednesday - 7:00am - 3:30pm
Thursday - 7:00am - 3:30pm
Friday - 7:00am - 3:30pm
Request an Appointment
Benefits of 3D Mammography
Today's standard in breast cancer screening is 2D mammography. Traditional 2D mammograms are limited by decreasing sensitivity as the density of a woman's breast tissue increases, or when breast tissue overlaps. This can sometimes lead to a need for additional images. Because of this, Reid Health Breast Center now offers Breast Tomosynthesis. It's state-of-the-art 3D mammogram technology that is proven to detect breast cancer better than traditional 2D mammography alone.
Breast Tomosynthesis takes many X-ray pictures of each breast from many angles that are not available in traditional mammography. The X-ray tube moves in a 50-degree arc around the breast, taking 25 images during the exam. Those images are then sent to a computer, where they are assembled into a 3-dimensional picture. The result is a more detailed image that helps health providers detect malignant tumors better than standard 2D mammography alone, with fewer recalls. We have added this technology as another top-notch tool to ensure we provide the best evaluation possible based on your need. You should be aware that additional costs may apply depending on your insurance provider.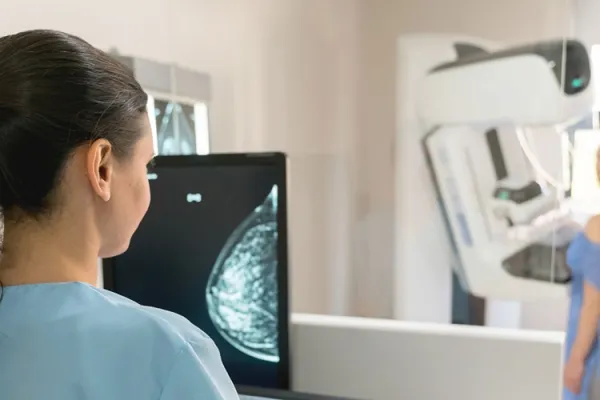 Accreditation
The Reid Breast Center is accredited for the following:
Mammography
Stereotactic Breast Biopsy
Breast Ultrasound
Ultrasound-Guided Breast Biopsy
Request an Appointment
Self-referred mammograms, meaning a doctor has not written a specific order for you to get a mammogram, can be scheduled conveniently at Reid Health. Please note, you do not need an order from your provider for a screening mammogram. Early morning and late day appointments are also available for your convenience.
Easy Scheduling
We provide two options for easy scheduling:
Option 1: Call Reid Health Central Scheduling, (765) 983-3358
Option 2: Fill out the below form and an office assistant from Reid Health Central Scheduling will be in touch with you as soon as possible