AboutReid Breast Center

Reid's all digital, state-of-the-art Breast Center offers digital mammography - including 3D mammography! Use the link below to take a virtual tour

3D Mammography
Today's standard in breast cancer screening is 2D mammography. Traditional 2D mammograms are limited by decreasing sensitivity as the density of a woman's breast tissue increases, or when breast tissue overlaps. This can sometimes lead to a need for additional images. Because of this, Reid Health Breast Center now offers Breast Tomosynthesis. It's state-of-the-art 3D mammogram technology that is proven to detect breast cancer better than traditional 2D mammography alone.
Breast Tomosynthesis takes many X-ray pictures of each breast from many angles that are not available in traditional mammography. The X-ray tube moves in a 50-degree arc around the breast, taking 25 images during the exam. Those images are then sent to a computer, where they are assembled into a 3-dimensional picture. The result is a more detailed image that helps health providers detect malignant tumors better than standard 2D mammography alone, with fewer recalls. We have added this technology as another top-notch tool to ensure we provide the best evaluation possible based on your need. You should be aware that additional costs may apply depending on your insurance provider.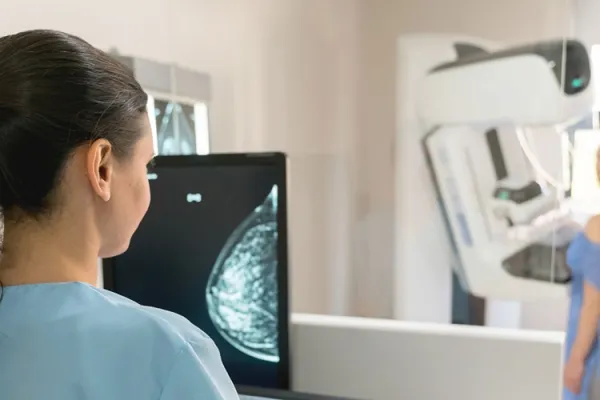 Virtual TourWelcome to Reid Breast Center

Virtually tour our Breast Center prior to your visit.
Tour Now
BRAvo!
Our exclusive Reid Program
If you cannot afford a mammogram, BRAvo! can help. Call (765) 983-3358 and ask about a no-cost mammogram.
Please note: You don't have to have a referral for a screening mammogram.


Reid BRAvo Program
Accreditation
The Reid Breast Center is accredited for the following:
Mammography
Stereotactic Breast Biopsy
Breast Ultrasound
Ultrasound-Guided Breast Biopsy
Request an Appointment
Self-referred mammograms, meaning a doctor has not written a specific order for you to get a mammogram, can be scheduled conveniently at Reid Health. Please note, you do not need an order from your provider for a screening mammogram. Early morning and late day appointments are also available for your convenience.
Easy Scheduling
We provide two options for easy scheduling:
Option 1: Call Reid Health Central Scheduling, (765) 983-3358
Option 2: Fill out the below form and an office assistant from Reid Health Central Scheduling will be in touch with you as soon as possible