Right
beside
you.

We continue to equip our caregivers and their patients with the latest technologies available, including such as Mazor, Sensei, and the Da Vinci Surgical System. Check the list below to learn more.
Da Vinci Surgical System
Robotic-assisted technology for minimally invasive surgical treatment.
Benefits of the da Vinci® Surgical System
Highly magnified visualization
Greater precision
Smaller incisions
Patient's surgical experience improves
Side effect decline
At Reid Health, gynecological and urological procedures are performed by Reid OB/GYN and Urological Care. These two medical specialties and procedures often have crossover due to the proximity of the affected areas of the body. To assist with this, Reid Health has a female pelvic medicine and reconstructive surgery (Urogynecological) specialist who helps patients with complex gynecological and urological problems. Dr. Sara Diaz is able to use the Da Vinci surgical system to perform complex surgeries and provide comprehensive care.Click to learn more about Urogynecology and Dr. Sara Diaz, MD, MSc, FPMRS, FACOG.
Gynecologic Robotic Surgery
Reid OB/GYN (765) 962-9541
Urological Care (765) 962-8551
Indicators:
Abdominal pain, bleeding
Pelvic prolapse
Procedures:
Sacralcolpopexy
Hysterectomy
Urological Robotic Surgery
(765) 962-8551
Indicators:
Bladder, kidney, prostate cancer
Kidney disorders
Procedures:
Prostatectomy
Partial Nephrectomy
Pyeloplasty
Thoracic Robotic Surgery
(765) 983-3427
Indicators:
Lung cancer
Suspicious lung mass
Procedures:
Robotic lobectomy
Thoracic lymph node dissection
Mediastinal Tumors
Mazor Robotics
Reid Orthopedics offers the Mazor Renaissance®Guidance System which transforms spine surgery from freehand procedures to state-of-the-art procedures, increasing both accuracy and favorable clinical outcomes. This technology has been successfully used in both routine and complex cases in thousands of spinal procedures worldwide.
Using Renaissance's intuitive interface, surgeons can plan operations in a virtual 3D environment, creating a surgical blueprint for better accuracy.
Sensei X Robotics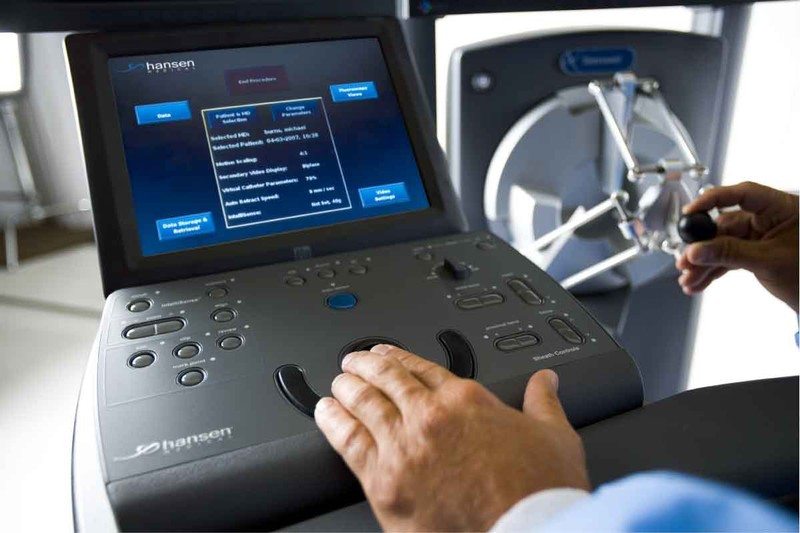 Reid Heart & Vascular Center offers the innovative second generation Sensei® X Robotic Catheter System in its Rhythm Management program. This system is designed to give Reid's electrophysiologists accurate and stable control of catheter movement during complex cardiac procedures performed to diagnose patients suffering from abnormal heart rhythms or arrhythmias.
Minimally invasive; diagnoses cardiac arrhythmia (CA)
Improves treatment of arrhythmias
Precise catheter control during procedures
Telehealth
With the launch of clinical Telehealth services, Reid is able to deliver health care right where the patient is located.
Reid has a long history of technological innovation. With the launch of clinical Telehealth services, Reid is pioneering the use of technology to deliver care right where the patient is located – no travel to the main campus is required.
Reid Telehealth makes health care much more convenient for patients. By expanding the reach of Reid's medical providers and increasing access to healthcare, the service also helps to improve outcomes and reduce costs.
To read more, visit our Telehealth page.
Other Technology
Orthopedics, Brain Lab Spinal Navigation – Image-guided, open navigation platform

Uses 2-D images, 3-D scans, MRI and CT datasets in all stages of surgery
Used for most procedures, including complex surgeries on cervical, thoracic and lumbar spine
​

Pulmonology, superDimension™ Navigation System – Performs Electromagnetic Navigation Bronchoscopy™ (ENB™) procedures

Accesses peripheral regions of the lung
Aids in early diagnosis and treatment plans
​

Radiation Oncology, TruBeam Linear Accelerator – Precise radiation therapy for malignancies helps preserve healthy tissue.

Radiology, CinemaVision – Entertainment system; patient watches TV or listens to music during MRI

More relaxing and tolerable for patient
​

Reveal LINQ ICM System – Smallest implantable monitoring device

Wirelessly monitors heart up to 3 years
For dizziness, palpitations, syncope, and chest pain that may suggest CA
For patients at increased risk for CA
​

Balloon Sinuplasty – These catheter-based technologies are used in sinus surgery. The technology is used to gently open blocked sinusus in many cases without tissue or bone removal required in traditional procedures. The procedure is proving a safe and effective treatment for relieving symptoms of sinusitis. It can shorten recovering time, mean less bleeding and a faster return to normal activities for some patients.

Audio-visual MRI – Our audiovisual system is proving to help patients relax while having an MRI. The system provides the patient with their own enclosed TV visor and sound system that closes out the sounds of the technology while they watch their favorite show or relaxation video. For patients who are made nervous by traditional MRIs, this technology has already reduced the need for relaxation medication that some require before having an MRI.

Digital Breast Center – Our Breast Center offers all-digital technology. 3D Digital Mammography offers greater accuracy, making it possible to detect problems in their earliest stages. MammoSite® 5-day Targeted Radiation Therapy is available at Reid. For those who qualify, this targeted therapy helps reduce the radiation delivered to healthy tissue.

State-of-the-art Security – Reid has a quality security system in our Family Birthing Center, the Pediatric area and in Geropsyhiatric Services. The system will automatically lockdown those areas if necessary in the event of an attempt to leave with an infant, child or senior patient.

Patient Education and Entertainment System – Every room has a bedside system that provides patients with a computer, television and educational system. It allows patients to access the Internet, play games, watch movies and TV from their bed.