Radiology
We know you want accurate and timely results when it comes to diagnostic imaging. Our Radiology Department offers top technology and convenient access for patients. With convenient facilities for inpatient and outpatient imaging services, our experienced technicians and specialists work to make your experience as efficient as possible.

Let Reid Health help with all of your imaging needs.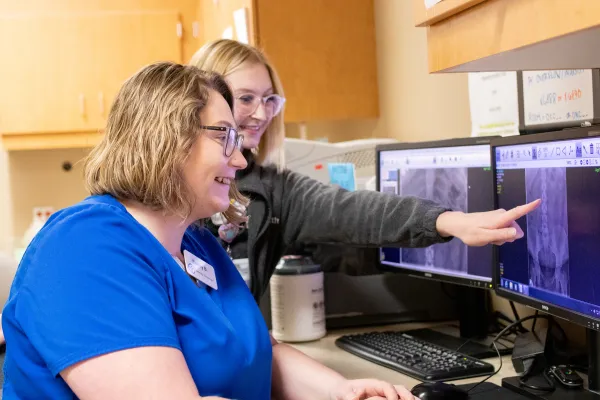 Imaging Services
Endocrine & Digestive
Barium Studies of GI Tract (UGI, BE, SBFT, Modified Swallow Studies)
Feeding Tube Placement/Exchanges
Gastric Emptying Liquid Scan/ GE Reflux Scan
Gastric Emptying Solid Scan
GI Bleed Scan
Hida Scan
Liver Spleen Scan
Liver SPECT/Hemangioma Scan
Meckel's Scan
Parathyroid SPECT Scan
Percutaneous Biliary Drain Placements
Salivary Gland Scan
Sialography
Sphincter of Oddi Scan
Tc-99m Thyroid Scan
Thyroid Therapy
Thyroid Uptake & Scan
Total Body Survey
Heart & Vascular
Angiography with or without intervention
Calcium-Score Screening Heart Scan
Cardiac Computed Tomography
Cardiac Imaging
Central Venous Access Lines
Coronary Computed Tomography Angiogram
Dialysis Access Management/Placement/Maintenance
Hemodynamic Test
IVC Filter Placement/Removal
Picc Lines (Peripheral and Tunneled)
Right to Left Cardiac Shunt Scan
SQ Port Placement/Removal
Vascular Embolization
Venogrpahy with or without intervention
Immune System
Lymphoscintigraphy Study
White Blood Cells Scan
Neurologic
Brain Death Imaging
Cisternogram Scan
CSF Leak Scan
Neurology Imaging (does not include Neuro PET/CT)
Nuclear Medicine SPECT Brain Scan
Spinal Tap/Lumbar Puncture
Oncology & Tumors
Chemo Embolization
Cryoblation of Tumor
Gallium Scan
Hemangioma Scan
Lymphoscintigraphy Study
Microwave Treatment of Tumor
Oncology Imaging
Parathyroid Injection
Radiofrequency Ablation of Tumor
Samarium Injection
Strontium Injection
Thyroid Therapy
Thyroid Uptake & Scan
Total Body Survey
Tumor Embolization
Orthopedic
Bone Density Test - Dual Energy X-ray Absorptiometry (DEXA)
Bone SPECT
Indium WBC Scan
Joint Injections/Aspiration/Arthgrograms
Myelogram
Sulfur Colloid Bone Marrow Imaging
Three Phase Bone Scan
Whole Body Bone Scan
Pathology
Angiography
White Blood Cells Scan
Percutaneous Biopsies
Pulmonary
Chest Drain Placement
Gallium Scan
Lung Quant Scan
Perfussion Only
Thoracentesis
Tunneled Pleural Drain for Ascites Management
VQ Lung Scan
Ultrasounds
Abdominal/Renal Ultrasound
Paracentesis
Pelvic Ultrasound Pediatrics
Thoracentesis
Tunneled Peritoneal Drain for Ascites Management
Ultrasonography Test (OB/GYN)
Ultrasonography Test (Pelvic/Renal)
Ultrasounds
Urology
Captopril Renal Scan/Vasotec Renal Scan
Intavenous Pyelorgam (IVP)
NM Voiding Cystogram
Percutaneous Nephrostomy Tube Placement/Exchange
Percutaneous Ureteral Stent Placement/Exchange
Renal Scan with or without Lasix
Urography (Loopograms, Nephrostograms, Urethrograms)
Voiding Cystogram (VCUG) Scan
Women's Health
Breast Ultrasound
Hysterosalpingogram
Lymphoscintigraphy Study
Mammogram/Breast Tomosynthesis
Ultrasonography Test (OB/GYN)

Stereotactic Breast Biopsy
Ultrasound
X-Rays
Chest X-Ray
Computed Tomography (CT Scan)
DEXA
Fluoroscopy
Interventional Radiology
Magnetic Resonance Imaging (MRI)
Mammogram
Positron Emission Tomography (PET/CT fusion)
*Radiology interpretations are provided by StatRad during overnight hours. StatRad providers are independent contractors, not employees of Reid Health.