'Medical Monday' proves to be a lifesaver for attendee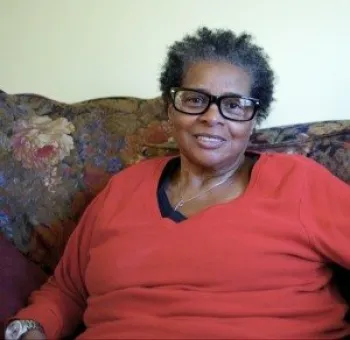 Krinka Shipp
Can a health presentation save your life?  If you ask Krinka Shipp the answer is yes.
Krinka makes it a habit to attend "Medical Monday" presentations with her friends. Funded  by the Community Benefits Program at Reid Health these free monthly presentations take place at Townsend Community Center in Richmond. They feature lunch social time and two presentations one about health and wellness the other about topics of general interest such as food safety and substance abuse.
During the March 2015 program Krinka listened as presenter Jan Campbell director of the Acute Rehabilitation Unit (ARU) at Reid Health talked about stroke. "She described the signs and symptoms and explained what to do if you think you are having stroke" Krinka recalled.
Two months later that information would prove to be lifesaving. "I was going about my business one morning in May and I realized I couldn't swallow my morning medications" Krinka said. "Then I realized my speech was slurred. I looked into the mirror I saw my face was drooping. I decided to go to the hospital right away."
The medical team at Reid Health recognized the signs of stroke and provided immediate treatment. "When they told me I'd had a stroke I couldn't believe it" Krinka said.  "They admitted me right away."
After a brief hospital stay Krinka was admitted to the ARU to complete her recovery. "The therapists taught me how to regain my balance and were really great with me" she said. "They made sure I did my exercises even if I didn't want to."
Now Krinka is getting back to the life she enjoyed before her stroke—driving going to the hair salon and of course attending Medical Monday. "I tell everybody to go to Medical Monday because they will learn a lot" she said.  "If I hadn't have gone to that meeting about stroke I'm sure I wouldn't have known what was happening to me."
To learn more about Medical Monday contact Sharrie Harlin community outreach coordinator at 765-983-3000 x4676.
---