Reid Vein Center procedures bring relief to young mother
Alli Blunk found relief from painful varicose veins at the Reid Vein Center.
With a family history of leg vein issues Alli Blunk was not really surprised when she developed painful varicose veins during her second pregnancy in 2016.
As a nurse she also knew treatments were available. So a few months after her daughter was born she scheduled a free screening at the Reid Vein Center. The screening affirmed the problem and more importantly provided details on her options for treatment. That led to appointments at the center and procedures to remove the painful veins.
"I have a history of being pre-disposed to vein problems" she said noting her mom and sister have had similar issues. She did what she could by wearing compression stockings to promote blood flow and staying off her feet as much as possible though that was difficult as a mom with small children and her job as a nurse.
When the varicose veins began giving her more pain under the added stress of pregnancy she decided it was time for relief. Outpatient therapies at Reid Vein Center resolved the problems.
Blunk said the procedure restored her confidence. She could wear a skirt without worrying about how her legs looked. And the pain was relieved too. The incisions from the procedures healed relatively quickly and are almost invisible.

With her family history and the likelihood she and husband Jason will have more children she expects she may face additional procedures in the future. She suggests anyone with spider or varicose veins consider a visit to the Reid Vein Center.
"They did a great job of explaining what he was doing and how that would address the issue. That all brought comfort and decreased my anxiety" she said. "The recovery is quick and there is minimal residual evidence that it was even done. I would encourage others to consider it because the outcome is worth it."
Learn more
Attend a free screening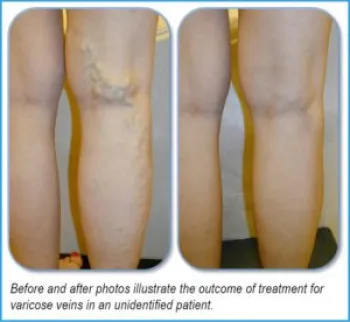 Before and after photos illustrate the outcome of treatment for varicose veins in an unidentified patient.