Stroke survivor: Take meds, 'get regular checkups for heaven's sake!'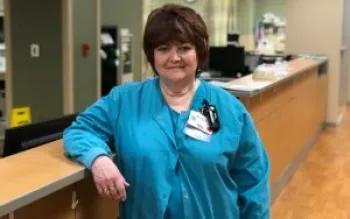 Sandy Collins
As a nurse it didn't take Sandy Collins long to figure out what was going on. She had just returned from lunch and was standing at a nurse's station in the Post Anesthesia Care Unit at Reid Health.
She suddenly became dizzy. Her left arm drew to her side. Her leg went numb. "I told one of my coworkers – 'I think I'm having a stroke.' They took me straight to emergency" recalls Sandy Collins of the June 2017 experience.
She knew symptoms and how urgently important time is when someone suffers a stroke. Quick treatment can be the difference between life and death life-changing damage and even what options can be used for treatment. The Richmond resident is really glad it happened while she was at work with an emergency room nearby. Within less than two hours from when the blood clot struck in her brain she received a clot-busting drug treatment and was already regaining movement in her arm and leg.
Because of the critical importance of rapid treatment in a stroke she qualified for tPA which is a medication that can dissolve a clot before it does extensive damage. It is not an option in every situation and a key when a stroke is occurring is the timing of treatment and the type of stroke. "The patient was fortunate enough to be brought immediately to our emergency room where we could quickly determine if she was a candidate for tPA administration" said Jordan Raynor M.D. neurologist. "While not always an option for every stroke patient this medication is the standard of care for those for whom it is appropriate. Time is of the essence as this medication cannot be used beyond 4.5 hours from when stroke symptoms begin."
Collins was in the Intensive Care Unit for several days and hospitalized for at least two weeks. She was off work for more than four months. Today she's back caring for patients and is an ambassador for encouraging people to watch their blood pressure and take their medicine. "And get regular checkups for heaven's sake."
Collins now 71 had always been healthy and did not know before her stroke that she had an issue with blood pressure. "My blood pressure was sky high but I didn't know it" she says. She never forgets to take her medicines and stays on top of her medical appointments and her health.
"I take my blood pressure medicine twice a day. I take a cholesterol medicine and an aspirin" she said. "I am lucky. I was at the hospital when it happened which is the best place in the world to be. I guess God wasn't done with me yet."