HIDDEN -Peek-a-Baby gets family more involved in pregnancy experience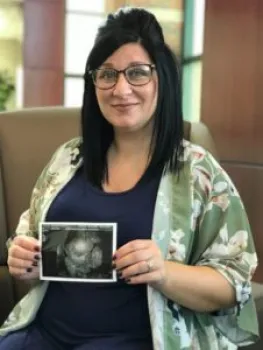 Maria Schambers says the Peek-a-Baby experience gets the whole family more involved.
Maria Schambers is expecting a baby in July but feels in some ways she's already met her little one through the Reid Peek-a-Baby experience. "It really gives you a glimpse of what your baby is going to look like" she said.
"We were comparing features and photos to see who Baby Schambers will look like" she said noting that her husband Dusty a grandma and great-grandma were able to participate in the ultrasound in April. This is Dusty and Maria Schambers first baby. Maria found the experience "a great way to involve the Daddy and other family members so they get a deeper glimpse inside the pregnancy."
Schambers said the Peek-a-Baby 4D Ultrasound is much more detailed than traditional ultrasounds. It becomes a wonderful way not only for Mom to see the little one she feels moving and kicking but for other family members to feel more connected to the pregnancy experience.
"It helps them seeing the face of the baby you are constantly talking about – since they don't have the mother-baby bond that starts when you find out you are pregnant. It becomes more real when you see the baby's face."
Reid Peek-a-Baby is a service allowing families to see the baby in 3-D/4-D ultrasound. It is done when mom is at least at 26 weeks gestation and is performed in a special suite on Reid Health's main campus in Richmond.
The cost varies depending on the package chosen.
"This didn't even compare to the 20-week routine scan" Schambers said. "The 4D shows so much detail." One detail they avoided was Baby Schambers' gender – something they want to be a surprise. "It piqued our curiosity even more – seeing the baby and trying to figure out if we think it will be a boy or a girl."