Safe Pathways to Care
As you consider scheduling in-person appointments and procedures--including surgeries-- we wanted to share how we will maintain your safety when you visit any Reid Health facility.
Our teams on the main campuses in Richmond and Connersville and in all of our physician offices are extremely experienced in dealing with infectious disease. You can be assured we are taking every step to ensure your safety as we begin a return to more of a normal operation. We will continue offering telehealth visits and also are still limiting visitors on campus as outlined below. Please: NEVER delay care for fear of COVID-19.

Plans for our physician practices: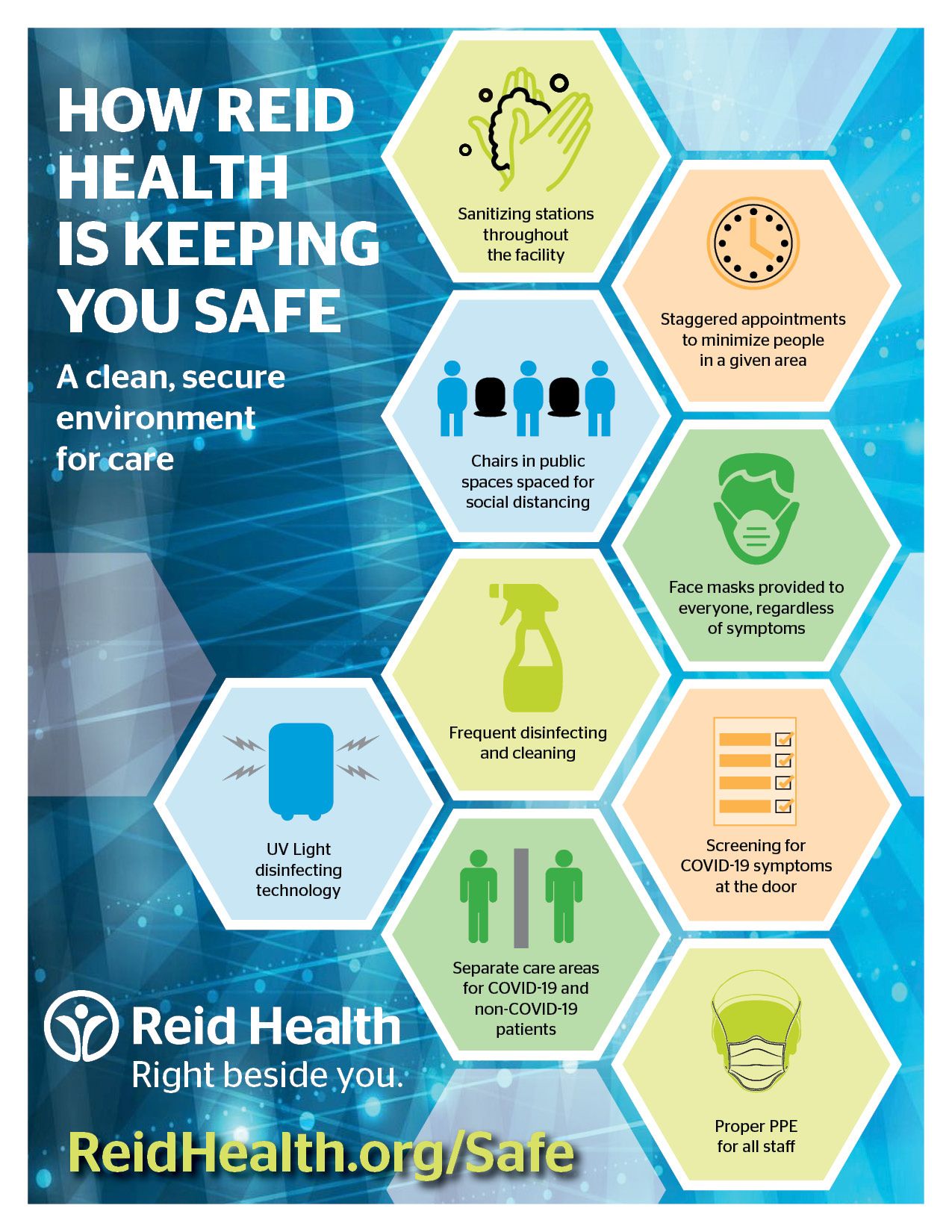 To limit traffic in waiting rooms, we will check you in from your car when possible. When you arrive, please call the office. If you do not have a cell phone, alert our door screeners. We will have you enter when an exam room is ready.

In most cases, only the patient will be allowed to enter. For children and adult patients who require a support person, one adult may accompany the patient.

All patients and their support person (if allowed) must wear a mask throughout the entire visit. Cloth or other home-made masks are acceptable. If you arrive without a mask, we will provide one.
All providers and staff will wear masks during all patient encounters.
Patients will be asked to complete paperwork in their car when possible.
We are performing diligent hand washing and extra cleaning precautions of surfaces and instruments
All exam room doors will be kept closed
Magazines, toys and other "touchable" items have been removed from our waiting areas and exam rooms.
All patients and their support person will be screened for COVID-19 symptoms.
Prior to your appointment, office staff will assess your needs by phone to determine if an in-person visit is your best option. In many cases, a telemedicine visit is still a great option.
Safe Pathways Videos
Dr. Huth - Ask the Expert - episode 2
Masks required: And it works
Indiana and Ohio are now mandating masks as COVID-19 numbers trend upward again. Scientific studies are backing up their effectiveness. However, vented masks are not effective in protecting against COVID. So Reid Health is joining other health care organizations in only allowing non-vented masks to be worn in Reid facilities.
If you visit a Reid property, you must wear approved masks as follows: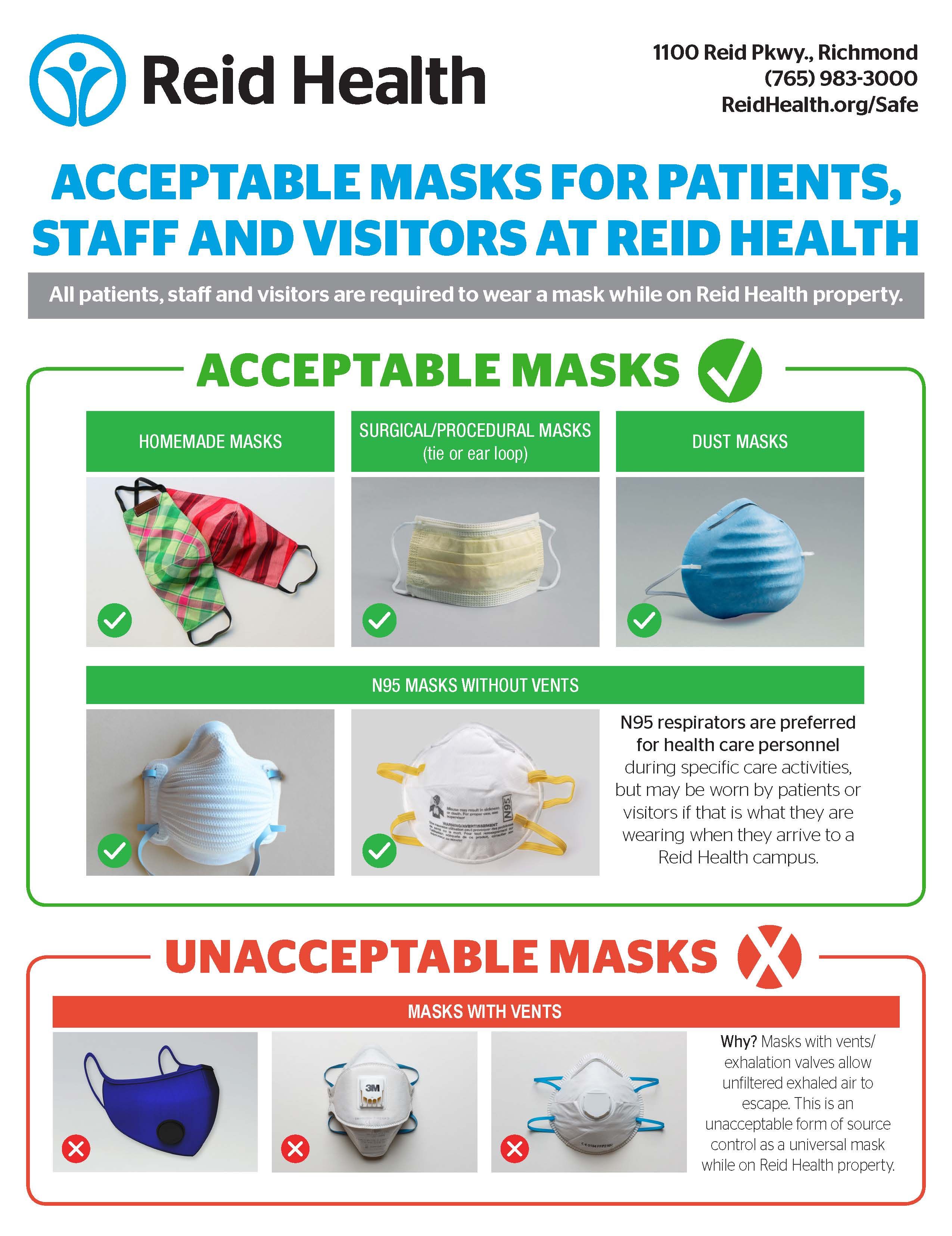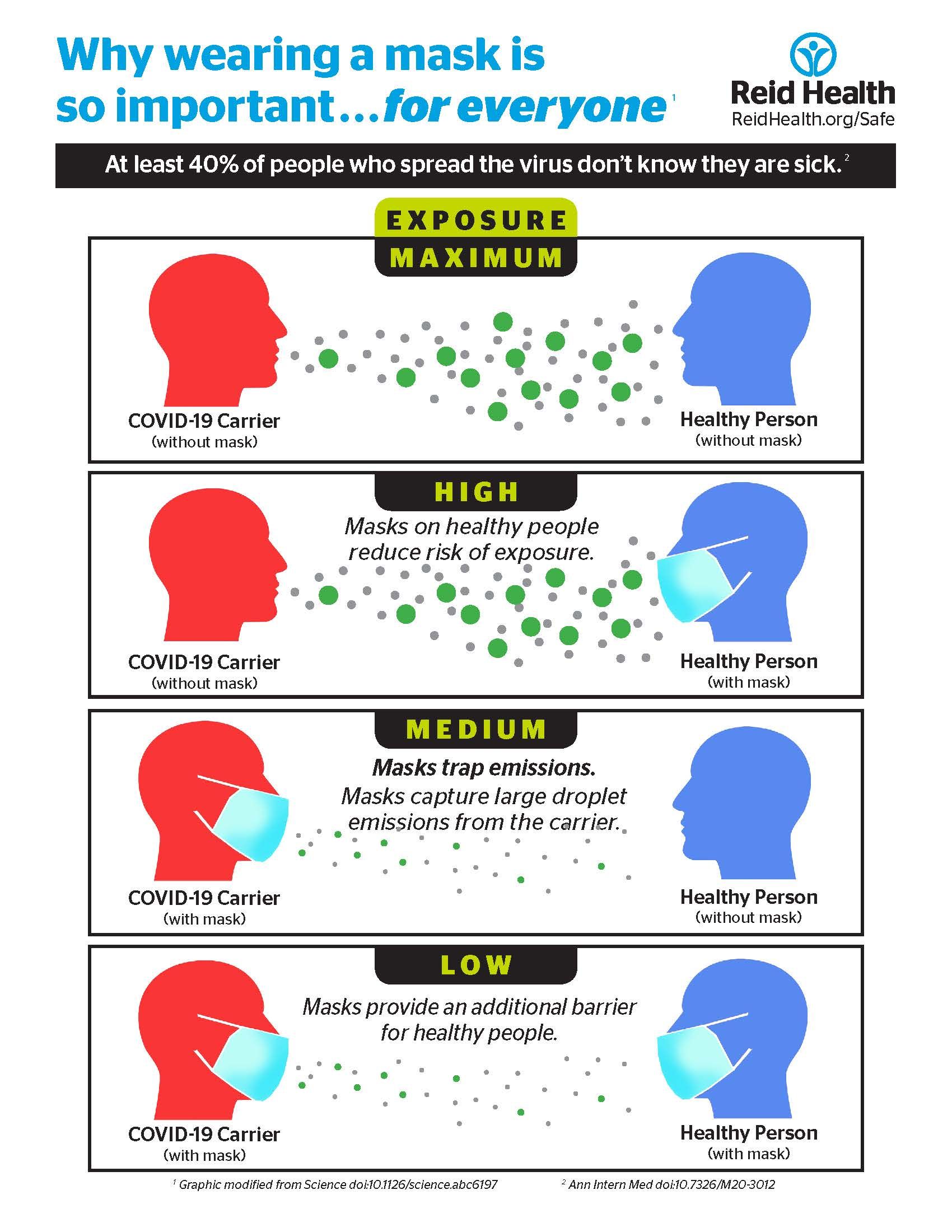 Mask Up Hoosiers
As Indiana gets Back On Track, it's very important to continue prioritizing safety precautions and healthy habits to protect our neighbors. Wearing a mask helps prevent someone who unknowingly has COVID-19 from spreading the virus to others.
Download and print this sign, fill in who you wear your mask for and take a photo of you in your mask holding your sign. we encourage you to also post your masked selfie to your social media and include the hashtag #MaskUpHoosiers.
Wearing hand-made masks
The Centers for Disease Control and Prevention (CDC) recommends wearing cloth face coverings in public settings. CDC also advises the use of simple cloth face coverings to slow the spread of the virus and help people who may have the virus and do not know it from transmitting it to others. Learn more: https://www.cdc.gov/…/prevent…/diy-cloth-face-coverings.html
Reid Health is accepting handmade cloth masks to distribute to our community in need. The need is great and we will accept and distribute all the masks you can produce. Distributing these masks in non-clinical settings allows us to conserve our Personal Protective Equipment (PPE) supply at the front lines of patient care.
Latest statistics on
COVID -19 -- coronavirus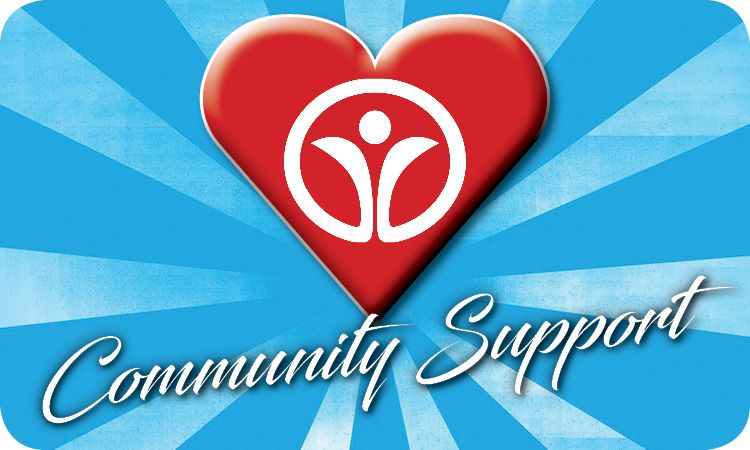 Reid Health COVID-19 Dashboard*
Lab-confirmed positive: 1,035
Patients in containment areas: 60
Total tests submitted: 17,548
As of 10/30/2020, Indiana has 175,893 cases. There have been 4,050 deaths in the state, according to Indiana State Department of Health.

What to do if you have respiratory symptoms or fear exposure to COVID-19:

Call the Reid Health Respiratory Clinic hotline at 765-965-4200 (8 a.m. to 8 p.m. Mon-Fri; 8 a.m. to 3 p.m. Sat.) for consultation and possible appointment; OR log into the Reid HealthNOW virtual app for COVID-19 screening/consultation during same hours.
Appointments can be made using either of these options to be assessed at the Respiratory Clinic, 1501 Chester Boulevard, Richmond. Remember: patients MUST have an appointment.
Hear what patients are saying about Safe Pathways
"Your response to the Covid-19 safety guidelines were excellent. I felt as safe as I could feel in a medical facility at this difficult time. All the staff members I encountered were courteous, but still diligent in following safety protocol. Thank you!"

"I saw Dr.Bertsch last Friday. Before my visit, his staff advised me of mask requirements and explained exactly how the visit would go. No time in a waiting room, met at front door for a temperature reading before I could step inside. Great job at treating and protecting."
"Everyone was very efficient and friendly from the ladies that took my temperature and asked the covid questions to the ladies that checked me in the lab. There was a new person training and she did great. These are not easy times for the staff, but they all did a great job!"
"My 6/2/2020 3month check with Dr. Sulfi was my first experience with telehealth care. It was a positive experience technically and medically. I am grateful for the telehealth option during the novel coronavirus pandemic. Thank you for this option and taking such good care of your patients."
"Great visit with new covid procedures. Office seemed well practiced and everything ran smoothly. Great office team and provider."
"Yes, I like staying in my car and just being called in when ready to go to the exam room. I would rather stay in my car rather than sit in a waiting room. Hope that can continue even after COVID. Everyone was very courteous and thorough."
"This was a wonderful experience. The call center did a great job communicating expectations as did the office. They were very clear explaining the check in procedure for a sick visit. Staff at Peds/Internal Medicine really made us feel comfortable and Dr. Black was fantastic to my son whom does not routinely see him. This is a difficult time with routine illness in the face of COVID19 and they all were so great walking us through every step. Thank you for all you do."
Help prevent the spread of infection
Wash your hands often.
Avoid touching your face with your hands.
Cover your cough if you have symptoms.
Stay home if you are sick.
Clean and disinfect objects and surfaces regularly.
Wear a mask when out in public.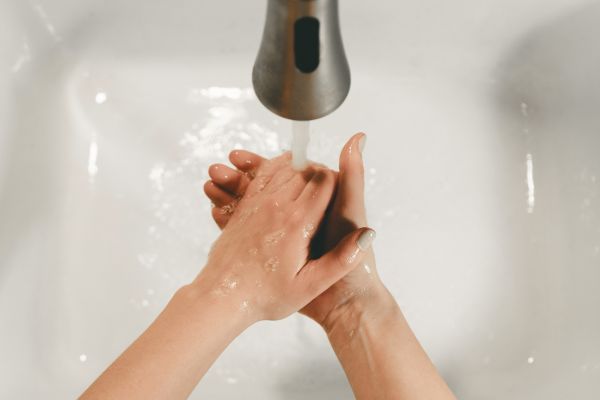 Frequently Asked Questions
How are you keeping visitors safe?
First of all, we are asking almost all visitors to stay away. We realize that some exceptions may be made in certain situations, and will deal with those on a case-by-case basis with the safety of all our patients and staff in mind.
Our teams on the main campuses in Richmond and Connersville and in all of our physician offices are extremely experienced in dealing with infectious disease. You can be assured we are taking every step to ensure your safety as we begin a return to more of a normal operation. We will continue offering telehealth visits and also are still limiting visitors on campus as outlined below. Please: NEVER delay care for fear of COVID-19.

I have a large family and we are expecting a new baby. Why can't we all be there?
We have to protect our patients, moms and babies, and limiting visitors greatly reduces risk. We appreciate your understanding and encourage use of digital options while this risk continues.
Can my child still get immunizations?
YES! At Reid Health we recommend every child continues to follow the American Academy of Pediatrics (AAP) guidelines for immunizations, even if the process looks a little different because of the COVID-19 outbreak.
I have a test or appointment and do not have anyone to watch my children. Can I bring them?
Right now, we ask that no minors come to the offices unless the appointment is for the minor. This is to protect them as well as our other patients, families and staff.
What if my family member is dying?
We will make exceptions as we can, but will need to screen anyone who comes in and take appropriate steps when a COVID-19 risk is possible.
What if I just want to come to the gift shop, café or medical equipment store?
Unfortunately we are not allowing this type of visit to our campus right now.
Could I test negative and still have the virus?
The CDC says a negative result means that COVID-19 was not found in your sample, but also that it is possible to get a false negative in some people with the virus. This is why other factors, including symptoms and other tests such as X-rays are taken into consideration. A negative test result does not rule out getting sick later.
When will you lift these restrictions?
This will happen when the risk of this new virus fades and state and federal officials say it is safe to do so. We have a COVID-19 command center team that is gathering daily for the latest updates and to make decisions about any new steps or changes we need to make. This pandemic situation changes constantly, so our team remains flexible and focused to ensure the safety of our patients and staff.