What you need to know today:
It can be a little confusing trying to keep track of whether you're eligible for a COVID-19 vaccine booster shot or how many boosters you should get. The answers depend on which vaccine you initially received, how old you are, and other factors.


To help, staff at the CDC have created a simple tool you can use.
Through a series of questions about your age (or your child's), whether you have a weakened immune system, which vaccine you received for your initial series, and whether you've had any boosters so far, the tool will tell you if you're up to date or if you should make a point of getting another shot.
Read Full Update
Latest COVID-19 Stats:
Patients in containment areas: 10
COVID-19 patients in the ICU: 1

COVID-19 patients on ventilators: 0
Suspected COVID-19 admissions in the past 24 hours: 6

Updated 7/5/2022. This is updated every Monday.
See Full Details
COVID-19 Hotline
Available 8 a.m. - 5 p.m., 7 days a week
Call for questions related to:
COVID-19 testing and scheduling
COVID-19 test results
Clinical advice about your symptoms
Please use the COVID-19 Hotline (765) 965-4200 as your primary contact number for all things COVID-related.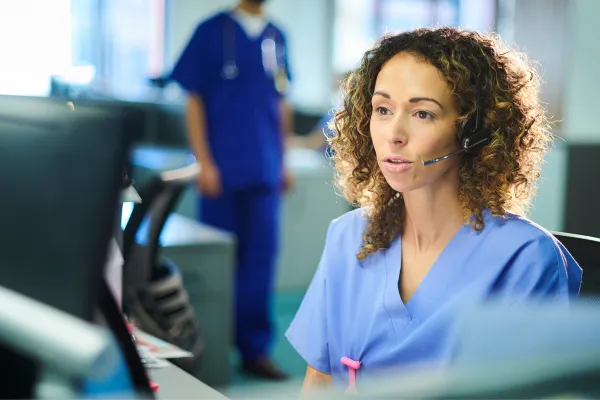 Your Guide to COVID-19 Testing
Testing is important in helping to reduce the spread of COVID-19. Your primary resource for scheduling, questions, and results is the the COVID-19 Hotline. There are also options for self-testing if you have symptoms or may have been in contact with someone who has tested positive. Read frequently asked questions below.
Where to get tested
If you need to be tested for COVID-19, Reid Health offers drive-thru testing at the following locations:
Richmond -- 1200 Chester Blvd. 7 days a week, by appointment and available 8 a.m. to 4:30 p.m. every day.
Connersville -- 2025 Virginia Ave. Monday through Friday, by appointment and available 10 a.m. to 3 p.m.
Who should get tested?
The CDC recommends the following people be tested:
Anyone showing symptoms
Those who have been exposed to someone with suspected or confirmed COVID-19
People not fully vaccinated who are asked or referred by their school, workplace, or healthcare providers
What are the types of tests?
There are two categories of COVID-19 tests: Testing for current infection and testing for an infection in the past.
Antibody tests are for those who may have been infected with COVID-19 in the past. Antibodies are detected in the blood of someone who has previously been infected with COVID-19 or someone who might have been vaccinated against the virus that causes the disease.
Viral tests are for those who might be currently infected with COVID-19. There are two types:
Rapid tests (Antigen Symptomatic) return result in about 15-30 minutes. These are less sensitive than PCR tests and are generally used when a patient is symptomatic and within a certain number of days since symptom onset. These are best when there is a known exposure to a person with COVID-19.
PCR tests (Nucleic Acid Amplification Test - NAAT) detect genetic material (nucleic acids) and sequences (RNA or ribonucleic acid) that makes up the material of the virus. Specimens are retrieved by swabbing the upper- or lower-respiratory tract. These tests can be used on patients who may be asymptomatic as they are more sensitive in detecting the virus.
I'm planning on taking a trip. Should I get tested before I go?
The CDC recommends people be up to date on their vaccinations before traveling. That means they've had their primary series of doses as well as any booster shots currently recommended by the CDC.
Those who are not up to date should get tested as close to their time of departure as possible and no more than 3 days before their trip and again 3-5 days after returning. They also should stay home for a full 5 days after returning.
Those who are up to date do not need to get tested or self-quarantine when they return home but should monitor themselves for potential symptoms.
I tested negative. Now what?
A negative result likely means you don't have COVID-19, or at least you didn't at the time your sample was collected. You should consult your school/workplace policies to find out whether you can return to your normal schedule.
I tested positive. Now what?
All those who test positive for COVID-19 -- whether fully vaccinated or not -- should isolate from others for at least 5 days from either their first day of symptoms or the day of their positive test, whichever was earlier. If after Day 5 you no longer have symptoms, you can leave your home, but you should continue to wear a mask around others until after Day 10. If you have a fever, stay home until it's gone.
The Indiana Department of Health's page on contact tracing says you can spread COVID-19 two days before you begin to have symptoms. Once you test positive, you should reach out to anyone you've been in close contact with so they can begin their quarantine. Close contact is defined as being within 6 feet for a total of 15 minutes or more over a 24-hour period.
If you don't have symptoms, you should reach out to any close contacts from the 48 hours before you were tested. If you do have symptoms, it's the 48 hours before you developed those symptoms.
Once your isolation period has ended, if you are not vaccinated yet you may do so. The CDC says there is growing reason to believe being fully vaccinated offers better protection than natural immunity. One study showed unvaccinated people who already had COVID-19 are more than two times as likely as fully vaccinated people to get sick again.
If you test positive between doses of the two-shot Pfizer or Moderna vaccines, you'll need to wait until after you are well enough to end your isolation period to get your second dose.
Helpful Resources
It's important to stay informed to help you remain in good health and protect your family. View the information below to understand COVID-19, its symptoms, and to know where you can go to receive the latest updates.
Understanding COVID-19
COVID-19 spreads when someone who is infected with the virus breathes droplets and small particles that contain the virus (source).
It is transmitted in 3 main ways:

Breathing in the small droplets exhaled by an infected person
Sprays from coughs or sneezes
Touching your face with the virus on your hands
Symptoms of COVID-19
This list is not all-inclusive. Older adults and people with underlying medical conditions might be more susceptible to serious complications (source).
Fever or chills
Cough
Shortness of breath or difficulty breathing
Fatigue
Muscle or body aches
Headache
New loss of taste or smell
Sore throat
Congestion or runny nose
Nausea or vomiting
Diarrhea
It's important to seek emergency care immediately if you have:
Trouble breathing
Persistent pain or pressure in your chest
New confusion
An inability to wake or stay awake
Pale, gray, or blue-colored skin, lips, or nail beds, depending on skin tone
Reid Health COVID-19 Latest Statistics
Confirmed COVID-positive patients in containment areas: 10
COVID-19 patients in the ICU: 1

COVID-19 patients on ventilators: 0

Suspected COVID-19 admissions in the past 24 hours: 6
As of 7/5/2022. The statistics are updated every Monday. Unvaccinated, as defined by the CDC, is anyone who has not received a dose or has received only the first of a two-dose vaccine.
As of 6/30/2022, Indiana has had 1,775,886 cases. There have been 22,906 deaths in the state, according to Indiana Department of Health.
Reid Health COVID-19 Vaccination Doses
Total from all locations: 60,888

As of 7/4/22. This is updated every Monday.

Reid Health serves an eight-county area, including Wayne, Randolph, Henry, Union, Fayette, and Franklin counties in Indiana and Darke and Preble counties in Ohio. The statistics above represent patients from throughout the service area.
General COVID-19 questions
What can I do to protect myself and others?
Get vaccinated and if you're eligible, get boosted.
Stay home if you're sick.
Wear a mask when in crowded indoor public places.
Stay at least 6 feet away from others.

Avoid crowds and poorly ventilated areas.
Wash your hands often. Watch this video on proper handwashing.
Avoid touching your eyes, nose, and mouth with your unwashed hands.
Cover your cough and sneezes.
Clean and disinfect high-touch objects and surfaces regularly.
Why are there breakthrough cases in vaccinated people?
When someone who is fully vaccinated from COVID-19 becomes infected with the virus, this is called a "vaccine breakthrough infection." No vaccine can 100% eliminate a virus. After receiving a vaccine, some fully vaccinated people can still get sick, be hospitalized, and even die from COVID-19.
Research has shown those who are vaccinated and still become ill with COVID-19 experience less severe symptoms and less risk of infection, hospitalization, and death. Data shows those who are vaccinated experience adverse effects from the virus at a much lower rate than those who are unvaccinated.
I've had COVID-19 or I've been vaccinated. Why do I still need to wear a mask?
The recommendation is that although vaccinated or recovered from previous infection, you should still wear a mask while remaining at least 6 feet apart, especially indoors. Because the virus is spread through the transmission of respiratory droplets when someone coughs, sneezes, talks, or breathes on another person, a mask will add an additional layer of protection to help slow the spread.

What is the Omicron variant?
Omicron variant is a mutation of the COVID-19 virus. This variant has been the most common seen in positive cases since December 2021, spreading more easily than any variant before it. The greatest concern with this variant has been the impact on unvaccinated people as the transmissibility has been higher in unvaccinated groups.
What is the risk of my child becoming sick with COVID-19?
COVID-19 can make children very sick and cause them to be hospitalized. In some situations, the complications from infection can lead to death.
Children who get infected with COVID-19 can also develop serious complications such as multisystem inflammatory syndrome (MIS-C) -- a condition where different body parts become inflamed, including the heart, lungs, kidneys, brain, skin, eyes, or gastrointestinal organs. Since the pandemic began, more than 2,300 cases of MIS-C have been reported in children ages 5 through 11 years. Children with underlying medical conditions are more at risk for severe illness from COVID-19 compared with children without underlying medical conditions.

Preventative measures such as vaccination, handwashing, mask wearing, and social distancing should be taken to help prevent the spread in schools and communities.
Can Ivermectin help treat COVID-19?
Ivermectin is not approved by the FDA for the treatment or prevention of COVID-19. There is little scientific evidence at this point to prove the drug is a safe and effective treatment for COVID-19 patients.
Can we achieve herd immunity naturally?
There is no practical way to completely keep young, otherwise healthy people from contacting vulnerable populations such as the elderly or chronically ill people. During the 1918 Spanish Flu pandemic, waves of the virus occurred over a three-year period, meaning it took years to develop natural herd immunity while many people succumbed to the illness. The quickest and safest way to achieve herd immunity for COVID-19 is through vaccination.
Do I need to get vaccinated if I've already had COVID-19?
According to the CDC, those who have recovered from COVID-19 should get vaccinated. The CDC cites evidence that suggests people get better protection from reinfection by being fully vaccinated, including one study that showed unvaccinated people who already had COVID-19 are more than 2x more likely than fully vaccinated people to become infected again.
Do the COVID-19 vaccines affect fertility? Are they safe for pregnant people?
There is no evidence the vaccines cause infertility issues, and the CDC says the vaccines are safe for those who are pregnant, breastfeeding, or who hope to become pregnant in the future.
Along with the CDC, the American College of Obstetrics and Gynecology and the Society for Maternal-Fetal Medicine have endorsed COVID-19 vaccination during pregnancy.
Pregnancy causes changes in the body that could make it easier to get very sick from respiratory viruses such as the one that causes COVID-19.
In addition to the same severe illness and death risks that all those with COVID-19 face, pregnant people who become infected have a higher likelihood for preterm birth, stillbirth, and the need for their baby to be admitted to an intensive care unit.
Meanwhile, studies have shown breastfeeding people have antibodies in their breastmilk, which could help protect their babies from infection.
Have questions about the COVID-19 vaccine?
Get Your Questions Answered