COVID-19 has devastating impact on Franklin County family
'The ones that get it are going to find out it is horrible.'
What William Roemer and his family have gone through since the COVID-19 virus began showing up in the area has removed all doubt for them about just how real, how tragic and how serious is this infection.
"It's real," says Roemer's daughter, Rose Boggs. "And you better pray to God you never get it." Their family was devastated by the outbreak that began in Franklin County in March. Three family members got sick - and possibly a fourth, who had symptoms but was not tested.
It started when then 78-year-old William Roemer just couldn't shake a bug back in early March. Antibiotics didn't help. One of his sons took him to a Batesville hospital and he was admitted on March 18. Within a couple of days, he was in a coma and on a ventilator. And he had been positively diagnosed with COVID-19.
"It's real. And you better pray to God you never get it." -- Rose Boggs, daughter of COVID patient
Meanwhile, just two days after he was admitted, his wife, Carol was hospitalized with the virus. And then his son, Donnie, was admitted. They were all three briefly at the same Batesville hospital until a decision was made to transfer William to a larger facility in Cincinnati. He was too sick to know what was going on with his loved ones.
Carol was able to see staff wheel William by her door when he was transferred. It would be the last time she would see her husband. She passed away from the virus on April 1 while her husband and Donnie were still hospitalized. Donnie was released three days after her death.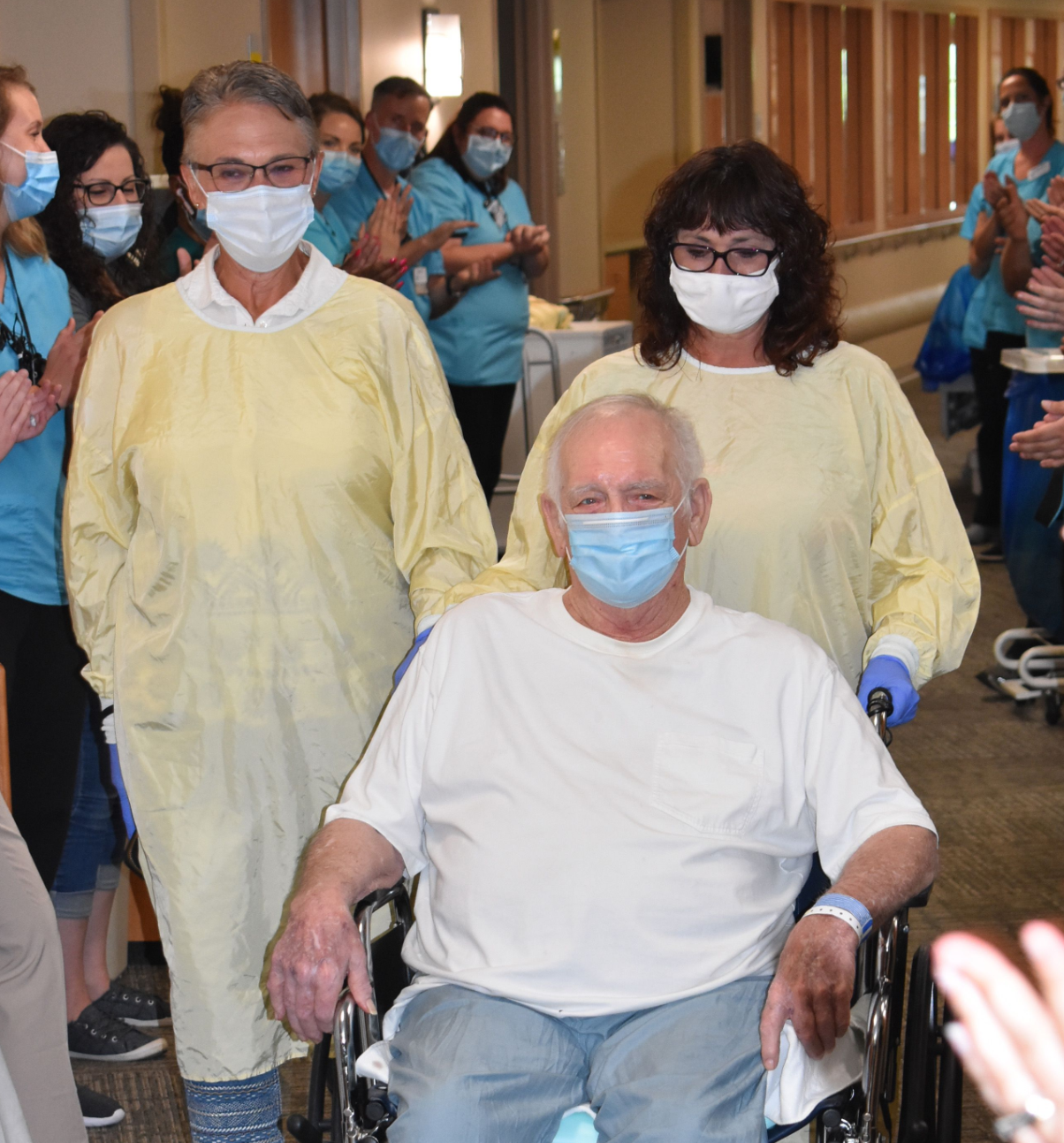 Rose says not only was it overwhelming all three were sick in hospitals at the same time, family members also could not see them in person because of COVID-19 restrictions. "I would receive phone calls from his caregivers about twice a day with updates."
With her father in a coma in another city when his wife lost her battle, the family had to figure out if and when they'd actually be able to tell him his wife was gone -- or that his son had been sick too. "He didn't know either one of them was sick," Rose recalls.
The family had to make arrangements for Carol Roemer with no input from William. He remained in a coma about three weeks after she passed away. When he slowly began to improve and communicate again, they faced the difficult of decision of how and when to tell him about his wife.
It was not until after he was transferred to his third hospital, a rehab facility, that they finally faced giving him the news. "They said he wasn't strong enough to hear mom had passed," Rose recalls, also noting he'd be suspicious if they had a video call and she wasn't there. They decided to wait until he asked. The day came. Rose got a call from one of his nurses saying he was asking about his wife. She had to tell him.
"He said 'how's Carol?' I had to tell him she passed away. And he just broke down."
As he improved, William wanted to get closer to home. The family began looking for places that offered inpatient rehab and learned about Reid Health's inpatient Acute Rehab Center (ARU). Soon it became the fourth facility to treat him -- and more than 90 days of not seeing any family in person.
"Those places saved my life," he says now of the first three facilities. "Reid Health gave me back my life," he adds, referring to the inpatient teams and now the outpatient rehab crew that has been seeing him twice each week. He completed outpatient rehab on August 13 and has plans to go back to his job soon delivering parts for a trucking company.
At 79 and at higher risk, his comeback has been nothing short of amazing, the family says. His therapists agree. Hannah Kramer, physical therapist, said initially it was a huge struggle for William. "He was super weak, super fatigued. I don't think I walked him for a week after he got here. Then I walked him 10 feet and he looked like he had run a marathon."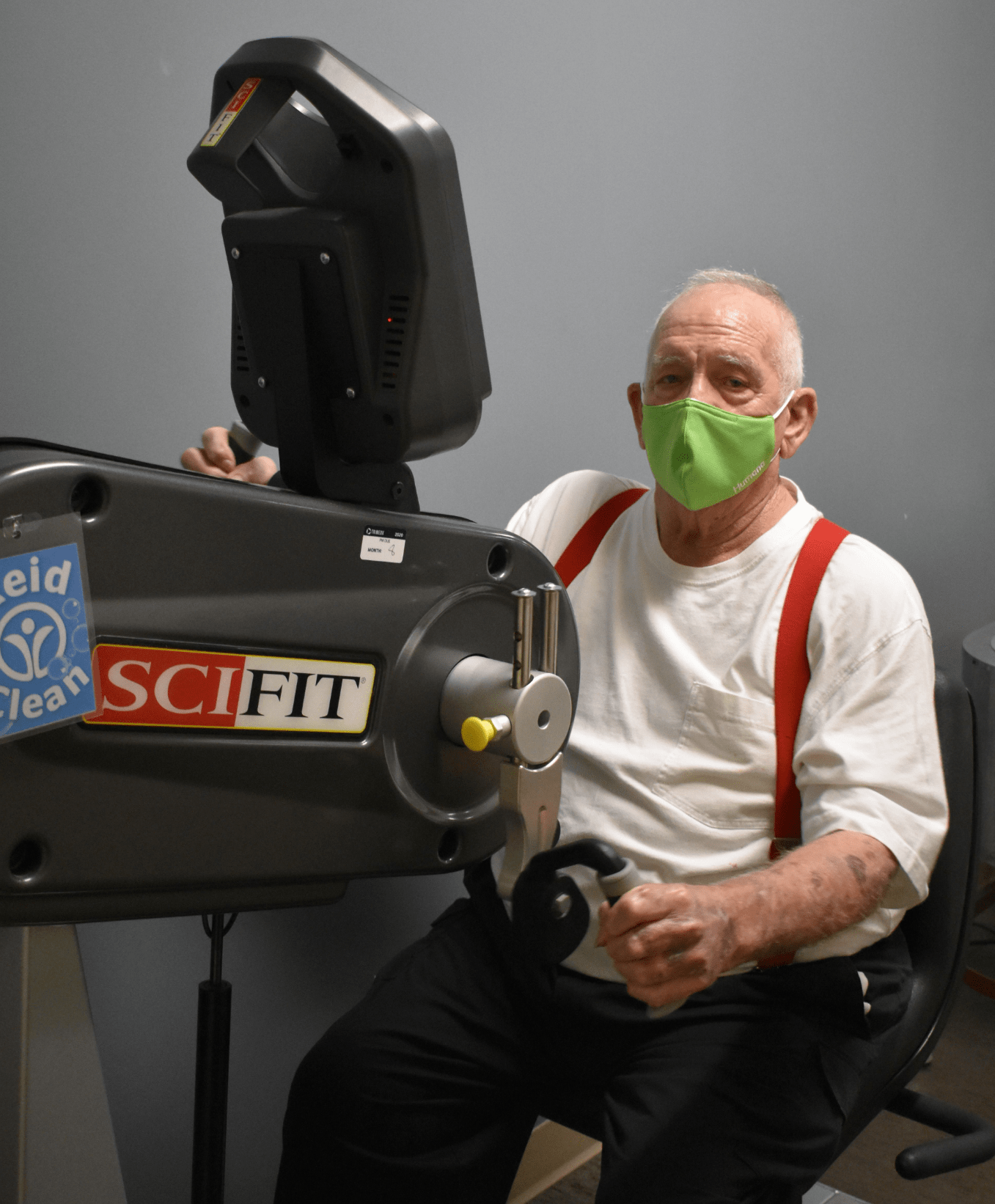 Samantha Knapke, occupational therapist, says he always maintained a good attitude and was determined despite the uphill battle. "He wanted to try everything, though it was tough." They learned of his love for ice cream, using the treat as a reward when he pushed himself along the way.
By the time he was discharged from ARU to outpatient rehab, he was walking by himself with a walker for 300 feet or more. "As far as our COVID patients go, he was our weakest," Knapke recalls. "He definitely had a lot of things against him. He's probably made one of the most significant recoveries I have seen."
She also said his case illustrated the devastation of COVID. "It really opened our eyes to the severity of COVID."
His progress and his discharge prompted a big celebration when he left ARU. Staff clapped and cheered as he made his victorious exit.
Today, Rose and the rest of the family are not amused by how masks seem to have become such a political issue. She bites her tongue over the back-and-forth on rules encouraging or requiring masks.
"I can't believe how educated people are acting about this," says Roemer. Had he known back in March how a mask might help, he would have certainly worn one if it could have prevented his more than three months in hospitals and the impact the disease had on him and his family.
Rose says one of his Reid caregivers, noting just how sick he became and survived, encouraged him to get out there and "live life."
Though they've come a long way, the family is still reeling from all that's happened since early March. "It's been something I don't want to ever live through again," says Rose, noting her oldest daughter was also sick more than a week with what could have been the virus.
She finds it hard to believe anyone doesn't take the disease seriously. "I just look at them, and think, obviously you haven't had anybody sick in your family."
Her dad credits the Reid team with the great progress he has made. "He honestly feels if it wasn't for everyone here, he wouldn't be doing what he's doing now."
His caregivers say his attitude to push forward was a major factor. "I won't give up. I don't give up," he says. His recovery will continue, even after rehab. He still doesn't have a good sense of smell and taste, the loss of which has been identified as one of several COVID symptoms.
His message to others as the pandemic remains a threat: "Take care of yourself. You can't go around and be in these crowds and think you will get by with it. Some will catch this. Some won't. But the ones that get it are going to find out it is horrible."
"The ones that get it are going to find out it is horrible." -- William Roemer, recovering COVID-19 patient.