Right
beside
you.
FREE COVID-19 Screening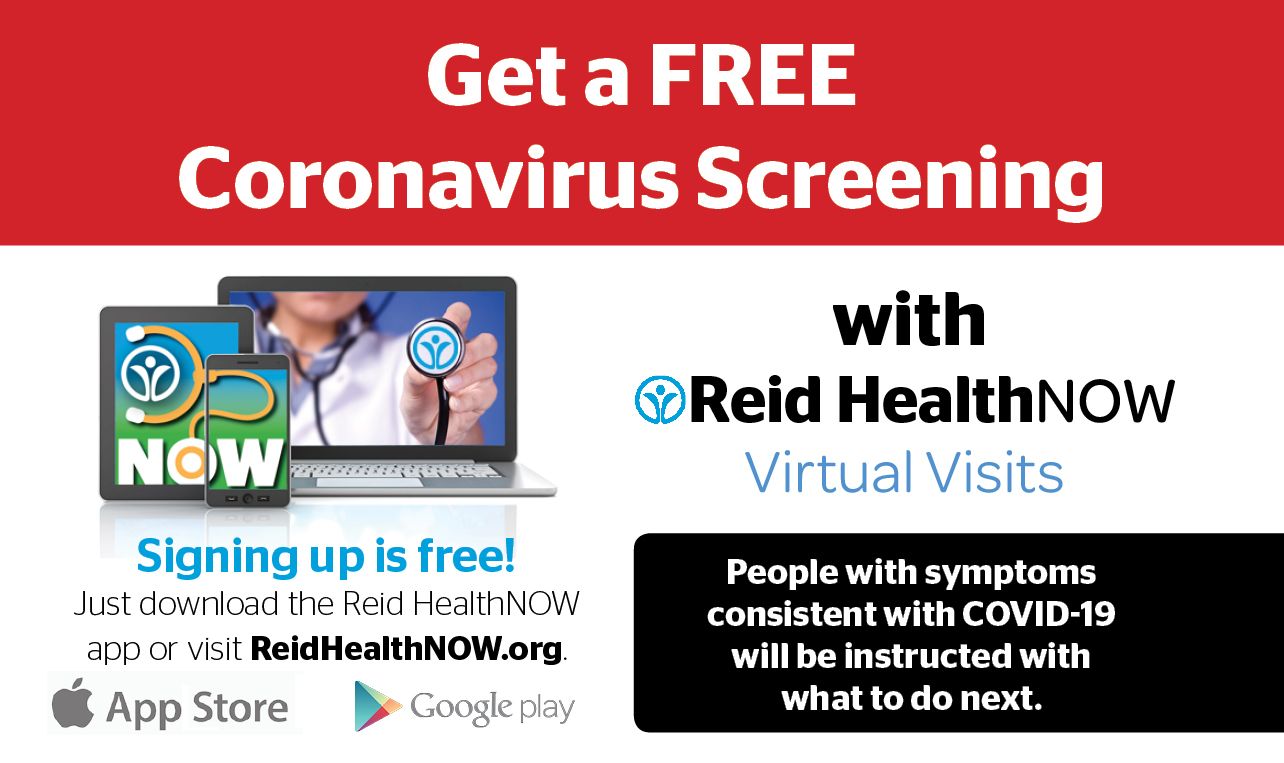 Reid Health has launched a virtual clinic to offer free Coronavirus (COVID-19) screenings using the Reid HealthNOW app. Staffed with Reid Health registered nurses, the clinic will screen patients from home, potentially eliminating the need to visit physician offices, urgent cares or emergency departments.
The team will recommend and facilitate appropriate pathways for care as medically appropriate.
Be sure to allow access to your camera and microphone if you are using the app. If you are connecting via desktop, be sure to test your computer settings.
How can you access the hub?
Download the free Reid HealthNOW Virtual Visits app (Google Play or iTunes) or enroll on your computer .
Enroll by creating a free login and completing your personal profile
Connect with the virtual hub, select "Coronavirus Screen" and find the appropriate pathway for care.

Reid HealthNOW - Virtual Urgent Care Visit
Now through 4/20/20, Reid HealthNOW virtual urgent care visits are $20 (regular price $49) with coupon code 20NOW.
You don't need to get into your car, and you don't even need an appointment! All you need to see a Reid Health doctor in minutes is smart phone, tablet or computer using Reid HealthNOW.
Using the latest video conferencing tools, we deliver real-time care and consultation, virtually, at a time and location convenient for you. Get a diagnosis or prescription from a Reid health care provider, when appropriate.
Download the App
What kind of care can I receive using Reid HealthNOW?
Reid HealthNOW is for you, if you need treatment for the following conditions:
Adult Patients
Asthma
Bronchitis
Conjunctivitis
Cough and cold symptoms
Earaches
Minor back and shoulder pain
Minor medical concerns
Minor trauma, burns or lacerations
Seasonal allergies
Sinus infections
Skin rashes
Urinary tract infections
Yeast infections
Pediatric Patients
(2 years old – 17 years old)
Bronchitis
Conjunctivitis
Cough and cold symptoms
Earaches
Minor medical concerns
Seasonal allergies
Sinus infections
Skin rashes
If you have chest pain, shortness of breath, dizziness, a severe headache, broken bone or other serious problems, please go to the nearest emergency department or 911.
See how it works
Reid HealthNOW - Sick Kid