Right
beside
you.
Follow-up session aims to expand, improve birthing experience at Reid Health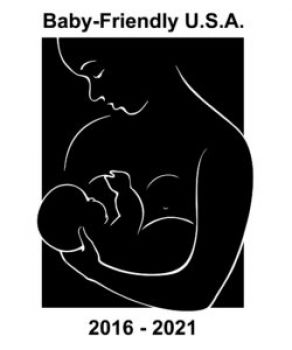 January 11th 2017
The family birthing experience at Reid Health now includes an additional service that aims to ensure new moms and babies get off to a great healthy start.
Stephanie Field Clinical Manager of Women and Children's Services said the addition of a 48-hour follow-up appointment for mom and baby in the Family Birthing Center is designed to help with any challenges or adjustments at home check the health of mom and baby and address other concerns that develop after release from the hospital. She said the first couple of days and first few weeks after childbirth are a critical time in which keeping a close eye on the health of the mom baby and family can help with the many changes and challenges that can come with a growing family.
"We want to provide support to all families during this transitional period as well as identify any risk factors and use available resources as needed" Field said. "The transition to parenthood can be a challenging and scary period of adjustment. Focusing on the transition to home provides the necessary support for the best outcomes."
The appointment involves meeting with a nurse who specializes in post-partum care to assess the infant's health and the mother's recovery help with any challenges to infant feeding and with any other issues that could arise after release from the hospital.
"Lactation support for breastfeeding mothers is also available during the follow-up appointments with an International Board Certified Lactation Consultant (IBCLC) and Certified Lactation Counselor (CLC) nurses in the Family Birthing Center" Field said.
The follow-up program launched in September. Field said that having all moms and babies return within two to three days after discharge can quickly identify such problems as poor feeding or jaundice with the baby pain or emotional distress with the mother and give the family additional information and support. "Our nursing staff builds close relationships with the families we serve through the birthing process and subsequent follow-up appointments. Trust is built throughout the mother's pregnancy care and continues after delivery."
The additional services a focus on helping with and encouraging breastfeeding and the recent process to obtain international "Baby-Friendly®" designation are all helping create an improved birthing experience for families at the Reid Health Family Birthing Center said Kelly Beall Director of the Women and Children's Service Line. "Having this postpartum follow-up program included in the mother's delivery care package at no extra charge to the patient is the right thing to do to ensure healthier mothers and infants in our community" she said.
Reid Health received the Baby-Friendly® designation from Baby-Friendly USA Inc. in August – only the tenth hospital in Indiana to achieve this designation. Though there are more than 20000 designated Baby-Friendly® hospitals and birth centers worldwide Baby-Friendly USA's announcement noted that there are just 364 active Baby-Friendly hospitals and birth centers in the United States. The Baby-Friendly® designation is given after a rigorous on-site survey is completed. The designation is maintained by continuing to practice the Ten Steps as demonstrated by quality processes.
The core of a Baby-Friendly® initiative is the "Ten Steps to Successful Breastfeeding" a bundle of science-based practices established by the WHO and UNICEF as global criteria to improve breastfeeding rates. The criteria are also endorsed by the American Academy of Pediatrics.
The designation also indicates that besides breastfeeding the facility supports and promotes the importance of mother and infant bonding. At Reid Health it means making sure mothers have immediate skin-to-skin contact with their newborn which is believed to help activate the baby's immune system. It also means babies remain with their mother most of the time during their stay rather than being whisked away to a nursery.