Sports Medicine's knowledge, teamwork give patient confidence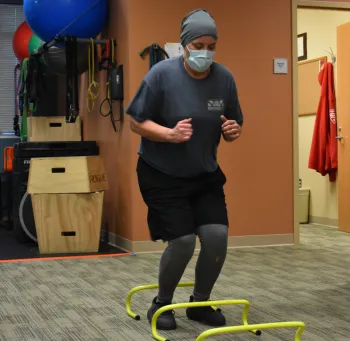 Tami Toney goes through exercises during her post-op rehabilitation at Reid Health's Athletic Training Clinic.
All it takes is one misplaced step. A slight shift in balance that puts unusual stress on a joint. One second everything is fine. The next there's a popping sound and pain.
That's what happened to Tami Toney during a co-ed industrial league softball game. It started with a routine flyball near the edge of the outfield grass.
"I went to take off on my pivot foot and it wasn't on even ground. I heard it and knew what it was," Toney said. "The doctor said the ligament ripped like a rope."
Growing up playing sports and riding horses, Toney was no stranger to injuries, including a partially torn ligament in her knee while playing basketball in high school. This time the ligament tear was complete.
As luck would have it, the team on the other side of the field was from Reid Health.
Trey Hollar, a certified athletic trainer at Reid's Athletic Training Clinic, came over to check on Toney after the game.
"We were shaking hands, and Trey came up to me and said this is what I do, this is where we're at, and asked what my plan was for getting checked out," Toney said. "He told me to come in the next day for an evaluation."
During that assessment, Hollar determined Toney needed to see another member of Reid's Sports Medicine team, Brayton Kiedrowski, DO, whose office is in an adjacent part of the Reid Health Comprehensive Bone & Joint Center, 1400 Highland Road in Richmond.
"Trey personally walked me over there," Toney said.
Dr. Kiedrowski ordered X-rays to be done, which were followed by an MRI that revealed the complete tear in the ligament. Toney then was referred for surgery.
Before surgery could be done to repair the tear, Toney had to wait for swelling in her knee to go down. She spent the month before her procedure doing work at the Athletic Training Clinic to build up muscles that would help speed her recovery after surgery.
About two weeks after the ligament was repaired, Toney began her post-op rehab, choosing to continue working with Hollar at the Athletic Training Clinic.
"Knowing Trey, knowing his mentality, him knowing my mentality, I wanted to stay there," she said. "We have an awesome plan with Trey to finish out the recovery process. The knowledge he has and the different exercises have allowed me to be able to work on different functions, even when I'm home."