Richmond gymnast enjoys national-level success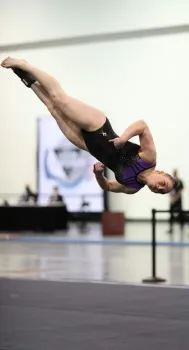 Addison Moore
There wasn't one particular incident that caused the injury to Addison Moore's left foot.
It was an accumulation of grinding and contracting of joints and ligaments caused by the repetition of her gymnastics routines that eventually demanded the foot be examined.
The Richmond High School sophomore was about to compete in some of the season's most important meets with the state, regional, and national championships on the horizon.
Addison had been to the Reid Orthopedic Center for other minor injuries in the past. As she worked her way through the latest one, staff suggested Reid Health's Athletic Training Clinic as an option not only for rehabilitation but as a way to help avoid future problems.
"They mentioned maybe getting her into some preventative work, and we found out about this place and brought her here," said Bonnie Moore, Addison's mother. "Now she's doing preventative training, too."
"It's been great. I feel a lot better," Addison said. "Every time I come here, the next day I feel looser or if something's sore, I notice a difference."
Representing the Jaycie Phelps Athletic Center in Greenfield, Ind., Addison went on to win the state and regional all-around titles in her USA Gymnastics division. At the Level 9 Eastern National Championship event in May in Atlanta, Ga., she won the bars while also taking second on the floor and second all-around.
Addison has attracted the attention of several major colleges, and she plans to graduate high school a year early.
Having competed in gymnastics since the age of 7, Addison is ready for the next challenge that college will bring.
"I'm looking forward to finding the right school for me and taking that next step," she said. "I'm excited to see what the future will bring."
"Every time I come here, the next day I feel looser or if something's sore, I notice a difference." -- Addison Moore