Athletic Training Clinic
A small injury left unaddressed can become a bigger issue - taking athletes out of the game for a long time. We offer rehab treatments for injuries ranging from minor tweaks and tendinitis to post-surgery.
Should you need to have a surgery due to an athletic injury, physical therapy will be needed and will usually be anywhere from 2-3 times per week. We can help to supplement those sessions with additional guided care placed between your physical therapy sessions to make sure you don't miss a day without progressing forward.
Sometimes athletes are medically cleared or run out of physical therapy appointments, but they still want to have some guided assistance to stay healthy. That's why we're here.
We have standard and advanced athletic training services in a quality professional location.
A student-athlete can attend the athletic training clinic for five sessions for only $35. Call our office to schedule an appointment to meet with an athletic trainer 765-973-8057.
Request Info
Athletic Training Services
Reid Health offers a wide variety of options to help keep athletes performing at their best. From treating and testing existing injuries to preventing injuries, our trainers help athletes get back to performing their best.
Muscles and connective tissues are strong and designed to help us move. When a sports injury occurs, those muscles, tissues, and the nerve connections to them may be damaged. Rehab is all about rebuilding strength and retraining all of those connections while keeping your muscles moving during the healing process.
However, it can sometimes be hard to get the sports specific motions such as spiking a volleyball, rounding bases, or sidestepping a tackler with weight machines and bands. Just because physical therapy is over doesn't always mean you will be "sports ready." Reid Health's Athletic Training Clinic is here to provide an additional layer of recovery to get athletes back in the game.
Injury Prevention
An athletic trainer is always on site during our hours of operation to look at muscle imbalances and to provide exercises that can correct these imbalances.
ImPACT Concussion Post Testing
If the patient has been given clearance from their Healthcare provider to take the ImPACT post test, the athletic training clinic provides a site where this test can be taken. An athletic trainer can follow up with your healthcare provider immediately once this test is completed for a quicker turn around pending your results.
Kinesio Taping
The Kinesio Taping® Method is a rehab taping technique that allows the body's natural healing process to occur while providing support and stability to muscles and joints.
Kinesio Taping® does not restrict the body's motion and improves the benefits of manual therapy that may be provided during a rehab appointment.
This method has been proven to have positive physiological effects on the skin, lymph, circulatory system, fascia, muscles, ligaments, tendons, and joints. It can be used alongside many other treatments in our clinic and is effective during injury prevention and recovery.
You can purchase this tape on your own and apply it yourself. However, an athletic trainer is educated on the structures of the body and the motion those areas need to perform. In knowing this, an athletic trainer can customize the taping method to your specific condition and concerns to help support and improve your function.

Standard Athletic Taping
If you need to be taped before practice or before a game, you can have all your pre-game needs in one place. We can tape injured ankles and wrists in a few moments, helping to secure the injured area, speed up healing time, and decrease the likelihood of a reoccurring injury.
Cryotherapy, Hydrotherapy, Thermotherapy
Your body is unique, and so is your injury and recovery process. Your body may react to a sports injury in different ways. If you hurt your knee your hip or ankle may begin working harder or differently in an attempt to keep you moving. Certain injuries require different approaches in order to provide you with relief and recovery you need.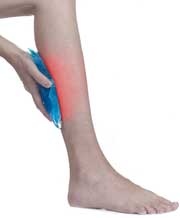 We have ice packs, hot packs, paraffin wax, hot/cold tubs, ultrasound, ice cups, and new Therm X Modality (see below) to keep you moving on your road to recovery.

Cryotherapy is use of cold temperatures to reduce swelling and provide treatment. We have several options involving ice available to reduce swelling and heat.
Hydrotherapy is the use of water in therapy. This is beneficial because water helps to lighten the load on joints while also providing light resistance in moving.
Thermotherapy is the use of warm temperatures to improve blood flow, provide muscle relief, and loosen stiff joints.
E-STIM
E-STIM, or electrical muscle stimulation, is a method that stimulates muscles contractions.
When you voluntarily contract a muscle - flexing your bicep, your bicep forms an iconic lump of contracted muscle. As you extend your arm, the muscle flattens out. E-STIM provides an electrical stimulation that makes this process occur in a targeted area many times in a row and very fast.
This process strengthens and repairs tissue, particularly muscles which have become shortened or weakened due to injury or disease. E-STIM can also be used by athletes as a muscle conditioning or recovery tool. Some studies have indicated that E-STIM can be targeted to create contractions in different types of muscles fibers; allowing athletes to train injured or weakened muscles for particular functions and responses.
Ultrasound
Did you know ultrasound could be used for therapeutic reasons?
Therapeutic ultrasound is used primarily for two different reasons.
Some tendons, muscles, or ligaments are hard to reach with a topical approach. Ultrasound is often used to provide heat deep into the soft tissues of the body. Deep heating decreases pain and increases circulation, which improves the healing process.

An ultrasound introduces energy into the body, this energy causes microscopic bubbles around your tissues to expand and contract rapidly. This process is called cavitation. It is theorized that the expansion and contraction of these bubbles helps speed cellular processes and improves healing of injured tissue.

Therm X Modality
The Therm X Modality treatment machine provides cold, heat, contrast, and compression therapy in one session. No more ice packs or heating packs being too hot. With this machine, you can set the temperature and maintain that temperature for the entire session.
Massage Therapy
We also offer massage therapy from licensed massage therapists. Appointments for massage therapy can be scheduled by calling Reid Health Central Scheduling: (765) 983-3358.
Massage therapy has be proven to help loosen sore muscles and assist with preventive care.