Program helps couple with conception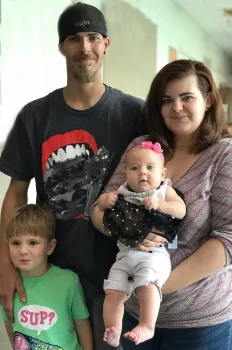 Chris and Sarah Trate with Samuel
and baby Elizabeth
After suffering a miscarriage and then trying for more than a year to get pregnant again, Sarah Trate believes she found her solution and success in a program that also put her more in touch with what was going on in her body.
"It's not just about getting pregnant, it's about tracking your health," she says of "NaProTechnology," a program she credits with helping her successfully have a healthy baby girl in early 2019. The program, which involves attending classes and monitoring hormones and cycles in detail, was recommended to Sarah and husband Chris by Tina Reichley, M.D., who completed training in NaPro in 2018.

"NaPro uses the Creighton Model FertilityCare™ to allow a woman to monitor easily and objectively several different biological markers that are essential to understanding a woman's health and fertility," says Dr. Reichley.

Trate says she learned her body wasn't producing enough progesterone to support a pregnancy and carry a baby to full term. Though she had one child already - Samuel is 4 - she learned a second child had died in her womb at her first ultrasound. After that, she avoided using birth control for more than a year, yet still did not conceive.

That's when she sought another infertility solution and found NaPro through a referral to Dr. Reichley. "Dr. Reichley sat down and talked to me about it. She said some infertility is common after a miscarriage." She also learned her monthly cycles were shorter than normal and eventually about the issue with her hormone levels.

Using the program, she believes she was able to understand when conception was more likely to occur, and actually predicted her due date within four days.

"It's not just about getting pregnant," she says of the extensive tracking of her monthly cycles. "It's about tracking your overall health. We found out we were infertile going through those cycles. I wasn't necessarily ovulating the same. My body wasn't producing enough progesterone."

Besides learning her monthly cycles were shorter than normal, the program helped her with other issues that could have hindered conception.

Dr. Reichley says NaPro can help couples avoid pregnancy or know when they have a better chance of conception. "It works cooperatively with the procreative and gynecologic aspect of a female's body, and in so doing, can help identify problems and work with the woman's body to correct them. It's not suppressive, it's not artificial. It is not destructive. It is the 'go-green' approach to female health."

Dr. Reichley says the information can also help women with PMS, ovarian cysts, irregular or abnormal bleeding and even post-partum depression - Sarah says she also suffered from depression after her baby was born.

"What actually helped me was giving me progesterone," she says. "It helped with my post-partum. It made me feel better."