'Watchman Device' alternative to blood thinners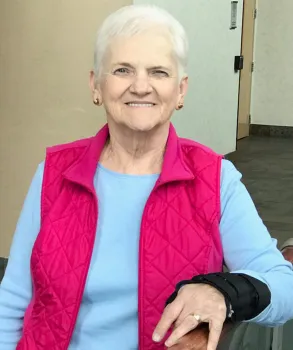 Lucy Kuglin
Lucy Kuglin found an alternative to a blood thinner for atrial fibrillation - or A-fib - that helped her reduce her risk of stroke and bleeding.
Vuy Li, M.D., cardiologist with Richmond Cardiology Associates who specializes in electrophysiology, suggested she could be a candidate for a "Watchman Device" that could allow her to stop taking blood thinners. After tests showed she was a candidate, she had the procedure in July 2019. More than a year later, she's really thankful she did.

"I came through it fine," she recalls of the procedure where the device was implanted in her Left Atrial Appendage where blood clots can form because of A-Fib. The blood clots are what create the stroke risk. A-Fib is an irregular heartbeat that can lead to blood clots, stroke, heart failure and other cardiovascular complications.

The device keeps the clots from forming and when successful, allows a patient to be taken off of blood thinners, which can increase risk of bleeding and bruising and sometimes require frequent visits to the doctor for tests. Kuglin was able to stop taking blood thinners after 45 days and was off the medication after six months. Today she only needs to take a daily aspirin for her condition.

She already takes many medicines for other conditions, so she said it was great to be able to reduce the number of medications she has to take each day. She had her first heart cath when she had issues in her 30s and has had a pacemaker since she was in her 50s.

The Watchman Device is implanted under general anesthesia and typically takes less than two hours to perform. The surgery involves inserting a catheter into a vein in the leg and using X-ray to guide the catheter to the heart for implantation.

"Dr. Li is a wonderful person and a wonderful doctor. He's very comforting and honest."