Two-time cancer survivor credits early detection
Oct. 13, 2023 -- Beth Hisle's cancer experiences were so different from each other there isn't much to compare but one similarity: Early detection was key.
The two-time survivor beat breast cancer in August. Had it not been for scheduling her annual mammogram, the pea-sized mass might have gone undetected.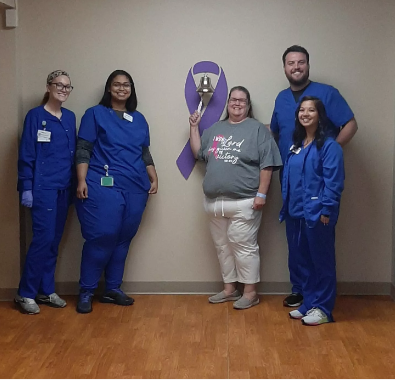 A switchboard operator at Reid Health - Connersville, Hisle had scheduled an annual visit following her night shift. With the Radiology Lab located on campus, getting the mammogram was easy.
"I thought it was going to be just a normal, routine wellness mammogram," Hisle said.
Then she received her results in MyChart reporting a spot had been found on her right breast.
"It alerted me a little bit," Hisle said.
Uncertain about what she was reading, she waited until her doctor's appointment later that day to ask about the results.
"He thought it might be a cyst, but he wanted to wait to see," Hisle said.
A second mammogram and an ultrasound confirmed breast cancer. Until then, Hisle had been cancer free for 19 years and 5 months.
Her first cancer was detected in November 2003. She and her husband, Jimmy, had been married for 14 years and were trying to have children. A biopsy was ordered to help determine why the couple hadn't conceived. Without a family history of cancer, it wasn't on Hisle's radar to expect such a diagnosis, yet the biopsy detected uterine cancer.
Within two weeks of the biopsy, Hisle met with a surgeon before she was scheduled for a full abdominal hysterectomy. A three-day stay in the hospital to begin recovery followed.
"It was caught early. It was, as they described it, a fist-sized ball mass in the middle of my uterus. There was nothing in the lymph nodes, so no chemo or radiation would be required," Hisle said. "I was cancer free."
Once home, Jimmy was there to help her mend from the surgery that had required a six-inch incision starting from above her navel. He encouraged her to follow the doctor's instructions and took care of her and whatever needed to be done.
"He has always been there with me," Hisle said. "Whatever I need, he's got it. I definitely found the needle in the haystack when I found him."
Her only follow-up was to have a pap test every three months.
Other than that, it was over. All in a matter of two weeks.
The second cancer was different.
"The first one I was told what was going to happen and it did. It was so fast I hardly had time to digest I had cancer," Hisle said. "This time it was a longer period, more detailed, and I needed radiation."
Following the second mammogram and ultrasound, Hisle met with a cancer nurse navigator at Reid Health Oncology. General Surgeon Christopher Moore, MD, ordered a biopsy to check the mass.
"I was nervous and scared because this was totally different than my first round," Hisle said. "With this one, I had a lot more questions and a lot more anxiety. I told one of the nurses in the Breast Center I was more nervous with this one because of the not knowing."
Although a Reid employee, Hisle didn't know everyone involved with her treatment. She received reassurance and answers to her questions from those she met, making the process easier than she had anticipated, she said.
The care team provided more than cancer treatment; they provided a caring touch during the toughest times.
"The nurse was patting my hand while they were doing my biopsy," Hisle said.
The second round of cancer included more tests, more surgery, meetings with three oncology doctors, and 20 radiation treatments.
Instead of two weeks, it spanned five months.
"Cancer has tried twice to take me out, but I'm not going to let it," Hisle said.
In August, Hisle rang the bell signifying her final treatment. The celebration was twofold: There hadn't been a celebratory ending to her uterine cancer 20 years earlier.
"I actually felt kind of cheated the first time. It was done, over, and I didn't have to go through radiation and chemo," Hisle said.
This time she feels like a cancer survivor having battled through the soreness, sickness, emotions, and healing.
"I may have had cancer, but it's not going to have me," Hisle said.
There by her side to ring the bell was Jimmy. Later, he took her to dinner. The Fayette County couple will celebrate their 34th anniversary on Oct. 28.
When Hisle shares her journey with cancer, she uses the hashtag #cancersux. The message she continues to carry after her first diagnosis is preventive screenings are effective.
"Early detection is key. It sure was for me. Both times," Hisle said.