Home for good: These Connersville natives returned to care for the community they love
When you think of home, what comes to mind?
No matter the place or period in your life that pops into your head, the idea of home likely invokes warm memories of good times spent with friends and loved ones, people close to us who have shaped us, sometimes subtly, sometimes profoundly.
Throughout our lives, we call many different places home, different houses or apartments, different cities or towns in different states. Maybe even different countries.
But there's a special connection to where we grew up. For some of us, the tug of that bond is so strong, we never leave. For others, it's a constant presence, enticing us to return.
That was the case for a quartet of Reid Health physicians. Connersville graduates all, they left to begin their careers before eventually making their way back home. These are their stories.
Beth (Beeson) Ingram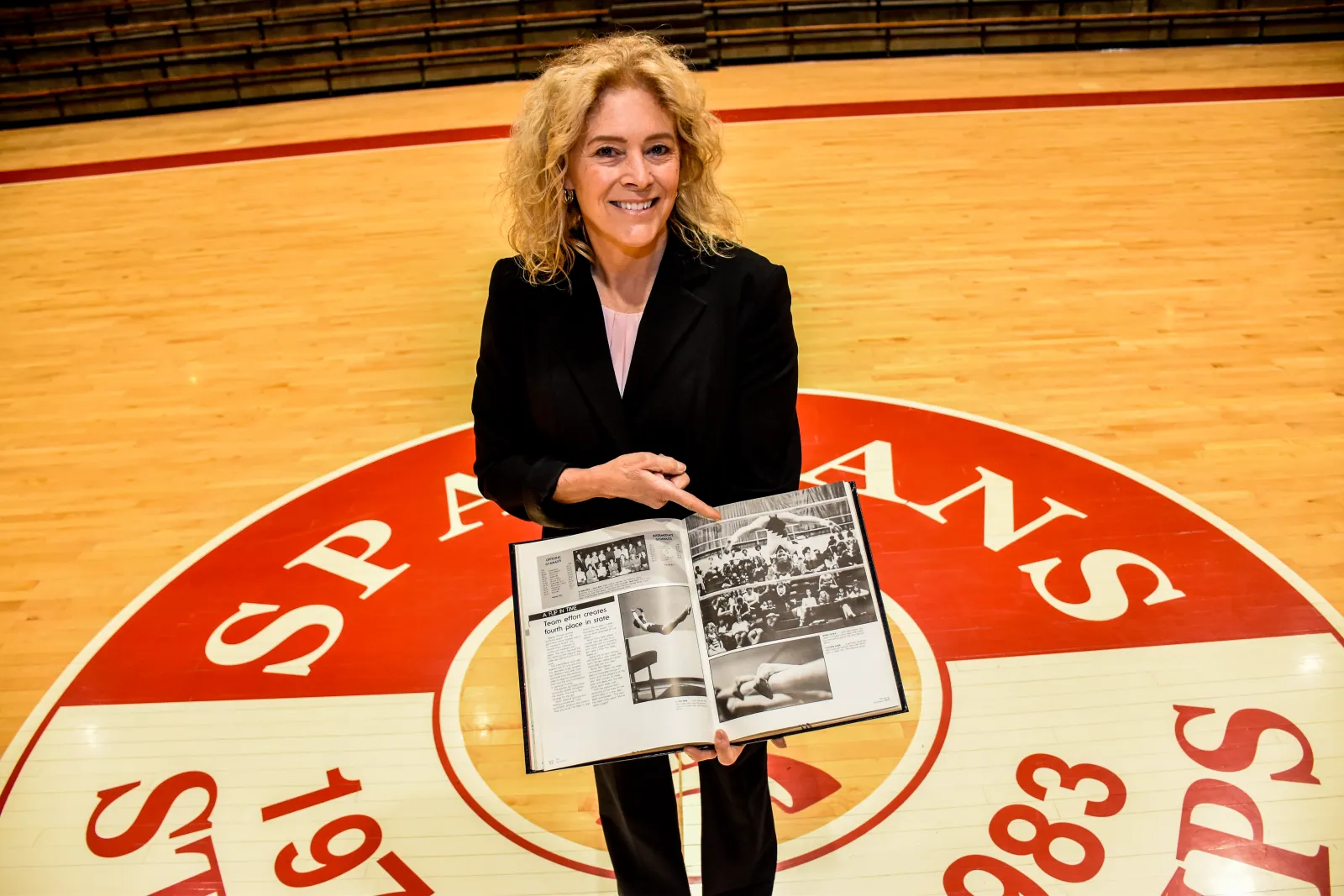 Not many people can trace their local roots as far back as Beth (Beeson) Ingram, MD. She's related to Benjamin Beeson who settled in the area sometime in the early 1800s.
"My family has lived here for generations," she said. "I kind of knew I always wanted to come back home. I knew I would be happy here.
"I never saw being in a smaller community as imposing limitations at all. I never thought for a minute there wasn't anything I wanted to do that I couldn't do. Actually, I would say it's a strength. You get a lot of support from a small community that you may not feel in a larger city."
Dr. Ingram was young -- 8 or 9 years old -- when she knew she wanted to pursue a career in medicine. Visits to her pediatrician made a lasting impression.
"I can remember sitting in the exam room and thinking I want a job like his because he always has fun, and that was it. I kind of stuck with it," she said.
Dr. Ingram graduated from Connersville High School (CHS) in 1982. At the beginning of medical school, her intention was to go into internal medicine, but she eventually found her calling with interventional radiology.
"I knew it from the minute I picked up the radiology textbook. I couldn't put it down," she said. "I love physics. I knew immediately it was for me. It tied everything together."
She signed a contract to join Reid during the fourth year of her residency and returned home.
"It's wonderful having the support here. My parents are still in Connersville. My husband's parents are still in Richmond," Dr. Ingram said.
"I love the people here. It's remarkable how they care. They're hard-working. It's not like they have vast resources to pull from right now, but they seem to work together to make a lot of good things happen with limited resources and a lot of heart."
Jordan Parrett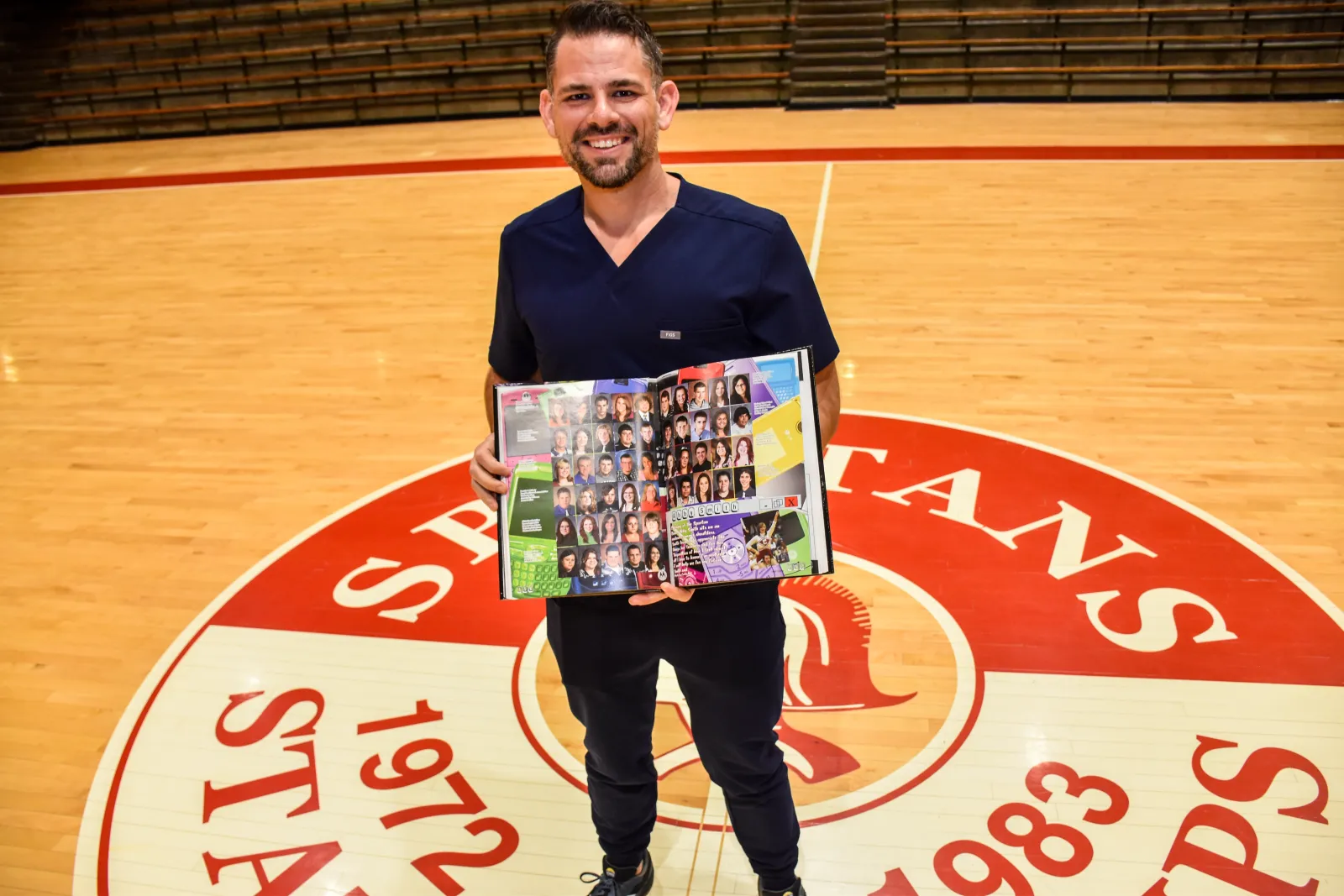 It was always the intention of Jordan Parrett, MD, to return to his hometown to practice medicine. Seeing many of his friends do the same in their own careers has assured him he made the right choice.
"It's just hard to find a replacement to what feels like home," Dr. Parrett said. "My wife and I lived in a lot of other areas, and I never felt like I found that sense of community that I grew up with. Connersville has that.
"As a doctor, it's rewarding being able to take care of patients who I feel close with and who feel close to me. They can sense a pretty quick connection with me."
A 2009 graduate of CHS, Dr. Parrett originally planned to practice family medicine before switching to emergency medicine during his last year of medical school.
"I liked being able to help patients when they were in stressful times and help them navigate that," he said. "I also liked the environment of the emergency department, all the resources available, and the ability to make a big difference during a crucial time in someone's life.
"It's been rewarding to be able to give back to my community. I've been able to care for people I know or my family knows and take care of people who used to babysit me. It's been really cool to be in this position. It's given me a lot of affirmation that I made the right career choice."
Christi (Starr) Holmes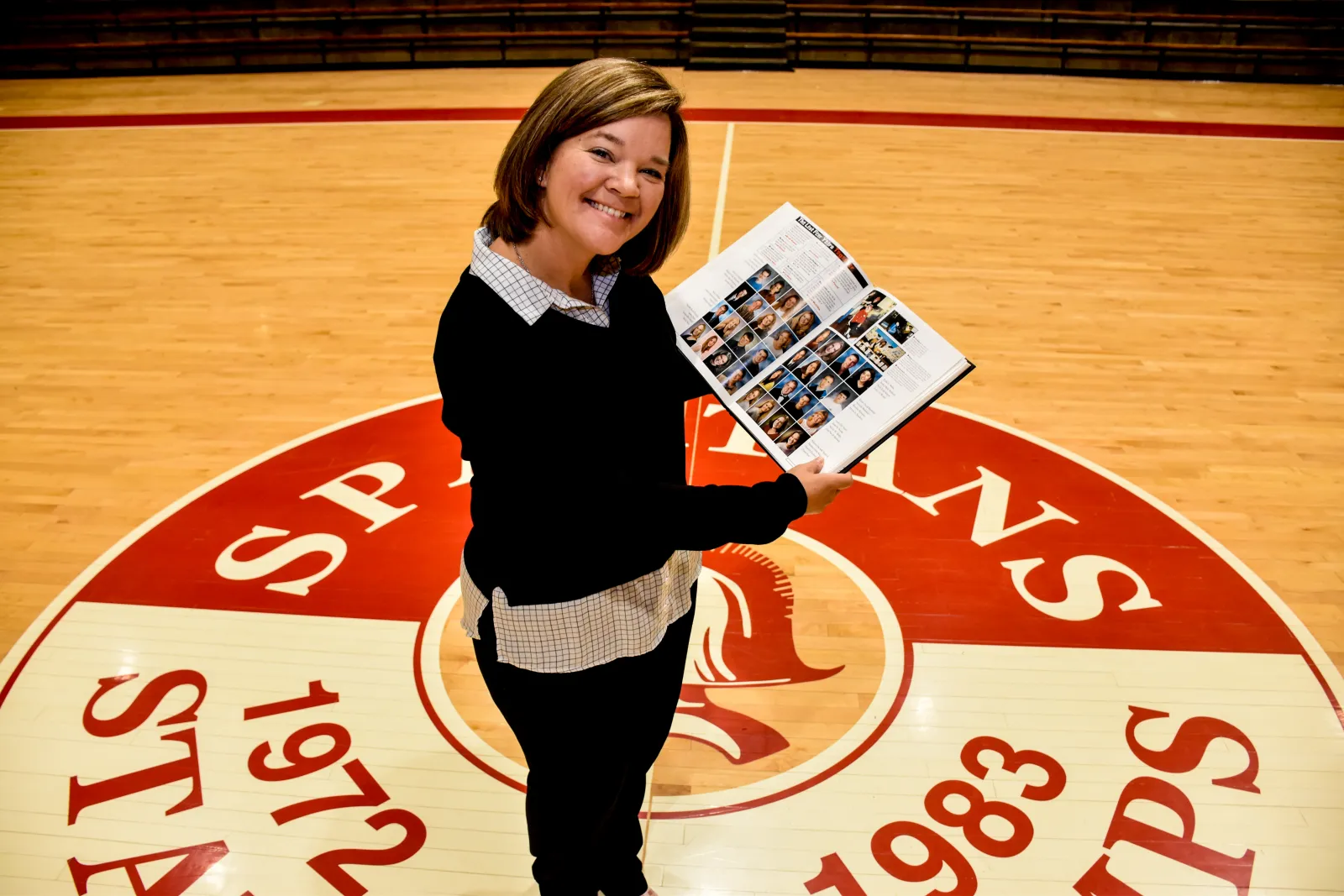 Christi (Starr) Holmes, MD, didn't return home right away after finishing her education. The pediatrician had been practicing for about 10 years before the right circumstances came along for the trip back to Connersville.
"It was just the right fit for the right moment," the 2001 CHS graduate said. "My pediatrician was a Reid pediatrician. I'm very proud to be working for the Reid system."
Dr. Holmes knew in the sixth grade she wanted to pursue a medical career. Working in pediatrics was a natural path for her.
"I always knew I wanted to work with kids. I loved math and science, and it seemed like a great way to combine those things," she said. "I always loved helping people, and that seemed like a great way to do it.
"I love kids. They're resilient. They don't want to be sick. They don't want to be down. They usually will tell you how it is and then get back to playing and back to growing up."
To Dr. Holmes, the fact that people she's known since she was a kid herself now count on her for their loved one's care is special.
"Every time I see someone I knew growing up who then trusts me with their kid's care or a family member's care, it's just a huge honor," she said.
Bradley DuBois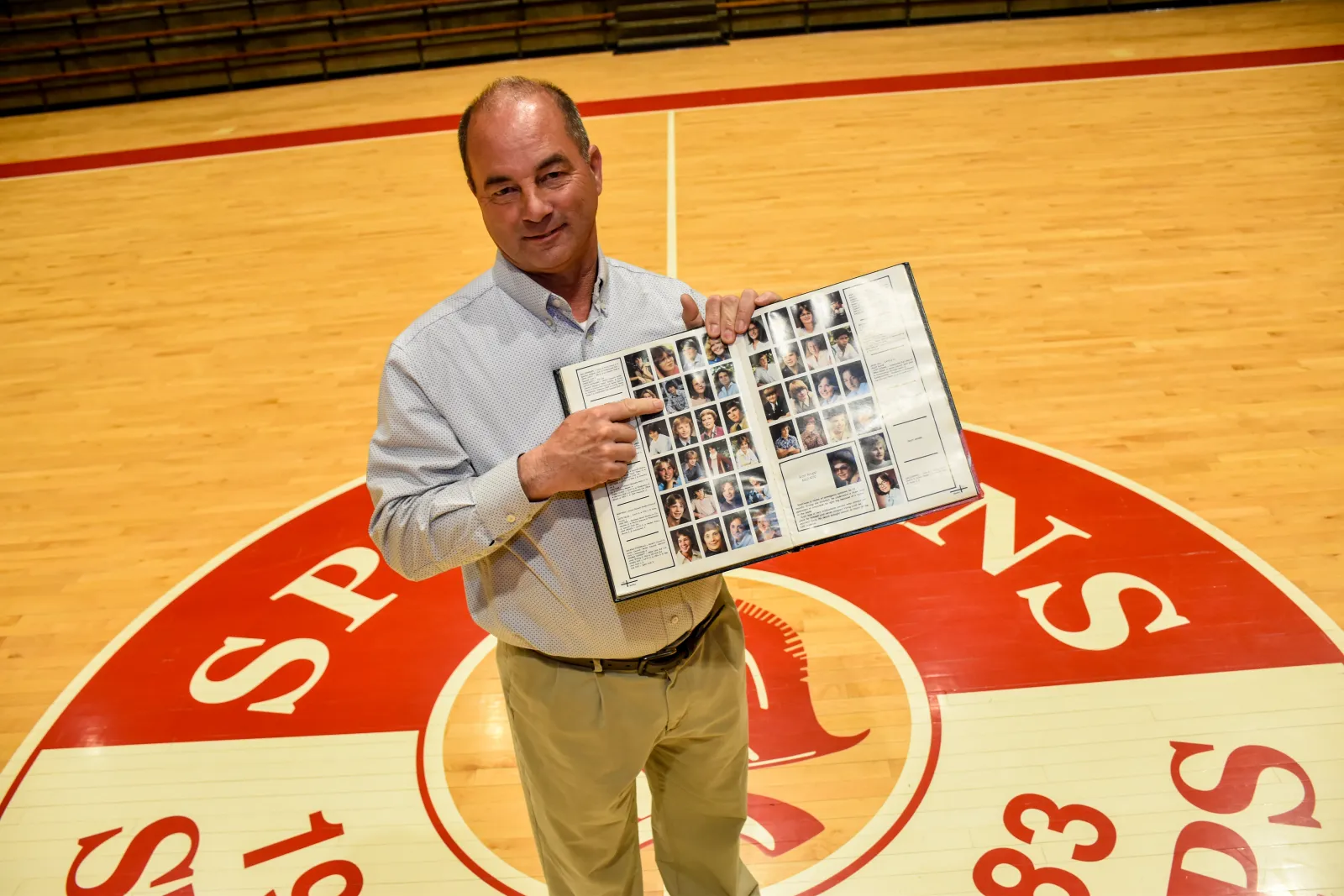 Growing up, any moment could be the one that sets you on the path toward your eventual career. It could be a chance encounter with a stranger or a push from a teacher to dig deeper into a particular school subject. Maybe it's something you see on TV or in a movie.
For Bradley DuBois, MD, the moment came with he was 14 years old, out mowing grass at his grandma's house. That's when someone from school called to say the French class he had intended to take was cancelled. Instead, he ended up in biology, the first step toward a career in medicine.
Dr. DuBois' family settled down by Brookville six generations ago, but his grandfather bought a farm in Fayette County. Today, Dr. DuBois and his brother live on opposite sides of that farm.
"You take a different perspective if you know the people you're caring for, a more personal view of how they do. I love to yell at my neighbors who are outside smoking," he laughed.
After graduating from CHS in 1980, Dr. DuBois joined the U.S. Army as a medic. When his service was up, he made his way to medical school with the thought of going into plastic surgery, but a stint working with a family doctor changed his mind.
"I'm not much of a salesman, and I loved the variety of care he did," Dr. DuBois said. "It didn't take me long before I was sold on the idea of family medicine."
After finishing his residency in Toledo, Ohio, he moved back home.
"I knew all along I would eventually be back in Connersville. I always had a toothbrush at least here," Dr. DuBois said.
"I love everything about it. It's not a perfect town, but I've lived in other places in the country and every place has its strengths and weaknesses. It's my home."
And more
In addition to Drs. DuBois, Holmes, Ingram, and Parrett, there are several Reid Health advanced practice providers who graduated from Connersville High School and have returned to the area to serve the community. Those include:
Stephanie Coleman, NP

Jennifer Counceller, NP

Stacy Fee, NP

Melissa Griffin, NP

Nancy Hinds, NP

Kayla Nobbe, NP

Haleigh Poe, PA

Adam Reisert, PA

Denise Smith, NP

Morgan Stamper, NP

Mackenzie Weston, PA