Heart cath lessens worries for Greenville, Ohio, man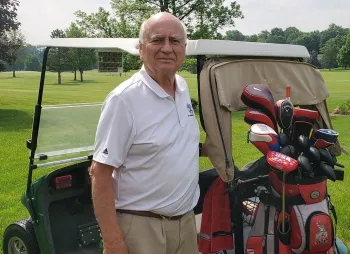 David Aukerman of Greenville, Ohio
David Aukerman of Greenville, Ohio, likes to work, and he likes to play golf. When some long-term, mysterious symptoms began to worsen a few weeks ago, he determined it was time to get to the root of the problem.
His main concern was with his heart, because the symptoms included sensations in his arm and chest that he felt needed investigation - especially after learning of a coworker with similar issues winding up in open-heart surgery.

"Off and on I would get discomfort in the upper left chest area, and at times it would radiate out into the arm. Two months ago or so, my left arm would feel like ants were crawling on it -- not numb, but not totally asleep. And it kind of ached. It would come and it would go. Might act up and feel that way for an hour or so."

He also had issues at night with sensations in his upper chest. Having known of a coworker who had to have emergency heart surgery, he didn't want to take any chances. His experience included an initial trip to an emergency room where he passed cardiovascular tests, a visit to his family doctor and then a referral to Henry Chong, M.D., Bethel Cardiology. Dr. Chong scheduled him for a heart catheterization to find out for certain what was going on.

The test found some partial blockages, but not enough to warrant more than treatment with medication. Aukerman was just glad to get the symptoms figured out and allow him to continue his busy schedule. Though he retired from management at Whirlpool in Greenville in 2009, he works part-time at the Brethren Home and golfs on days he doesn't work.

"I didn't like retirement - I was bored to death," he says. "You could say I'm a little bit of a workaholic." He grew up on a farm, where he learned to appreciate hard work. He attributes his good health at 75 with working hard from childhood. "I plowed ground when I was six years old."

Aukerman says he appreciates the personal care he received from his Reid Health team as well as the convenience of a smaller town. "I feel just as confident with the knowledge and abilities at Reid as I do any of the Dayton hospitals."

Dr. Chong says Aukerman was quite relieved when learning what the heart cath found. "He was quite concerned that the symptoms were due to his heart."

Now that Aukerman is feeling good about his heart and with medicine getting rid of chest pains, he believes he may have a pinched nerve to explain some of the continued symptoms. "I don't have the chest pains anymore. And at least with the heart cath and everything, I got the peace of mind of knowing what it's not," he says.