COVID-19 survivor: I wouldn't be where I'm at without Pulmonary Rehab program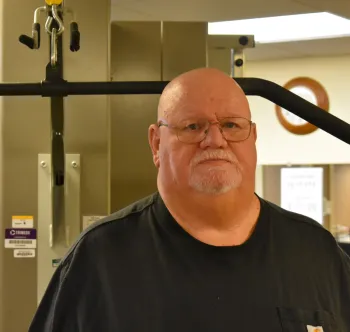 Above: Thanks to his work at Reid Health Cardiopulmonary Rehab, Fayette County resident Donald Steinard was able to eliminate his need for supplemental oxygen after having COVID-19. Top: Donald Steinard with the Reid Health Cardiopulmonary Rehab staff in Connersville.
It only takes about six steps to walk 15 feet, and yet for months, Donald Steinard couldn't cross that distance without the help of supplemental oxygen.
A bout with COVID-19 had left his body so weak, he doubted he would be able to return to his job or do many of the other things he had taken for granted before his illness.
"I had heard so many stories about COVID and the long-lasting effects, and I just thought, 'I'm never going to be able to drive a truck again. I'm not even going to be able to mow my own yard,'" the Fayette County resident said.
"That was one of the hardest things -- sitting at the house and watching somebody else mow my yard. I wanted to be able to take care of myself."
But after months of work in Reid Health's Pulmonary Rehabilitation program in Connersville, Steinard was told it was time to leave his oxygen tank aside and walk the six steps from the scale used to weigh patients at the beginning of their session to the chair where their vitals are checked.
"That was one of the biggest steps I'd ever taken in my life," he said. "It was just 15 feet, but that was the first time without any oxygen."
Steinard tested positive for COVID a few days after he and his siblings had taken their dad out for lunch. Only their father managed to avoid the virus.
The three sisters had all been vaccinated, with two receiving booster shots as well. The boosted sisters never showed symptoms despite testing positive. The other sister lost her sense of taste and smell and managed her way through "a bad cough."
Like Donald, his brother was unvaccinated. He too had a bad cough and ended up at the emergency room because of dehydration. But after a couple weeks, he was feeling better.
Things didn't work out as well for Steinard. "I took the brunt of it," he said.
After testing positive, he continued to feel worse and eventually decided to make the 12-minute drive from his home in Everton to the emergency room at Reid Health - Connersville.
"By the time I got to Connersville, I realized I had absolutely no business driving whatsoever," Steinard said.
"I will always remember that day. I was hoping they could get me off the oxygen, but you always have that lingering doubt. After three or four sessions, reality set in. This is going to work. It's going to help." -- Donald Steinard
He was quickly taken to Reid's main campus in Richmond where he would stay for 13 days, five of them in intensive care. He spent his time in a recliner because he couldn't breathe while laying down.
"A good bit of that time, I was on 55 liters of oxygen," Steinard said. "I was tethered. I couldn't get up. I couldn't do anything, so the nurses had to do everything for me, which was a very humbling experience.
"I can't say enough good about how I was treated. It was excellent care."
By the time he left the hospital, Steinard still needed 12 liters of oxygen while moving and six at rest. "If I went out, I had to drag two tanks around with me the whole time," he said.
Steinard was referred to the Pulmonary Rehab program to regain his strength. The exact dates for many of the milestones of his COVID experience don't immediately leap to mind, but he has no trouble recalling when he went to his first rehab session -- Oct. 21, 2021.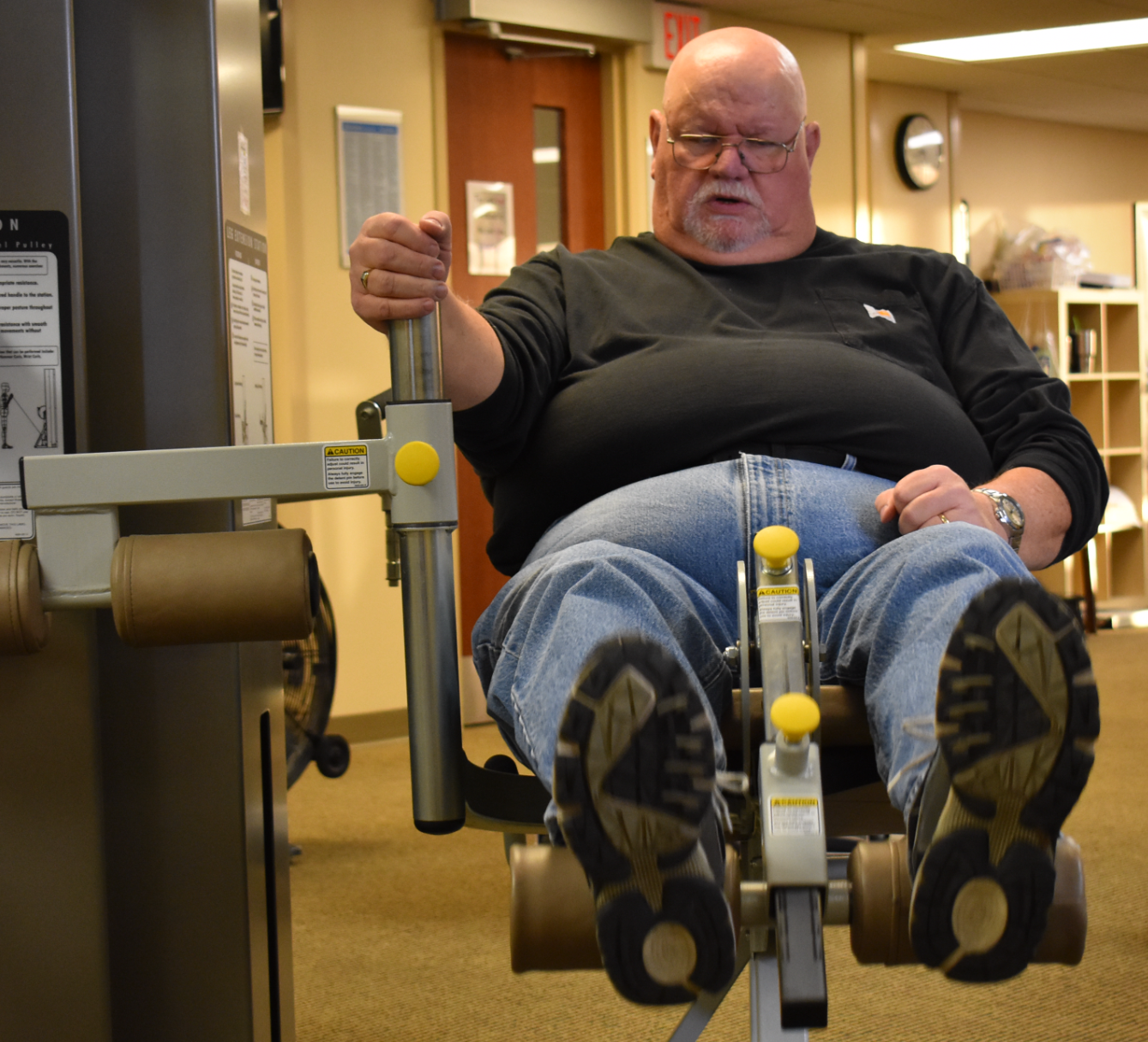 "I will always remember that day," Steinard said. "I was hoping they could get me off the oxygen, but you always have that lingering doubt. After three or four sessions, reality set in. This is going to work. It's going to help."
More than 30 rehab sessions later, Steinard no longer needed supplemental oxygen to get through his day, only while sleeping. He decided to stick with the exercises, joining Pulmonary Rehab's maintenance program and eventually eliminating his need for extra oxygen altogether.
"One of the best parts about being in here is the goals. Every time you reach a goal, they reach that goal with you and celebrate with you," Steinard said.
"The patient does all the work, but we encourage them. We're the motivator. We're there to help them take that next step so they know they're not alone. When they walk through the door, we're there," said Judy McQueen, a certified respiratory therapist for Reid Health.
"Knowing he was going back to work, it would send chills through us. There are so many patients I've seen reach their goals. Some even have called me at home to say, 'Hey, I danced at my granddaughter's wedding. That was my goal, and I was able to do it.' To us, as therapists, it's just overwhelming what the program can do for them."
Steinard is grateful for the help he received from the staff, so much so he and his wife, Cathy, continue to be regular participants in the maintenance program.
"I wouldn't be where I'm at without going through Pulmonary Rehab," he said.
If you'd like to learn more about Reid Health's Pulmonary Rehab program or to register for services, go to reidhealth.org/hvpulmonary-rehabilitation or call (765) 983-3297.