Sciatica pain relief that lasts
If you think you're experiencing sciatica pain, relief is right around the corner.
Stretching the length of your entire leg, the sciatic nerve is your body's largest nerve. When something presses against your sciatic nerve, a condition called sciatica sets in and can cause significant pain, but you don't have to take the pain lying down. Sciatica pain relief is possible with the right steps.
Sciatica symptoms
The sciatic nerve covers a lot of ground. This single nerve maintains control of the muscles in your lower leg and behind your knee. It also helps you feel pain, warmth, and cold from the sole of your foot to the back of your thigh. When something pinches this long nerve, it hurts. Sciatic nerve pain can occur in a specific area or go all the way from your lower back to your toes. The pain may come and go or grow more intense when you sneeze, move, or cough. Another symptom of sciatica is weakness, tingling, or numbness in the affected area. In most cases, the symptoms only affect one side of the body.
The source of the pain
Finding the source of the pain will enable you to get appropriate treatment for sciatica pain relief. Common causes of sciatica include:
Arthritis
Bone spurs
Fractured pelvic bone
Ruptured disc
Seeing a provider is helpful for diagnosing and treating your symptoms. Initial consultations with a provider usually include a physical exam and a discussion of your medical history. You may be asked to perform some basic physical tasks, and getting an X-ray, MRI, or other imaging exam may also help identify the source of your pain. These tests also help rule out other conditions that mimic sciatica (see PAD vs. Sciatica).
Finding sciatica pain relief
Frustrating as sciatica can be, sciatic nerve pain often goes away on its own. According to research cited by the National Institutes of Health, sciatica pain relief often arrives in four to six weeks without advanced treatment. If you have a mild case, your provider will usually recommend trying some nonsurgical treatments for sciatica, including:
Applying an ice pack or heating pad to aching muscles
Maintaining physical light activity and gentle stretches
Receiving injections of medication to reduce inflammation and pain
Taking over-the-counter nonsteroidal anti-inflammatory medication, such as ibuprofen
Physical therapy
The need for surgery
If sciatica pain remains after three months of nonsurgical treatment, then surgery may be necessary. Depending on the root cause of your pain, your provider may recommend one of the following two sciatica surgeries:
Laminotomy creates a hole in the part of the spine that pinches the sciatic nerve.
Laminectomy with discectomy removes the vertebral bone and disc putting pressure on the sciatic nerve.
After surgery, you should experience sciatica pain relief, although you may need to avoid certain activities to prevent the risk of sciatica in the future. No matter what vein disease you're facing, the team at the Reid Vein Center has the tools and expertise to treat you and get you back on your feet. [SIDEBAR]
PAD vs. sciatica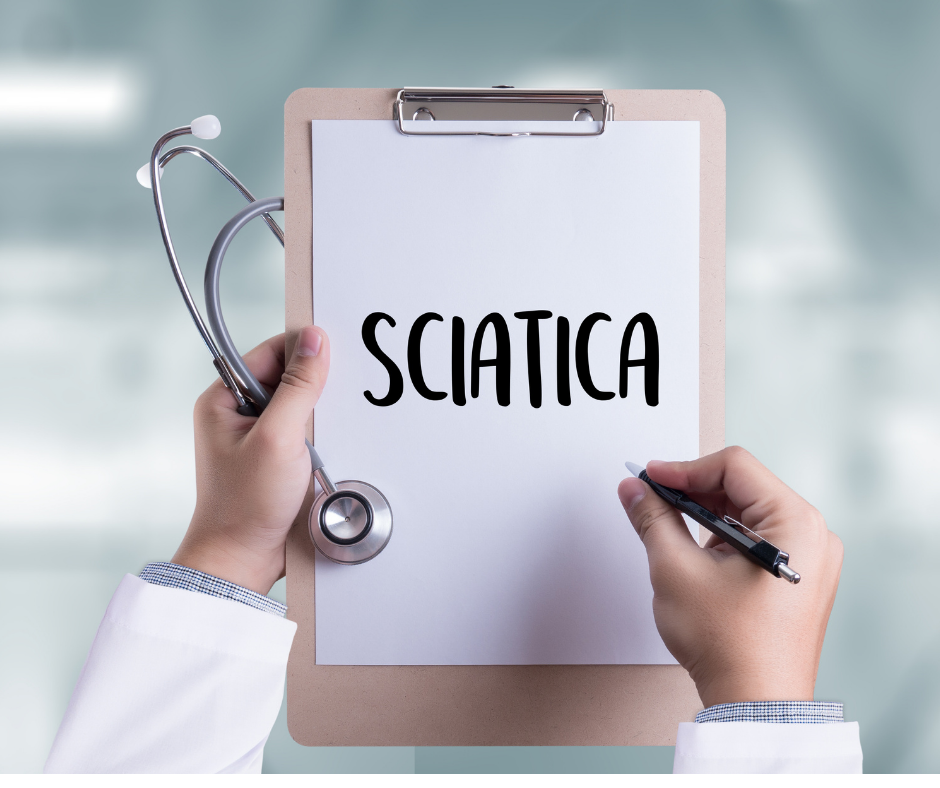 Peripheral artery disease (PAD) is one condition that people sometimes mistaken for sciatica — but they have nothing in common except pain in the lower body. If PAD is present, aiming for sciatica pain relief won't help. Like sciatica, PAD causes weakness and pain, typically in the buttocks and legs, but that's where the similarities end.
PAD isn't a nerve problem; instead, it occurs when fatty deposits and cholesterol clog the blood vessels in your legs. Clogged blood vessels limit the amount of blood that can travel through your legs, which increases your risk of heart attack, stroke, or other heart diseases.
There are steps you can take to reduce discomfort from PAD. For instance, studies show that a daily walking regimen can help ease symptoms of PAD. However, untreated PAD doesn't go away on its own and can cause you to lose feeling in your legs and feet. Once this happens, a small cut or sore in those areas may go unnoticed and become infected. While sciatica and PAD share some symptoms, others are unique to PAD, including:
Feeling that one foot is colder than the other
Having a foot or leg that is blue, pale, or otherwise discolored
Pain that initially flares up when climbing stairs. As PAD progresses, this pain doesn't go away with rest.
Slow-healing wounds on the legs or feet
If you experience any of these symptoms, seek medical attention.