A surgeon who is truly "right beside you:" Dr. Hon Vien's perspective on minimally-invasive and robotic spine surgery
If you're dealing with chronic back pain related to an injury, obesity, or general wear and tear, exploring your treatment options is one of the best things you can do. There are a broad range of approaches in treating back pain, and working with a specialist is the best way for you to design a course of treatment that can help you find relief and get back to the things you love doing.

That's why we sat down with Dr. Hon Vien, a specialist in robotic and minimally invasive spine surgery to learn about the options. Only 15% of spine surgeons in the United States are qualified in minimally invasive spine surgery, and Dr. Vien is among them. He is also just one of a few surgeons who have completed more than 500 surgeries assisted by Mazor robotics technology, a significant achievement in quality orthopedic care.
Dr. Vien also has firsthand knowledge of what it feels like to experience debilitating back pain. Before he was a spine surgeon, Dr. Vien was a physical therapist. He experienced a work-related injury that led to intense sciatic pain that affected his back and left leg. "I tried all types of treatment, including physical therapy, medications, bracing, even injections but my pain did not go away." Eventually, he had spine surgery to correct the issue and woke up without pain. This life-changing experience led him to pursue a career as a spine surgeon. "I understand the type of pain my patients feel," he says. "I felt the same type of pain myself with my sciatica and I know how debilitating it can be."
This firsthand experience helps him to relate to his patients; as a former spine patient himself, he understands not only the debilitating pain but also the fears, worries, and concerns a patient may face in the path to recovery.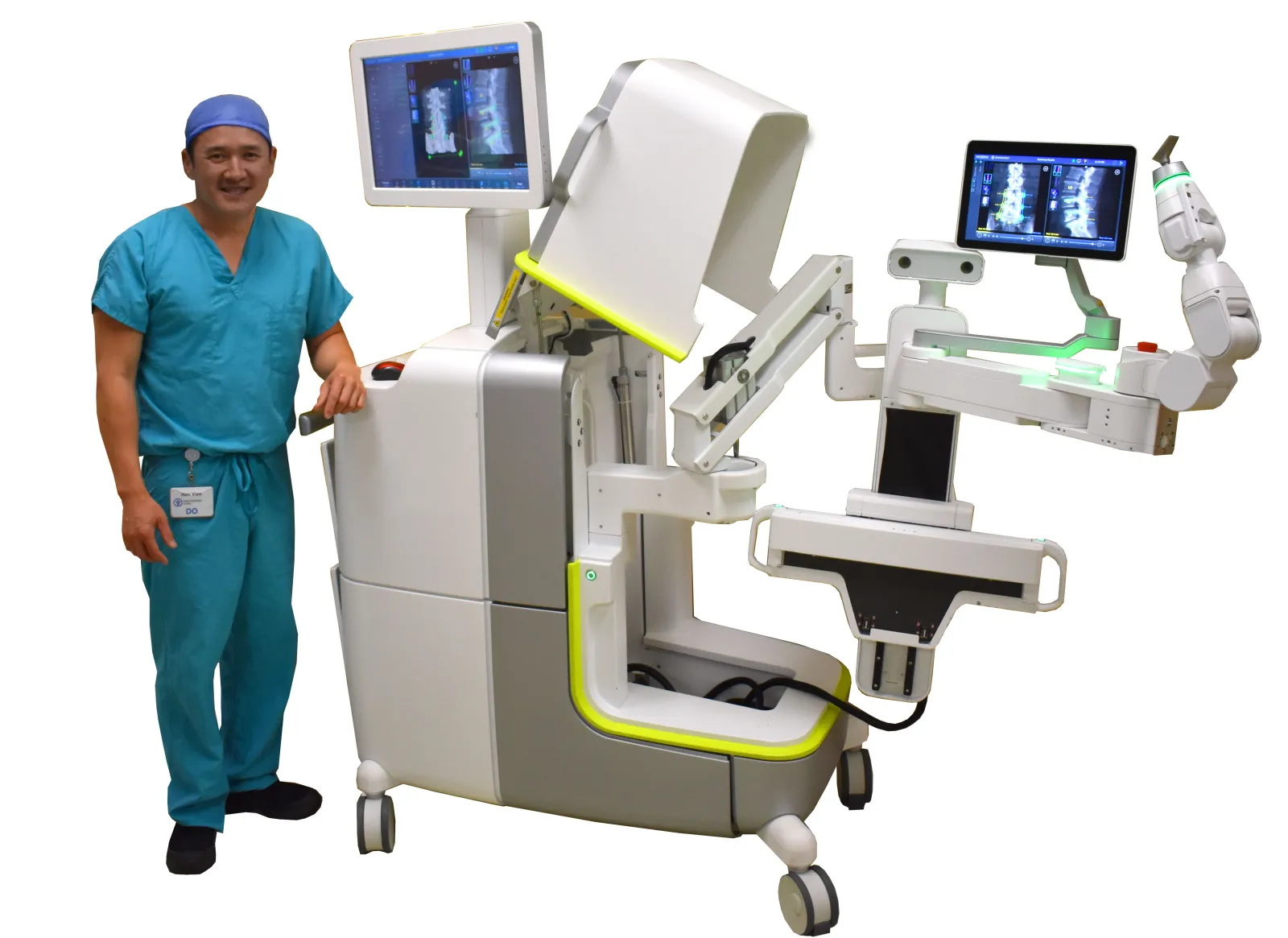 What can I expect at my first orthopedic visit?
Your path to recovery often begins with your very first trip to see your orthopedic specialist. At your first appointment, you'll get to meet your care team. This could include your orthopedic doctor/surgeon, a physician's assistant, and nursing staff. Jay Hartman, physician assistant, is deeply involved in understanding and providing care to Dr. Vien's patients; as an orthopedic specialist, he is a great resource in understanding and managing your orthopedic care.
After you meet your care team, your doctor begins working to understand your symptoms. "During your first visit, the most important thing to me is to get to know you personally and better understand your symptoms," he says. "I want to know if you're experiencing any back pain, arm pain, or leg pain."
Your doctor will then review the imaging you have had, like an x-ray or MRI, of the structures in your body. These tests will help your doctor to better understand the causes of your pain. At this point, your doctor is often able to diagnose the cause of your pain and will work with you to develop a treatment plan.
It is important that your doctor taskes time to help you understand your diagnosis and treatment options. To Dr. Vien, this is one of the most important aspects of his practice. "I'll take the time to explain your diagnosis in detail, the finding in your imagery, and your treatment options. If your pain requires surgery, I'll go over exactly what will be done during the surgical procedure. That way you have a complete understanding of what to expect pre-op, during the surgery, and into your recovery."
What is minimally-invasive spine surgery?
When compared with traditional surgical techniques, minimally invasive spine surgery, also called MISS, can offer a patient a lot of benefits. As a philosophy, minimially-invasive spine surgery is designed to reduce soft tissue damage, which means that recovery is faster. According to Dr. Vien, "less soft tissue damage means less pain, fewer narcotics for pain management, and a shorter hospitalization. Sometimes it is even possible to perform MISS as an outpatient procedure, which means you get to go home the same day."
What are the benefits of robotic spine surgery?
Like all surgical techniques, robotic surgery is not for all patients. Only your orthopedic surgeon can help you decide if this is the right choice for you. But if you are a candidate for robotic spine surgery, this method can improve the accuracy of your doctor's work. For example, MAZOR robotic spine surgery improves the accuracy of screw placement from 89-90% to 99%. What does this mean for the patient? "Robotics are very safe and very effective," says Dr. Vien. "Patients whose surgeon uses robotic techniques during spine fusion benefit from precisely-placed screws. This means a lower likelihood of pain after surgery and a greater likelihood of surgical success."
Spine surgery at Reid Health
For more information about spine surgery at Reid Health, visit us at https://www.reidhealth.org/services/services/spine-surgery.