You can now add your health records to your Apple Health app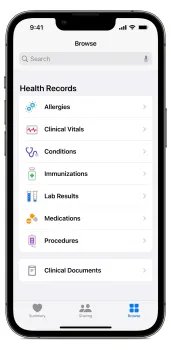 Nov. 16, 2022 -- Reid Health patients who use an iPhone can now add their medical records to their Apple Health app.
The Health app currently shows your activity, heart rate, nutrition, and other health information gathered by your iPhone, Apple Watch, or other apps. This new feature makes it easy to add your health records, including allergies, conditions, immunizations, lab results, medications, procedures, and vitals from the electronic health records at Reid.
Setup is simple. Those patients who have an iPhone using iOS 11.3 or later can go to the Health Records section of Apple's Health app, search for Reid Health, and then log in using their MyChart username and password.
Once logged in, your health records will begin to appear in the Health app, and you'll be notified when new records are ready to view. Personal information in the Health app is kept secure through encryption and passcode protection set up on your iPhone.
"This feature makes it easier for our patients to see all of their medical information in one place, giving them a better picture of their overall health and any changes that might be happening over time," said Michelle McClurg, Vice President/Chief Patient Experience Officer for Reid Health.
"Tools like this help our patients be more informed, active participants in their health."
For more information on Health Records, visit apple.com/healthcare/health-records. For more information about how Apple protects user privacy when they use Health Records, go to support.apple.com/en-us/HT209519.
"This feature makes it easier for our patients to see all of their medical information in one place, giving them a better picture of their overall health and any changes that might be happening over time. Tools like this help our patients be more informed, active participants in their health." -- Michelle McClurg, Vice President/Chief Patient Experience Officer