Reid once again honored as a 'Most Wired' health system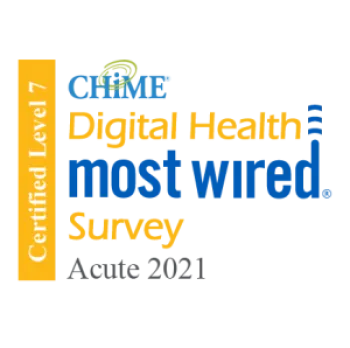 Oct. 7, 2021 -- The College of Healthcare Information Management Executives (CHIME) announced this week Reid Health and Reid Health Physician Associates (RHPA) have earned 2021 CHIME Digital Health Most Wired special recognition awards.
The Most Wired program conducts an annual survey to assess how effectively healthcare organizations apply core and advanced technologies in their clinical and business programs to improve health and care in their communities.
"Digital transformation in healthcare has accelerated to an unprecedented level since 2020, and the next few years will bring a wave of innovation that empowers healthcare consumers and will astound the industry," said CHIME President and CEO Russell P. Branzell.
"The Digital Health Most Wired program recognizes the outstanding digital leaders who have paved the way for this imminent revolution in healthcare. Their trailblazing commitment to rapid transformation has set an example for the entire industry in how to pursue a leadership vision with determination, brilliant planning, and courage to overcome all challenges."
Reid was one of only 10 hospitals in Indiana recognized by the program this year in the acute category while RHPA one of only nine Indiana organizations in the ambulatory category. It's the 13th time and seventh in the past eight years that Reid has been honored in the acute category. RHPA has won the award all three times it has been offered in the ambulatory category.
"Healthcare always has to be on the front end of change. We cannot stay stagnant," said Craig Kinyon, Reid Health President/CEO. "Information technology plays a critical role in providing excellent care for our communities, and our Information Services team, physicians, providers, and clinical leadership have done excellent work to improve our systems, resulting in a higher quality of care for our patients."
A total of 36,674 organizations were represented in the 2021 Digital Health Most Wired program, which includes four separate surveys: acute, ambulatory, long-term care, and international acute. The surveys assessed the adoption, integration, and impact of technologies in healthcare organizations at all stages of development, from early development to industry leading.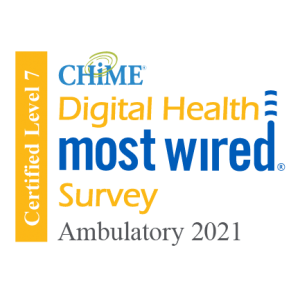 Each participating organization received a customized benchmarking report, an overall score, and scores for individual levels in eight segments: infrastructure; security; business/disaster recovery; administrative/supply chain; analytics/data management; interoperability/population health; patient engagement; and clinical quality/safety.
Participants can use the report and scores to identify strengths and opportunities for improvement. Participants also received certification based on their overall performance, with level 10 being the highest. Reid earned a seven in both of its categories.
Out of the 36,674 organizations that participated, CHIME awarded level seven recognition or higher just more than 600 times across the categories.
This is the fourth year CHIME has conducted the survey and overseen the program. Each year, CHIME has expanded the survey to capture more types of organizations that serve patients across the continuum of care. CHIME also continues to promote the program internationally to provide a global overview of digital health advancements.
As in past years, CHIME will publish an industry trends report based on Digital Health Most Wired responses from U.S. participants. The 2021 National Trends Report is scheduled to be released in October during CHIME21 in San Diego.
For more information about the CHIME Digital Health Most Wired program, please go here.
About CHIME
The College of Healthcare Information Management Executives (CHIME) is an executive organization dedicated to serving chief information officers (CIOs), chief medical information officers (CMIOs), chief nursing information officers (CNIOs), chief innovation officers (CIOs), chief digital officers (CDOs) and other senior healthcare IT leaders. With nearly 3,400 members in 55 countries and over 150 healthcare IT business partners and professional services firms, CHIME provides a highly interactive, trusted environment enabling senior professional and industry leaders to collaborate, exchange best practices, address professional development needs and advocate the effective use of information management to improve the health and care in the communities they serve. For more information, please visit chimecentral.org.