Right
beside
you.
Reid Health reaccredited by Healthcare Facilities Accreditation Program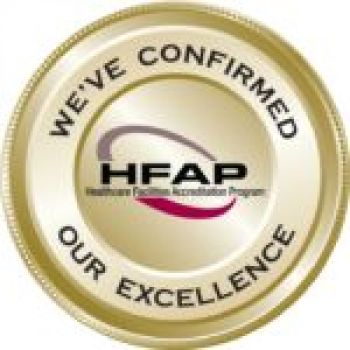 February 22nd 2017
­Reid Health has received a full three-year accreditation from the Healthcare Facilities Accreditation Program (HFAP). The survey involves an extensive on-site review of quality and safety standards including the overall environment of care.
"Reid Health clearly demonstrates a commitment to quality patient care" said Lawrence Haspel DO Chairman of the Bureau of Healthcare Facilities Accreditation for the HFAP in an announcement press release. "We base our decision on federal standards as well as recognized national guidelines for patient safety quality improvement and environmental safety. Reid Health met or exceeded the standards in every case."
"We're proud to achieve this prestigious distinction and proud of our physicians nurses and staff that work together to provide excellent patient services" said Craig Kinyon Reid President/CEO. "The awarding of the HFAP accreditation is a significant achievement that recognizes our daily commitment to providing outstanding care to our patients and our community. In fact patient quality of care and safety is consistently the priority focus in our strategic plans and goals."
Jennifer Ehlers Vice President/Chief Quality Officer said the HFAP accreditation is regularly sought and obtained by Reid Health in what is a continual process to maintain excellence. "It takes all 2600 of our employees working diligently on a regular basis to ensure compliance with these rigorous standards" she said. "The end result is maintaining the highest standards of care and safety for our patients – and that's what it's really all about."
HFAP is a nationally recognized not-for-profit accreditation organization with deeming authority from the Centers for Medicare and Medicaid Services (CMS) which requires hospitals to be accredited to qualify for reimbursement.
The survey team was in Richmond in late 2016 and spent four days on site reviewing compliance with multiple standards in areas that include medical staff nursing and patient care infection control pharmacy procedures medical records building safety staff qualifications and more.
Reid Health and specific departments and service lines also maintain numerous other accreditations Ehlers said with HFAP and the Indiana Department of Health being among the most extensive. "Some are required and some are voluntary. And they are all designed to help us maintain a culture of excellence" she said. Among them are accreditations in specific surgeries transfusion College of American Pathologists lab accreditation and the American Diabetes Association for Reid Health's Diabetes and Nutrition Education program.
Reid Health has been accredited by HFAP for 15 years participating in five surveys. Ehlers said a Reid Health team member is assigned to own each standard and works to ensure they are met noting that all standards are continually monitored for a "continuous state of readiness."