Reid Health distributes first coronavirus vaccinations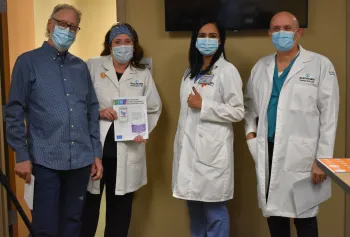 Dr. David Jetmore (from left), Dr. Jennifer Bales, Dr. Annuradha Bhandari and Dr. Thomas Huth were the first to receive the COVID-19 vaccine at Reid Health.
Dec. 17, 2020 -- The first healthcare workers in east-central Indiana have been vaccinated against COVID-19, marking a critical turning point in the fight against the novel coronavirus pandemic.
Four people were inoculated during a special event Thursday evening at Reid Health ahead of the Friday morning opening of one of three vaccination clinics that will be operated by the health system as part of the first wave of distributions.
"To have this vaccine available in a matter of months is a historic achievement. It represents an important milestone on the path toward a time that more closely resembles life before COVID," said Thomas Huth, M.D., Vice President of Medical Affairs for Reid Health.
"But the vaccine's arrival doesn't mean we can let our guard down. We still have a long way to go to turn this pandemic around."
Dr. Huth was the first in Wayne County to receive the vaccine Thursday along with David Jetmore, M.D., Wayne County Health Officer; Annuradha Bhandari, M.D., Reid Medical Associates; and Jennifer Bales, M.D., Chief of Staff and Emergency Physician.
Vaccinations in Indiana will be done in several phases with the first, Phase 1A, being frontline healthcare workers, including those at long-term care facilities.
Those who are most at-risk to be hard hit by the disease will be targeted in Phase 1B, according to Indiana's interim draft vaccine allocation plan. They will be followed by anyone who is at a higher risk for transmission because of their working or living conditions in Phase 2. That would include those in correctional facilities, group homes or shelters, or essential workers who cannot socially distance as part of their jobs.
The general public then will come in Phase 3.
"No one need be apprehensive about taking this vaccine." -- Thomas Huth, M.D., Vice President of Medical Affairs
"It will take a while to get enough people vaccinated, and in the meantime, we all must continue to wear our masks, maintain social distancing, wash our hands and avoid large crowds," Dr. Jetmore said.
"We do these things not only for our own wellbeing but for the wellbeing of our vulnerable loved ones, friends, neighbors, and coworkers."
Reid this week received a shipment of 975 doses of the Pfizer version of the COVID-19 vaccine. The FDA recently gave that vaccine Emergency Use Authorization, which means it can be distributed under certain limits during the public health emergency, until the authorization is rescinded or until the vaccine receives full approval through the normal process.
"Although the development of this vaccine came at an accelerated pace, we can be confident it is safe. The trials and testing processes were not compromised," Dr. Huth said.
"No one need be apprehensive about taking this vaccine."
Because the vaccine doesn't use a live virus, it can't give anyone COVID-19, but it will take a few weeks for the body to build up immunity after vaccination, so it's possible someone could become infected just before or after getting the shot and still get sick.
Some side effects such as headaches, fever, and muscle pains have been reported during trials for the vaccine, mostly coming after the second of the required two injections. It's normal for vaccines to cause such symptoms, which are a sign that the body is building immunity to the virus.
Those with questions about the COVID-19 vaccine can call Reid Health's hotline at 765-965-4200 Monday through Friday from 7:30 a.m. to 5 p.m.