Reid Health celebrates Nurses' week with Nursing Excellence awards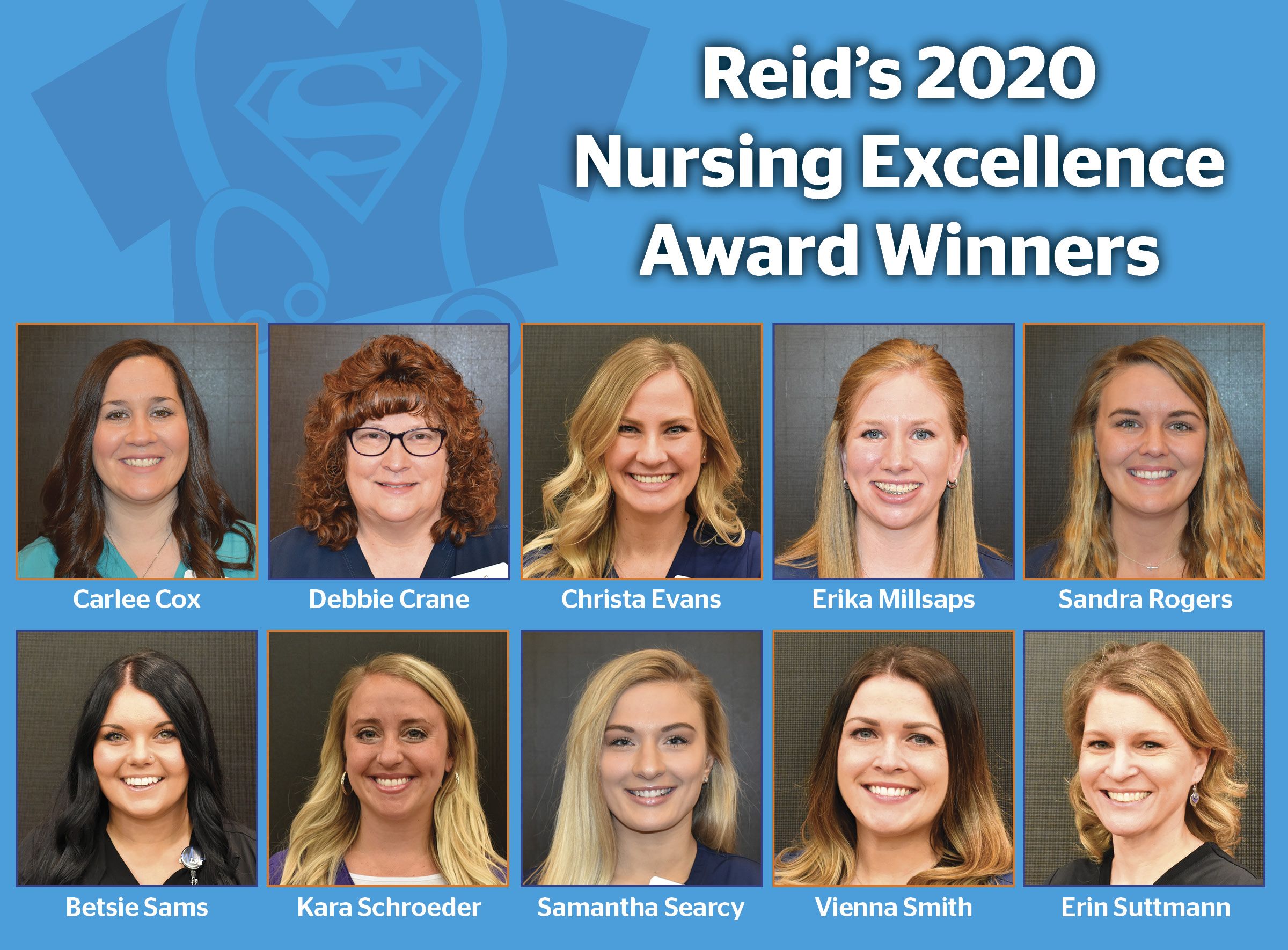 Reid Health recognized ten nurses this week for the 2020 Nursing Excellence Awards as part of National Nurse's Week. The nurses represent a variety of care areas in the health system.
"We all knew nurses are everyday heroes, but this has perhaps never been more evident than in the last few weeks as many of them continue to serve on the frontlines of the COVID-19 pandemic," said Misti Foust-Cofield, Vice President/Chief Nursing Officer. "These annual awards are just a small way that we recognize some of our leaders doing what this team does 24/7/365 days a year. I am so proud of our nursing team and the sacrifices they make to serve others."
Carlee Cox, RN, BSN, Reid Outpatient Surgery and Endoscopy
Carlee, a native of Lewisburg, Ohio, is a graduate of Indiana University East nursing program. She joined the Reid Health team in 2008 as a student nurse while working on her degree.
She worked in telemetry before joining the ROSE team in 2011. She lives in Richmond with husband, Jacob, and their two daughters Madilyn and Lilly.
Nursing was the career she chose because "I wanted to help others and make a difference in people's lives." She finds nursing challenging but is a career where she learns something new every day.
"If you love to learn and enjoy helping others, then nursing is for you."
Debbie Crane, RN, Progressive Care Unit
Debbie grew up in Richmond, where she still lives. Her degree is from Ivy Tech State College in Richmond. Her family includes husband, Randy, son Todd Laswell, daughters Amanda Orbik, Jessica and Ashley Crane, four grandchildren, and two step-grandchildren.
She first joined the Reid Health team in 2004. Debbie was always interested in nursing, but started a little different path before getting into healthcare. "My biggest supporters have been my parents, Jim and Delores Smith." She finds the profession rewarding, "saving lives, helping people make better health decisions. I love being around people and talking to them. Nursing is fulfilling in many ways."
Christa Evans, RN, BSN, Emergency Services
Christa is a native of Greenfield but now makes her home in New Paris, Ohio. She obtained her nursing degree from Indiana University East in 2017, though she has served on the Reid team since 2015.
She chose nursing so she could have an impact on the lives of patients "who rely on healthcare workers to improve their overall quality of life," noting she has "a passion to care for others." She and husband, Tyler - also an RN and Director of Inpatient Nursing -- are expecting their first baby in June.
"The most rewarding thing about being a nurse are the relationships built with patients, families and coworkers. Nursing is one of the most respected and rewarding careers. Nurses are always in high demand and the opportunities the career offers are endless. There is no better bond or honor than to care for individuals who trust you with their life."
Erika Millsaps, RN, MSN, Stroke Services
Erika is a Richmond resident who grew up in Greenville, Ohio. Her nursing degree is from Indiana University East, with a master's from Western Governors University.
On the Reid Health team since 2016, she worked in Progressive Care before becoming Stroke Program Educator. Her inspiration for her profession was her mother, Holly Lemar, who has been a nurse for 30 years. "All through my childhood, I saw how she was able to care for others and lead through her profession. I wanted to be just like her."
Erika and husband Joshua have a two-year-old daughter, Kinley. "The most rewarding part about being a nurse is knowing you can make a difference. Sometimes you do not see the fruit of your labor, but you know down the road the individuals you care for will be able to live longer, happier and healthier lives because of what you do every day."
Sandra Rogers, RN, Emergency Services
Sandra grew up in Wirtz, Va., and now makes her home in Eaton, Ohio, with husband Jordan, their three dogs, three cats and six chickens.
Sandra is a graduate of Virginia Western Community College. Joining the Reid Health team in 2016 as a nurse on 4 East, she's now a house supervisor in Emergency Services. She volunteered at a hospital while in high school and fell in love with the healthcare environment. "I chose nursing because I wanted a career where I could make a difference and positive impact in the lives of others."
She finds the most rewarding part of nursing "is having a patient thank you for taking care of them, knowing you were able to make a small difference in their world."
Betsie Sams, LPN, Urological Care
Betsie is a Lynn native and current resident of Hagerstown along with husband, Ryan, and sons Mason and Jaxson.
Her nursing degree is from Miami Valley CTC. Betsie wanted to be a nurse "as long as I can remember." She was drawn by a desire to help others and knowing the varied opportunities nursing would bring. She started at Reid Health as a walking/therapy aide before becoming an LPN in 2015.
"It's so rewarding to make a difference in the life of another and see how much the care you provide helps another person." Becoming a nurse is now "the most rewarding career, every day."
Kara Schroeder, RN, BSN, Family Birthing Center
A native of Centerville, Kara now lives in Cambridge City. She's a graduate of the Ball State University School of Nursing.
Kara began her career at Reid Health in 2013 as a Student Nurse Technician in Critical Care before completing her nursing degree in 2015. She chose nursing "because I've always wanted to make a difference in the lives of others. From helping families say their last goodbye to loved ones to helping mothers and fathers bring their newborn baby into this world, I have never felt more at home than at the bedside of our amazing patients."
Kara and husband Andrew have a four-year-old foster child, Kurtis, and are expecting their baby in August. "Making patients feel safe or more at home is what keeps me going every day, especially through the new and sometimes scary experience of labor and postpartum."
Samantha Searcy, RN, BSN, Critical Care Unit
Samantha was born in Michigan but has lived in Richmond since she was 5-years-old.
Also a 2019 winner, she completed her nursing degree in 2017. She joined the Reid Health team as a Patient Care Technician on the Psychiatric Services unit in 2015. She and her husband, Brandon, are raising a "beautiful Doberman" named Maverick.
"I chose nursing because I have always had a desire and passion to care for others since I was young. I wanted a career I would love doing every day no matter what, and I know I have found just that! As a nurse, I have the opportunity and responsibility of caring for someone's loved one in a time that is not always ideal. I am able to make a difference in peoples' lives in a big way."
Vienna M. Smith, RN, BSN, Reid Health - Connersville
Vienna is a native and current resident of Connersville. She is a graduate of Ivy Tech Community College and the Indiana University East RN to BSN program.
She joined the Reid Health team in 2015 as a Critical Care/CVU nurse, where she spent most of her time before becoming the Reid Health - Connersville House Supervisor. Her experience with having a child at age 15 and the compassionate care she received by the nurses caring for her inspired her to ultimately seek a nursing career. "They advocated for my safety, wellbeing and ensured my family and I were comfortable. Because of them, my love for nursing budded."
Her family includes her 16-year-old son, Christian, husband Charlie and four-year-old daughter Noelle. Completing the family are Jackson, a chocolate lab, and Leo the cat.
She says she "loves working in a field that impacts my community in such a profound way." For anyone considering a nursing career, she recommends talking to nurses in the field of interest and also job shadowing. "Nursing is a commitment like no other, and has endless opportunities."
Erin Suttmann, NP, Reid Hospitalists
Erin joined the Reid Health team in 2015 as an RN in the Emergency Department. Her degrees are from the University of Cincinnati. She joined the hospitalist team in 2018.
A native of Cincinnati, she now lives in Hamilton, Ohio, with husband Paul and children, Isaac, Elijah and Rebecca.
Erin comes from a family with many nurses in different areas of the field, "but all have one thing in common: they love their jobs. Taking care of people at one of the worst moments of their lives, and being able to help them get well enough to return home is rewarding." She really enjoys getting to know her patients, hearing their stories, and helping make their hospital stay "a little less scary by spending extra time with them. There are many different types of nursing. If you are a compassionate, caring person, there is a nursing job for you."