Right
beside
you.
Reid Health celebrates Nurses' week with Nursing Excellence awards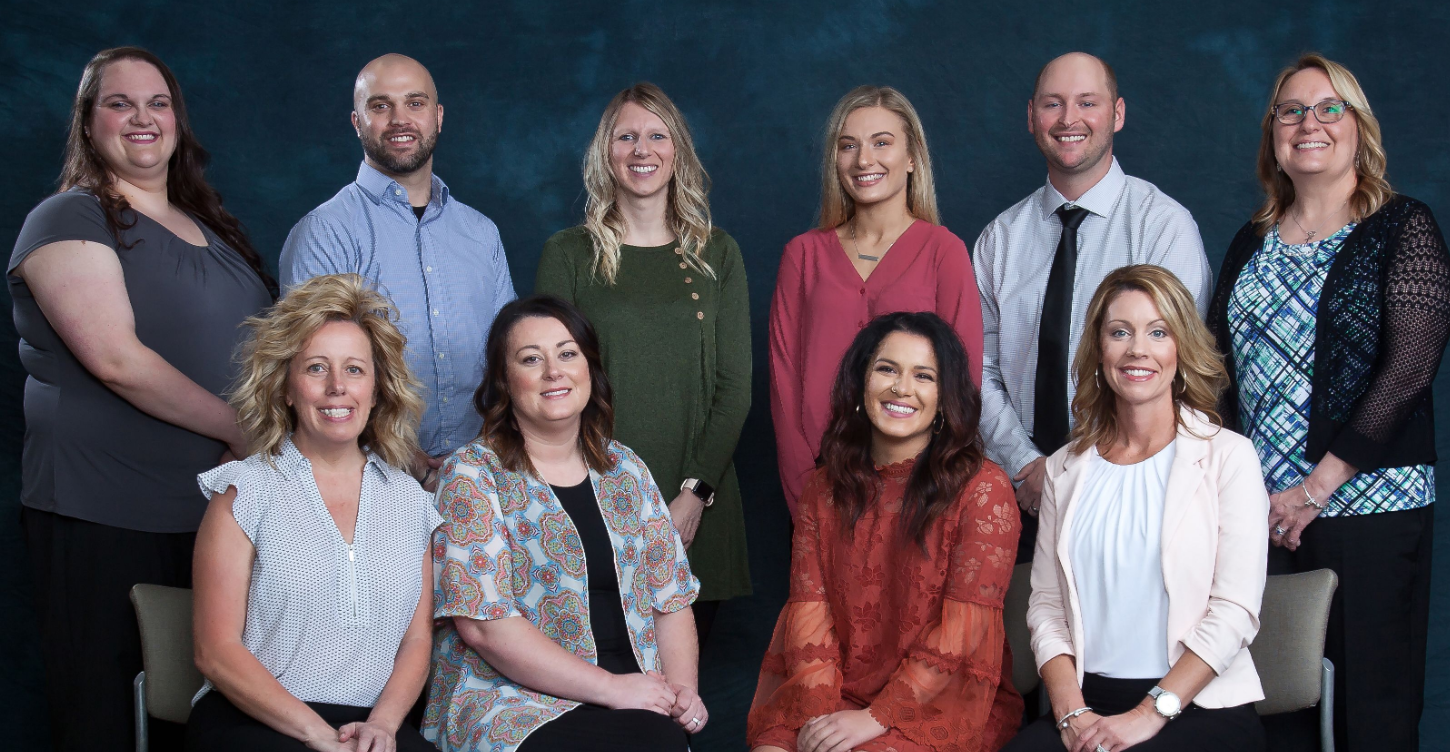 Reid Health recognized ten nurses this week for the 2019 Nursing Excellence Awards as part of National Nurse's Week. The nurses represent a variety of care areas in the health system. "Nurses serve our health system in a multitude of ways, at the bedside and sometimes behind the scenes," said Misti Foust-Cofield, Vice President/Chief Nursing Officer. "These awards are just one of the ways we celebrate their contributions to the quality, compassionate care we provide, around the clock and through the year."
The 2019 winners are:
Brennan Barrett, NP, Richmond Cardiology Associates: Brennan is a native of Hollansburg, Ohio, and has served on the Reid team since 2011. Her nursing and NP degrees are from Wright State University. Brennan and her husband, Austin, live in Richmond and have two children - Taylor, 6, and Kaden, 2.
Previous roles at Reid Health included as an RN on 4 East and as a CNA at a local nursing home. As a Nurse Practitioner, she focuses on patients suffering from heart failure. She chose nursing as a result of her grandfather's cancer diagnosis. "The hospice nurses and staff had the biggest impact on our family during our most difficult time."
The nursing field is rewarding for her by "being able to impact someone's life in a positive way" and "being a part of their recovery. Nursing is a profession that will always be in high demand, but the best part is the satisfaction you get from caring for your patients."
Brandon Glover, RN, BSN, Emergency Services: Brandon grew up in Centerville and now lives in Richmond. His nursing degree is from Indiana University East, and he's also a Certified Emergency Nurse, Trauma Certified RN and in the National Registry of Emergency Medical Technicians.
His family includes parents, Steve and Malinda Glover; brother and sister-in-law Scott and Britney Glover, and their kids Christopher, 5, Jason, 3 and Ava, 8 months.
Brandon originally joined the Reid Health team in 2006 as a transporter and began as a nurse when he obtained his degree in 2012. He said a family friend suggested he consider nursing when he was in high school, and he agreed.
"It is rewarding to have the ability to make a positive impact in others' lives, whether it's helping save the sickest patient or easing the anxiety of an anxious patient."
Paige Kelly, RN, BSN, Family Birthing Center: Paige is a native of Richmond and lives in Centerville. She obtained her nursing degree from Ball State University in 2015 and has been on the Reid team since.
She lives with her "fur baby," Grayson, an 11-year-old special needs dog who she says enjoys home-cooked meals and is "severely allergic to exercise." Before completing her degree, she worked as a student nurse in CCU, but has served on the Family Birthing Center team since becoming an RN.
She was inspired to go into nursing after "being in the presence of some pretty amazing nurses throughout my life." As an RN, she learns something new every day. "I didn't realize nursing would change my life as much as it did, but now I cannot picture doing anything else."
She finds it rewarding "to be a shoulder to lean on for patients and family members." Referencing a quote attributed to Maya Angelou, she says that people will forget what you did and said, "but will never forget how you made them feel."
Vince Kennedy, RN, BSN, Progressive Care Unit: Vince grew up in Northridge, Ohio, and now lives in Union, Ohio. His nursing degree is from Indiana Wesleyan University, and he has served on the Reid team since 2016.
Family includes fiancé, Ryan Bourne, and dogs Duke and Chase. Before serving as Progressive Care Unit Charge Nurse and House supervisor, he had worked in home health care as a nursing care assistant. He says he always knew he would work in health care, and chose nursing "because it's challenging, always evolving, and the opportunities for growth are endless. I get to grow personally while also making a difference in peoples' lives."
Many of the patients in his care are having one of the worst days of their lives. "I recognize this and do everything I can to comfort them, ease their minds, reduce their anxiety and make them smile. Knowing that I helped someone on their toughest day fuels my passion for nursing." He notes: "Nursing is so much more than implementing - it's listening, talking and caring for people."
Jaime Nickell, RN, BSN, Reid ENT/Dermatology/Allergy/Audiology: A native and current resident of Richmond, Jaime obtained her degree from Indiana University East in 2013. She started on the Reid team with Reid Outpatient Surgery and Endoscopy (ROSE) in 2013, and moved to her current position in 2017.
Her family includes husband Jeff, daughters Logan, 19, and Abby, 16; sons Alec, 13, and Jake 13; stepdaughter Chelsi, 26; and stepson Tyler, 22. Jaime decided to return to school later in life after experiencing a long illness with a family member "and realizing the impact a nurse can have on patients and their families during very difficult times."
She finds it rewarding to help make the day better for patients and families "by providing great patient care and having a positive influence on their lives through education."
Samantha Searcy, RN, BSN, Critical Care Unit: Samantha was born in Michigan but has lived in Richmond since she was 5-years-old. She completed her nursing degree in 2017, but joined the Reid Health team as a Patient Care Technician on the Psychiatric Services unit in 2015. Today she is a charge nurse on the unit. She and her husband, Brandon, are raising a "beautiful Doberman" named Maverick.
Samantha knew she wanted to be a nurse since she was young. "Nursing to me is more than a job title. I've always had a compassionate heart and the desire to help others, no matter the cost." She finds great reward in "being able to be there and care for someone when they are in their weakest moments - and rejoice with them when they are recovering and able to progress."
Tarah Shearer, LPN, Reid Oncology Associates: Tarah has served on the Reid team since 2012 and as a nurse since 2016 when she completed her degree at Miami Valley Career Technical Center.
She is a native and remains a resident of Richmond. She and her husband, Thomas, have a son, Sutton, who is 1 ½ Another family member is Tucker, a rescued miniature Dachshund. Before getting her nursing training, Tarah worked as a CMA and home health aide. "There hasn't been a time in my life where I haven't enjoyed taking care of people. My passion is caring for others. I also enjoy the ever-changing nursing field and opportunities for continuing education.
"Working with oncology patients, I strive to learn all that I can to be the best nurse for them. And their smiles are so rewarding."
Karen Stewart, RN, BSN, 4 North: A native of Fountain City, Karen makes her home in Centerville with her husband, Rod. She has a step-daughter, Tara, and daughters Abby and Katy.
Karen joined the Reid team in 1997 as an LPN on the Transitional Care Unit. She also worked in the Acute Rehab Unit and in Corporate Compliance before joining the 4 North team. Her LPN and RN degrees are from Ivy Tech and her BSN is from Indiana Wesleyan in 2015.
Karen says she chose nursing as a profession as a way to give back and finds it "rewarding on so many different levels. Being a nurse completes me as an individual," she says. "I stepped away from nursing for a year and realized how much nursing was a part of me. I believe that patients and their families can truly sense this in a nurse."
Laura Sutphin, RN, BSN, Reid Hospice: Laura is a native of New Paris, Ohio, and now lives in Eaton. She has a son, Aaron Sutphin. And she and Steve George, her significant other, have six grandchildren between them - Alivea, Kora, Daisy, Landon, Brantley and Wyatt. She has served on the Reid team since 2001, including time in Psychiatric Services and 5 East before joining Hospice.
She obtained her degree from IU East in 2001. "I always wanted to be a nurse, since age 5," she says, noting that going into nursing is about following your heart and doing what you love. "My mom gave me encouragement to pursue my calling."
Sarah Turner, RN, BSN, Reid Outpatient Surgery and Endoscopy (ROSE): Sarah, a native of Fountain City, joined the team in 2007 as a Patient Care Tech in Endoscopy. Her nursing degree is from IU East and Western Governors University in 2013. She has remained in endoscopy in her career, moving from PCT to surgical tech and is now the charge nurse.
In choosing a nursing career, she says she was looking for something "to be challenged and to also work in a way that makes a difference in people's lives every day." She believes going into the field is a matter of "listening to your heart," and appreciates being able "to comfort and support patients and their families when they are most vulnerable."