Record sales at Ginkgo Boutique mean more patient needs supported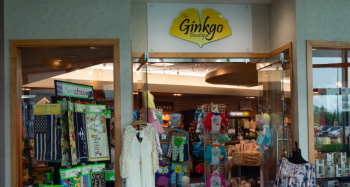 The Ginkgo Boutique is on the main concourse of the Reid Health campus, 1100 Reid Parkway.
The Ginkgo Boutique at Reid Health hit another milestone in 2019 with more than $1 million in gross revenue, generating a record in support of patient care by the health system.
The great year means more funds to invest in supporting patient care - 100 percent of proceeds from the shop, which is operated by the Reid Health Auxiliary, are donated to the Reid Health Foundation and used to fund various projects and equipment to benefit patients.
Miracle Baker, Retail Manager, said items or projects supported by Auxiliary funds in recent years include:
Chemo chairs for cancer patients

Transportation to get patients to and from appointments

New equipment for the Reid Health - Connersville emergency department

Patient beds

Rocking chairs for the Family Birthing Center nursery
"I am so proud of the Ginkgo Boutique team, including its valuable volunteers, who create a unique shopping experience for our employees, patients, visitors and community," said Angie Dickman, Reid Health Vice President. "Their success combined with our tremendous customer loyalty have made it possible for patients and their care to be supported in many wonderful ways."

Randy Kirk, Reid Vice President/Foundation President, said the unwavering efforts of the Auxiliary through the Ginkgo Boutique and other projects "is a remarkable statement of philanthropy at its finest, generating remarkable charitable support to help meet the needs of Reid Health patients and their families."

Baker said she has 18 active volunteers in the shop and five full or part-time employees. She said she and her team work hard to ensure the shop offers unique merchandise that is "unique, affordable and of great quality."

The shop, which was named Ginkgo Boutique when it opened on Reid's new campus in 2008, has set records in the years since.

Baker said the shop will have a customer appreciation celebration Jan. 21-24 with 25 percent off storewide. Other activities include on Wednesday, a gift with a $5 purchase, and a game with prizes on Thursday.
The Ginkgo Boutique is on the main concourse near the main entrance of the campus at 1100 Reid Parkway. Hours are: 9 a.m. to 7 p.m. Monday through Friday, 9 a.m. to 4 p.m. Saturday and 12:30 p.m. to 4 p.m. Sunday.