Right
beside
you.
Radiology services to expand in move to Reid Health -- Connersville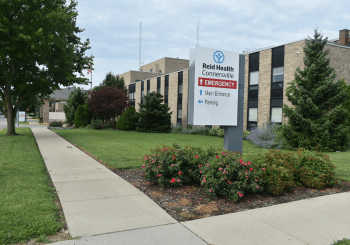 Reid Health - Connersville
Reid Health will be moving the majority of its radiology services from its Highway 44 complex to the main Reid Health - Connersville location on Virginia Avenue, health system officials have announced.
"This move to larger space will allow us to expand services available in Connersville," said Gene DiTullio, Reid Health's Director of Radiology Services. He said CT, MRI and ultrasound outpatient services will be moved from the Whitewater Valley Imaging Center to the former hospital campus starting Oct. 7, when outpatient X-ray services will also become available.
DiTullio said X-ray services will continue to be offered at Whitewater Valley Imaging to support the needs of the urgent care center on that campus. He also notes that services will be added to the Reid Health- Connersville location to include CT exams with contrast and MRI exams with contrast, which could not be done at the previous location.
"Thanks to the additional space available, we will eventually also offer mammography and DEXA scanning, most likely by early next year," he said. The new space will also include enhanced and some newer technology.
Craig Kinyon, Reid Health President/CEO, said the changes and additional services are great news for the community. "As we have said since we announced our expanded presence in Connersville earlier this year, we have and will continue to assess additional and sustainable services we can provide to support the health care needs of the people we serve in the region. We are very pleased to expand these services for our patients in the Connersville area."
Reid Health finalized acquisition of most of the assets of the former Fayette Regional Health System in mid-July, pledging to maintain as many sustainable services as possible. The main location is Reid Health - Connersville, 1941 Virginia Ave., where services include a 24/7 emergency department, radiology, lab, cardiopulmonary rehab, outpatient physical therapy and a café.

The other Reid Health locations added along with its longtime medical center on Highway 44 include Reid Health Care Pavilion, Reid HealthWorks Fitness Center and two Reid Health Physician Associates Practices: Primary and Specialty Care - Virginia Avenue and Outpatient Behavioral Health - Connersville.

Reid Health also added two more ambulances to its ambulance service to help accommodate necessary transfers from the Connersville Emergency Department, bringing the total to five.

Reid Health's purchase and ability to continue services in the community also resulted in avoiding the loss of more than 300 jobs. Many former Fayette Regional employees joined the Reid Health team, including many who were able to continue working in Connersville locations. Reid Health Human Resources reports there are about 20 openings to fill at Reid's Connersville facilities.