Office 'mom' is Reid Health's April Ambassador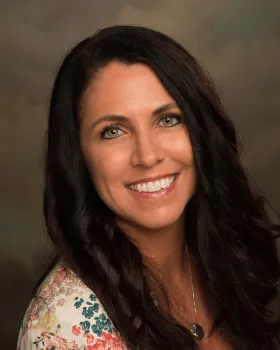 Heather Murray, RN, Care Coordinator
April 9, 2021 -- Heather Murray has a bit of a reputation around the office in Patient Continuum of Care at Reid Health.

She'll do everything she can to make sure patients receive the "absolute best care they need," and that same level of attention extends to her co-workers, so much so she's known as the office "mom."

"Anything and everything that we may need not only for our work life but our personal life, Heather is the one to go to for advice," one co-worker said. "She is always there for advice or a hug!
"Heather represents wholeheartedly what it means to be a Reid Ambassador."
The April Ambassador has been with Reid for 21 years, working at the pharmacy and in surgery and oncology before spending the past three years in Continuum of Care.
"My mother -- Jeanne Charlton -- was a nurse at Reid her entire career, so I followed in her footsteps. Those are really big shoes to fill," Murray said.
"I have always been made to feel like part of a family no matter what department I worked in. It's nice to be part of a small community where everyone greets you with a smile and knows your name."
Nominators said Murray extends that same feeling to patients and co-workers.
"She treats her patients like family, keeps in touch with them, and truly cares about their well-being," one person said. "She is always the first one to lend a hand when needed to other patients who aren't even in her program and is always willing to help out her co-workers when she is able."
That level of care has led some to seek her out directly.
"We have even had patients contact our office and ask for her because she is easy to talk to, comforting, and always does everything she can to make sure they have all of their questions answered and their needs met," another nominator said.
The Richmond native now lives in Centerville with her husband, Jason. She has four sons -- Anthony, 28 (Cassidy); Michael, 25 (Hannah); Matthew 22; and Sam, 17 -- along with grandsons Odin, Milo, and River.
"I didn't go to nursing school until I was a divorced, single mother raising four sons while trying to work, keep up with their sports, and maintain a home - and my sanity," Murray said. "I couldn't have gone back to school without the help and support of my parents.
"It definitely made me a stronger person. I wanted to show my boys that anything is possible!"