Northeastern 8th graders gain hands-on career experience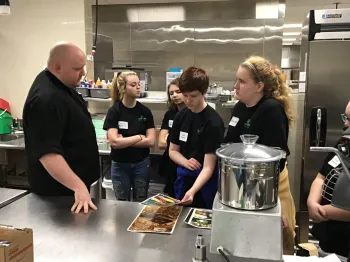 Reid Health Chef Dugan Wetzel shares about food and catering services with Northeastern students.
Northeastern Middle School 8th graders this week learned about and experienced the variety of careers available in health care in a pilot program designed to teach employability.
The pilot program was the brainchild of Dawn Sonsini, Northeastern Middle School principal and involved more than 100 of the school's 8th grade students. "The kids loved the hands-on experience in the actual setting," Sonsini said.
The students were divided into career fields based on interest and aptitude tests they'd taken ahead of the experience. The areas included multiple departments and career paths at Reid Health including Engineering, Patient Transport, Lab and Pathology, Accounting and Finance, LEAN, Marketing, Human Resources, Patient Resource Services and Employee Assistance Program, Innovation Center, Information Systems, Communications, Emergency Management, Food & Nutrition Services and of course health care fields such as Nursing and Physical, Occupational, Speech and Respiratory Therapies.
"We really focused on employability skills, what makes a good employee, how to get kids to be proactive."
"It gets them to start thinking about different career fields," Sonsini said, noting that state graduation requirements will soon address employability skills. "We really focused on employability skills, what makes a good employee, how to get kids to be proactive."
Sonsini is confident it would have an impact on their planning for future career fields. "I don't think they realized the depth of different employment opportunities at Reid, our largest regional employer."
Angela Cline, with Reid Health Community Benefit, said the department was able to support the camp as a pilot program. "We got great feedback from students," she said, noting that it involved at least 60 Reid Health team members. "Our hope is that students have a better idea of the multiple career options available to them – maybe some they never considered or didn't even know existed. And now they know what education and training it takes to prepare for that career."