Monoclonal antibody infusions for COVID-19 need to be received in illness's first days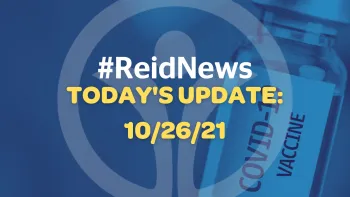 Oct. 26, 2021 -- In the search for effective treatments for COVID-19, monoclonal antibody infusions have proven to make a dramatic difference in the risk of being hospitalized for the illness, but it's important not to wait before asking your provider about the treatment.
For those who qualify, monoclonal antibodies can be used to treat mild to moderate symptoms of COVID-19. Treatment can be provided up to 10 days after the onset of symptoms, but it's most effective when administered within no more than four days.
Monoclonal antibodies are a treatment designed to help your immune system fight viruses. The U.S. Food & Drug Administration has given Emergency Use Authorization for their use in adults and children who are at least 12 years of age, who weigh at least 88 pounds, and who are at high risk for severe COVID-19.
Under the EUA, being high risk means meeting at least one of the following criteria:
Being at least 65 years old,
Having a body mass index (BMI) of at least 35,
Being pregnant,
Having chronic kidney disease,
Having diabetes,
Having an immunosuppressive disease,
Currently receiving an immunosuppressive treatment,
Having cardiovascular disease or hypertension,
Having chronic lung diseases,
Having sickle cell disease,
Having neurodevelopmental disorders or conditions that require ongoing specialized care, or
Having a medical-related technological dependence (for example, tracheostomy, gastrostomy, or positive pressure ventilation).
If you meet the criteria for a monoclonal antibody infusion, don't wait until you feel poorly to talk with your physician. Once you qualify for hospital admission, you no longer meet the requirements for monoclonal antibody treatment.
Reid has set up a temporary clinic for its infusions at Reid Plaza in Richmond, just two doors down from the Reid Health PACE Center at 2300 National Road W.
Patients need a physician's referral to get an appointment. If you do not have a primary care provider or it's the weekend, call Reid's COVID-19 Hotline at (765) 965-4200 for help. The hotline is available 8 a.m. to 5 p.m. seven days a week. Hotline staff also can help with scheduling COVID-19 testing, getting test results, or with clinical advice.
Today's COVID-19 stats
Patients in containment areas: 34
Number of those patients who are unvaccinated: 28 (82.4%)
COVID-19 patients in the ICU: 10
Number of those patients who are unvaccinated: 10 (100%)
COVID-19 patients on ventilators: 8
Number of those patients who are unvaccinated: 8 (100%)
Tests submitted since last update: N/A
Lab-confirmed positives since last update: 23
Suspected COVID-19 admissions in the past 24 hours: 12
Unvaccinated, as defined by the CDC, includes anyone who either has not received a dose or has received only the first of a two-dose vaccine.
Reid Health serves an eight-county area, including Wayne, Randolph, Henry, Union, Fayette, and Franklin counties in Indiana and Darke and Preble counties in Ohio. The statistics above represent patients from throughout the service area.
Key reminders
You should never delay care. Previous surges have seen patients put off necessary care for emergent issues such as chest pain, stroke symptoms, appendicitis, and even symptoms of cancer. Delaying care can have life-altering consequences.
COVID-19 vaccines are FREE. They are safe. Make an informed decision by consulting sites such as the CDC and FDA.
Indiana residents can find vaccination sites and schedule an appointment by going to ourshot.in.gov. Ohio residents should use gettheshot.coronavirus.ohio.gov.
Before you come to a Reid Health site to see a loved one or accompany them to an appointment, be sure to check our latest visitor policy and screening procedures.
Surgical masks are required in all Reid Health facilities. Cloth masks are not acceptable. Reid will provide you with a surgical mask upon entry if needed.
Safe Pathways to Care: Learn more about COVID-19 and vaccinations