Medical Monday, Thriving Thursday will highlight Suicide Prevention Awareness Month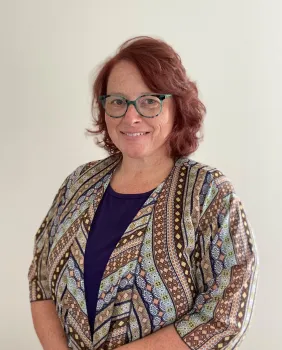 Cinnamon Miller-Duncil, MSW, LSW
Aug. 31, 2022 -- September's editions of Medical Monday and Thriving Thursday will shine a spotlight on Suicide Prevention Awareness Month.
Licensed Social Worker Cinnamon Miller-Duncil, MSW, of Centerstone will lead a discussion called "Talk Saves Lives," a community-based presentation that covers the general scope of suicide, the research on prevention, and what people can do to fight suicide.
"Talk Saves Lives" provides participants with a clear understanding of this leading cause of death, including the most up-to-date research on suicide prevention and what they can do in their communities to save lives. Participants will learn common risk factors and warning signs associated with suicide and how to keep themselves and others safe.
Medical Monday will take place at 1 p.m. on Sept. 12 at Central United Methodist Church, 1425 E. Main St. in Richmond, while Thriving Thursday will begin at 11:30 a.m. on Sept. 15 at the Fayette County Senior Center, 477 N. Grand Ave. in Connersville.
Both events are free to attend. To register, call Sharrie Harlin Davis at (765) 983-3000, ext. 4676. Masks are required.
Medical Monday and Thriving Thursday are supported by Reid Health Community Benefit. Harlin Davis started Medical Monday when she was working for the Minority Health Coalition and maintained it after joining Reid Health. The events have loyal followings, averaging 40 to 50 guests each month to learn about various health issues, community programs, and health screenings.