June Ambassador 'is the perfect combination of professional and personable'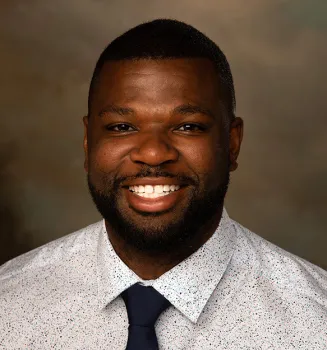 Kyle Browne, Patient Access Registrar
June 3, 2022 -- To get a sense of the kind of person Kyle Browne is, let's go back a couple years.

Browne saw an ad on Facebook for the Great Cycle Challenge USA, a national fundraiser for the Children's Cancer Research Fund. Since he already enjoys riding his bike and participating in the challenge was free, Browne thought, "Why not sign up?"

Some 222 miles ridden later, Browne had raised $1,077.
"I smashed all my goals," he said.
Reid Health's June Ambassador brings that same desire to help others to his work as a Patient Access Registrar at the health system's campus in Connersville.
"Kyle is the perfect combination of professional and personable. He has a big smile, fun attitude, and a work ethic that is second to none," one co-worker said. "There is no task too little or too large for Kyle, especially when it comes to his patients. He continues to go above and beyond in some way every day, not to be recognized but simply because it's the right thing to do."
"I cannot think of a better person for the honor of being an ambassador," another co-worker said.
A graduate of Connersville High School, Browne didn't initially intend to work in healthcare. His bachelor's degree is in criminal justice with a minor in crime scene investigation. But when he wasn't able to start a career in his chosen field right away, he began to look around for a way to put his previous work experience to good use.
"I said, 'Why not go somewhere and use my customer service background at a place where they could use me?'," he said. "I'd always heard about Reid being a good place to work, so I gave it a shot.
"Reid has a very positive, worked-oriented culture that makes everyone feel valued and welcomed. I think it's a great place to work."
Having served in Patient Access for a year now, Browne enjoys the opportunities he gets to build relationships with patients. His co-workers appreciate the passion he brings to the job each day.
"Kyle is a great representation of the Reid spirit and is just a genuinely kind person," one person said. "He will jump in and clean rooms or whatever task may be needed without hesitation, a true team player."
"Kyle always comes to work with a positive attitude. You can always find him smiling or even dancing in the hallway," another person said. "His positive demeanor and overall fun attitude make him a joy to be around. We are all so lucky to have a team member like him!"

If you'd like to work with amazing people like Kyle on the Reid team, go to our Careers page to learn more.