Right
beside
you.
July Ambassador: 'You can hear the smile in her voice'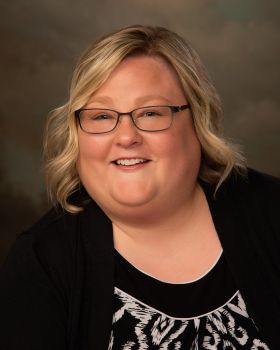 Megan Alexander
The July Reid Health Ambassador "goes the extra mile" in her department by helping out in ways beyond her job description, say her nominators.
From promoting teamwork and positive morale to volunteering for projects or helping train new employees, Megan Alexander "is engaged, positive and a tremendous asset to Reid Health and to the laboratory," wrote one nominator. Alexander joined the Reid Health team almost four years ago, working as lab secretary the whole time.
"Megan is the voice of Reid Health Laboratory," shared another nominator. "Her demeanor on the phone assures customers she is capable and willing to assist them with whatever they need. You can hear the smile in her voice whenever she answers the phone."
Alexander is a native of Centerville. Before joining Reid Health, she had worked in the family pizza business and also in childcare. The Centerville High School graduate interacts with multiple physician offices on behalf of the lab, helped plan a lab week celebration, and plans bulletin boards designed to provide levity and build morale for her team.

"I really enjoy working with everyone," Alexander says. "Everything is always different." When not at work, she likes to spend time with her nephews Camden and Maddox, including helping coach them in T-ball. She also likes to travel, with Pensacola, Fla., one of her favorite destinations. Golf and camping are also near the top of her favorites' list.

"My coworkers really make coming to work worth it," she says.