January Ambassador is 'epitome of our Reid culture'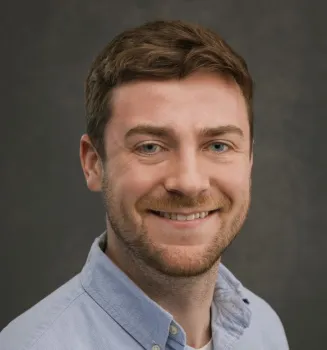 Joshua Hickman, pharmacy technician
Jan. 13, 2023 -- Over and over again, Joshua Hickman's co-workers point toward his willingness to help in whatever way he can. He's only been with Reid Health's pharmacy for two years, but in that time, he's made quite the impression.

"Josh embodies the term 'team player.' He will help in any way he can and will do it with enthusiasm and a smile," one person said. "Not only does he excel in his own position, but his versatility allows him to work in multiple areas of the department."

"Josh is the epitome of our Reid culture. He never hesitates to do whatever is asked of him. In fact, he does more than is asked," another co-worker said.
Reid's January Ambassador is a Richmond resident who graduated from Eaton High School, earned his bachelor's degree from Indiana University East, and is set to complete his master's degree from the University of Southern Indiana this year.
Hickman knew Reid was "a good place to work with a friendly community and a good place to grow personally as I move forward with my career."
"People are generally very kind, which makes it a great atmosphere to work in," he said.
A pharmacy technician, Hickman enjoys the flexibility offered by his role, giving him opportunities to help others throughout his department.
"I try to be the best version of myself every day in hopes of setting a Christlike example. I want to serve others as Jesus would," Hickman said.
When he's not working, Hickman enjoys running, hiking, and lifting weights as well as playing guitar, bass, and piano; writing songs; reading; and playing video games.
Also, "I love animals. All animals. No discrimination here," he said.
"Josh is always upbeat and willing to take the extra steps to find the answers and problem-solve any issues," a co-worker said.
"When I come in to work and I see him, I just know it's going to be a good day. He just makes me feel better knowing he's here," another co-worker said. "Thank you, Josh, for just being you! We need more Josh Hickmans in the world!"
"I try to be the best version of myself every day in hopes of setting a Christlike example. I want to serve others as Jesus would." -- Joshua Hickman