January Ambassador 'is a great team player'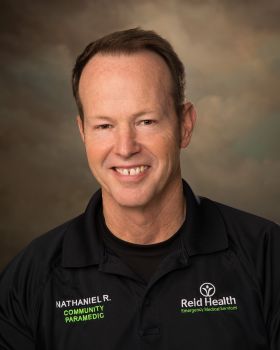 Nathaniel Robertson, community paramedic
The January Reid Health Ambassador is known for going above and beyond for patients and coworkers, jumping in to help in any way he can.
Community paramedic Nathaniel Robertson "is a great team player," according to one nominator, who "steps up to the plate for any challenge set before him."
"Every spare minute he has available after seeing his clients, he is out in the ER helping clean rooms, assisting with ambulances, answering call lights, organizing EMS equipment. The list goes on and on," another wrote.
Other nominators praised Robertson's compassion for his coworkers, visitors and patients.
"He does a great job in building relationships with patients, and when visiting them at their homes, it's like he's a part of their family," one said.
Robertson has served in the Continuum of Care Department for one year, coming to Reid after 29 years of service as a paramedic fire lieutenant with the City of Hamilton, Ohio. The Camden, Ohio, native now lives outside of Hamilton with his wife, Allene. The couple have two children, Erin Jones and Justin Robertson.
Besides attending First Southern Baptist Church in Camden, Robertson loves to travel and see new places. He also enjoys solving problems "because in my mind, I'm an inventor at heart."
"Reid is blessed with a great and hardworking staff, which is what makes any organization successful," he said.