Right
beside
you.
Is flu peaking? Numbers may be trending down at Reid Health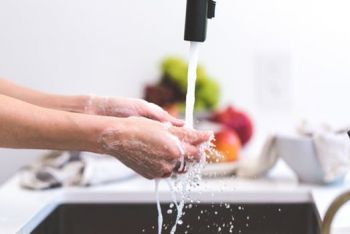 One of the best defense against flu or other infections is to wash your hands often.
Season seems less severe than last year's
Cross your fingers -- and wash your hands. This week may be marking the start of a decline in the annual flu season.
Kim Schneider, RN, Infection Control Preventionist at Reid Health, says the health system's statistics show a high of 244 cases last week after an increase that began trending upward near the end of February. So far this week, only 104 positives have been logged by Reid Health and the Reid Health Physician network.
"I would say this season is not as severe as last year," Schneider said, noting that at the same time last winter 1,678 patients had tested positive, compared to 1,161 this year.
There is more good news: Only 63 admissions have been related to flu compared to 176 during last year's season. "Last year, we were already on the downward trend at the end of February, while this year that's when we started seeing more cases – 183 the week of Feb. 24."
Don't let your guard down, however, she warned. "The flu bug is still out there. And practicing good infection prevention is important year round. People should remember to wash their hands often, stay home if you do get sick and use care when out and about at stores and restaurants."
Meanwhile, Schneider says besides the vaccine, the following tips are tried and true to reduce chances for the flu:
Wash your hands often
Avoid close contact with anyone who is sick
Cover your coughs and sneezes
Avoid touching your eyes, nose and mouth – this is how germs spread and get into your system
Clean and disinfect potential surfaces that could be contaminated such as grocery carts, and gas pumps
Carry hand sanitizer and use it after touching things like door handles and counters
"It is not too late to get your flu shot. With flu activity in the state still high and widespread, it could still help you," she said.
If you get sick, limit contact with others. The Centers for Disease Control recommends that you stay home for at least 24 hours after your fever is gone except to get medical care or for other necessities.
Also, if the doctor prescribes antivirals, be sure to take them.
If you show signs of the flu, depending on severity, consider a virtual urgent care visit using the Reid HealthNOW mobile app, see your family physician, or visit an urgent care to see if antiviral medication is appropriate.
(Watch video on proper handwashing HERE)