Right
beside
you.
'Gateway to Work' session for Indiana HIP participants Feb. 28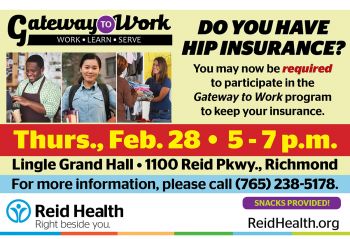 Do you have Healthy Indiana Plan (HIP) insurance? If so, you need to be aware of important changes for 2019 that could determine if you can keep your coverage.
HIP participants may be required to participate in "Gateway to Work," a new program designed to encourage or assist those in the plan to gain educational or work experience to be able to keep the coverage by working, attending school or volunteering.
Reid Health and Claim Aid are hosting the first of what will be a series of informational meetings about Gateway to Work from 5 to 7 p.m. Thursday, Feb. 28, in Lingle Grand Hall on the health system's main campus, 1100 Reid Parkway. ClaimAid works with Reid Health offering help with eligibility and signup for insurance and financial assistance programs.
The new work requirements for certain participants in HIP went into effect Jan. 1, but those affected don't have to meet requirements until July 1 and can't lose coverage until next year. Gateway to Work will require some to work part-time to be able to keep their insurance.
Sharrie Harlin, Reid Health Community Outreach Coordinator, said Reid Health is partnering with state and local agencies to offer information so that HIP participants are armed with all the information they need.
"We want to be sure to reach people about the changes and make sure no one loses their healthcare coverage," Harlin said. She said the requirements for those affected will involve working, volunteering or other activities for eventually up to 80 hours a month in 2020. She said most affected should have received a letter through the program with information.
On-hand for the information session will be representatives from the Indiana Family Social Services Administration (FSSA) to demonstrate how to log into the Gateway portal. A panel discussion will also be held with Reid Health Human Resources representatives, FSSA representatives, Ivy Tech and ClaimAid.
Other events will be announced in other area counties for March and April. Snacks will be provided.
For more information about Gateway to Work, call (765) 238-5178, or visit:
https://www.in.gov/fssa/gateway/
https://www.in.gov/fssa/hip/2592.htm