Right
beside
you.
Former governing board chair leads Reid Health through 'historic' times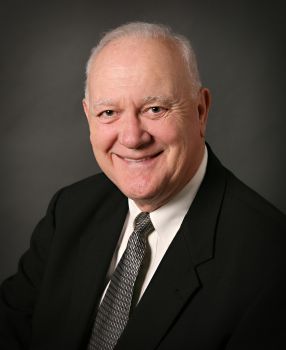 Jon Ford
When Jon Ford joined the Reid Health Board of Directors 35 years ago, the institution was much smaller and the challenges in health care were not nearly as complex as they are today.
Having recently stepped down from leading the board after 20 years as chairman, Ford said he's glad the health system has grown and remains financially sound -- despite unprecedented challenges. "When I joined the board, physicians were in private practices, there was no electronic medical record, paperwork demands were minimal and the business of health care was much easier to manage," he recalls.
Today, many smaller hospitals have been forced to close in the United States, buckling to financial pressures of regulation and declining reimbursements for care. Hospitals and health systems must also compete nationally to attract and keep providers who seek employment rather than going into business for themselves – which was behind the 2008 launch and exceptionally rapid growth of Reid Health Physician Associates (RHPA). "Hospitals must have physicians and today, they are not looking to run their own private practice. They are looking for the employment model -- and the competition is fierce. RHPA is an example of our administrators and board being proactive and competitive so we can be sure the communities we serve in the region have enough medical experts to care for them," Ford said.
Ford has led the board through the health system's rapid growth, changes in federal reimbursements from Medicare and Medicaid, the planning and building of a $330M replacement hospital campus, and the launch of RHPA. He's seen the health system grow since the early 1980s to become the region's largest employer, with more than triple the number of employees at over 3200.
"We have remained dedicated to our mission and ensuring the region has access to state-of-the-art facilities and the latest technology," Ford said. "And we've been able to make proactive changes and grow so the region we serve has a high quality health system."
Ford has served on the board since 1983 and as chairman since 1998. Craig Kinyon, Reid Health President/CEO, said Ford's leadership through major projects cannot be overstated.
"Jon Ford has led our organization's board through significant historic milestones, including the planning and building of our new campus and our phenomenal growth over the years," said Kinyon said. "And he's not done – he is willing and will continue to serve as a board member, which is a testament to his dedication and passion to continue serving his community as a part of Reid Health."
Tom Hilkert is the new Chairman of the Board of Directors. He has served on the board since 2002. A native of Lucerne, Indiana, Hilkert was an officer of a major multi-national manufacturing corporation prior to coming to the Richmond area in 1995. He was part owner and one of three directors of Hirsh Industries, parent company of M.E.G. – where he served as President until he retired in December 2016.
"Anyone who knows Jon Ford understands that I have 'very big shoes to fill.' I am grateful for this exciting and challenging opportunity to lead Reid Health's Board of Directors," Hilkert said. "Jon's long and remarkable dedication to Reid's mission, through his experienced and talented leadership, has truly enhanced the quality of healthcare in our region. While honoring Jon Ford's contributions, the board will ensure that Reid Health continues to provide high quality healthcare and wellness support that meets the broad needs of our community."
Hilkert said the board "is committed to Reid Health's efforts to recruit and retain the best physicians and support staff, providing them top-notch facilities, while maintaining financial stability. We know that keeping people healthy is the best way to reduce healthcare costs. The board applauds and encourages Reid Health's efforts to improve communication with patients, doctors, nurses, and all other healthcare professionals and support staff in the system."
He said Reid Health will soon be conducting an in-depth community health needs assessment to develop plans for better meeting our citizens' healthcare needs. We know that input from individuals and groups is vital to Reid's future. Building upon Jon Ford's legacy, that helped lead Reid Health through tremendous growth, the Board of Directors and I, with the support of nine strong sub-committees, are poised and eager to help continue to improve our regional communities' healthcare system, Reid Health."
Hilkert has a BS degree in mechanical engineering from Purdue University and an MBA certificate from Northern Illinois University. In addition to the Reid Health board, he serves on the Richmond Baking Company Advisory Board, the local Purdue University Advisory Board, and is past chair of the Wayne County Area Chamber of Commerce, and an Elder in his church.
Hilkert's wife, Chris, is also active in the community. She is a long-time member of the Boys & Girls Clubs of Wayne County board. They have two sons and four grandchildren.
Also joining the Reid Health Board of Directors in 2019 are Robin Henry, a Richmond businesswoman; and William Black, M.D., a physician with Reid Pediatric & Internal Medicine.
The Reid Health Board of Directors oversees operations of the health system and is made up of nearly 20 community members and business leaders.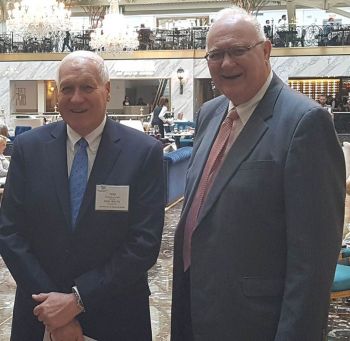 Tom Hilkert and Jon Ford on a trip to Washington D.C.