Right
beside
you.
December Ambassador known as a calming influence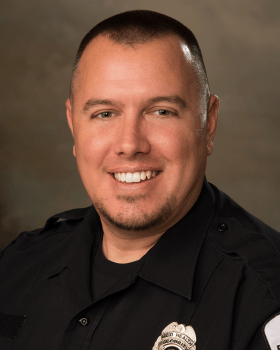 Dereck Tipton
The Reid Health December Ambassador is known as a calming influence, even in the sometimes stressful situations faced by the health system's Security team.
Dereck Tipton, a native and resident of Liberty, responds to every Security call with "a positive attitude, a calm demeanor and a smile on his face," wrote one nominator. Said another: "He is always smiling and courteous. He also remains very calm in high-stress events."

Other nominators said his "positivity is infectious," he illustrates "a kindness about him that makes everyone feel welcome and safe" and he has a gift for turning negatives into positives. "He is always willing to go the extra mile for his fellow employees, patients and visitors."

Others echoed the theme. "Dereck works very well with calming patients and visitors who are upset, and is very capable of handling situations that get out of control."

Tipton came to the Reid team two years ago after working about 10 years with Liberty utilities. He also has served for 18 years as a reserve deputy sheriff.

He and his wife, Courtney, have two teen-age sons - Mason, 16, and Gage, 14. When not at work, he loves golfing and camping. He also spends time with his son's activities, which include FFA, 4-H and sports.

"I really like the people I work with. We have a great team in Security," he said.