A few key reminders about COVID-19 testing and what should happen after the test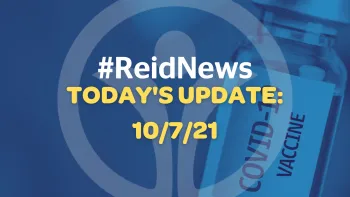 Oct. 7, 2021 -- With COVID-19 case counts still high, it's a good time to review what should happen when someone tests positive for the virus, especially considering some of the guidance from federal health officials has changed since the pandemic's early days thanks to the presence of vaccines.
I tested negative
A negative result likely means you don't have COVID-19, or at least you didn't at the time your sample was collected. You should consult your school/workplace policies to find out whether you can return to your normal schedule.
I tested positive
All those who test positive for COVID-19 -- whether fully vaccinated or not -- should isolate from others for at least 10 days from either their first day of symptoms or the day of their positive test, whichever was earlier.
The Indiana Department of Health's page on contact tracing says you can spread COVID-19 two days before you begin to have symptoms. Once you test positive, you should reach out to anyone you've been in close contact with so they can begin their quarantine. Close contact is defined as being within 6 feet for a total of 15 minutes or more over a 24-hour period.
If you don't have symptoms, you should reach out to any close contacts from the 48 hours before you were tested. If you do have symptoms, it's the 48 hours before you developed those symptoms.
I've been exposed to someone who tested positive
Anyone who is not fully vaccinated who has been in close contact with someone who has COVID-19 should quarantine for 14 days.
Those who are fully vaccinated -- anyone who has received both doses of a two-dose vaccine such as Pfizer or Moderna or the single-dose Johnson & Johnson vaccine -- do not need to quarantine after exposure unless the vaccinated person is symptomatic.
Fully vaccinated people should get tested 3-5 days after their exposure even if they don't have symptoms and wear a mask in public for 14 days after exposure or until they get a negative test result.
What should I be on the lookout for now that I've tested positive?
Those who have complications typically see them in the second week or about eight days after the onset of symptoms. Watch for worsening symptoms and don't delay contacting your primary care provider should they appear.
According to the CDC, if you have trouble breathing, persistent pain or pressure in your chest, new confusion, an inability to wake up or stay awake, or pale, gray, or blue-colored skin, lips, or nail beds, seek emergency medical care immediately. Call 911 or go to the nearest Emergency Room.
If you need to schedule a COVID-19 test or are looking for your results, call Reid Health's COVID hotline at (765) 965-4200. The hotline is available 8 a.m. to 8 p.m. seven days a week to help with testing and those who need clinical advice.
Today's COVID-19 stats
Patients in containment areas: 48
Number of those patients who are unvaccinated: 38 (79.2%)
COVID-19 patients in the ICU: 9
Number of those patients who are unvaccinated: 9 (100%)
COVID-19 patients on ventilators: 5
Number of those patients who are unvaccinated: 5 (100%)
Tests submitted since last update: 339
Lab-confirmed positives since last update: 32 (9.4% positivity rate)
Suspected COVID-19 admissions in the past 24 hours: 14
Unvaccinated, as defined by the CDC, includes anyone who either has not received a dose or has received only the first of a two-dose vaccine.
Reid Health serves an eight-county area, including Wayne, Randolph, Henry, Union, Fayette, and Franklin counties in Indiana and Darke and Preble counties in Ohio. The statistics above represent patients from throughout the service area.
Key reminders
You should never delay care. Previous surges have seen patients put off necessary care for emergent issues such as chest pain, stroke symptoms, appendicitis, and even symptoms of cancer. Delaying care can have life-altering consequences.
COVID-19 vaccines are FREE. They are safe. Make an informed decision by consulting sites such as the CDC and FDA.
Indiana residents can find vaccination sites and schedule an appointment by going to ourshot.in.gov. Ohio residents should use gettheshot.coronavirus.ohio.gov.
Before you come to a Reid Health site to see a loved one or accompany them to an appointment, be sure to check our latest visitor policy and screening procedures.
Surgical masks are required in all Reid Health facilities. Cloth masks are not acceptable. Reid will provide you with a surgical mask upon entry if needed.
Safe Pathways to Care: Learn more about COVID-19 and vaccinations