4 reasons why COVID-19 vaccination is better than relying on 'natural immunity' from infection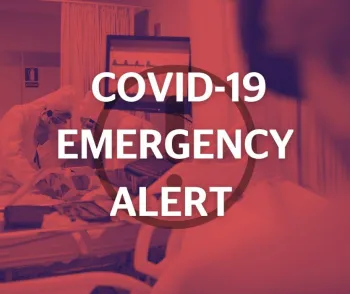 Jan. 25, 2022 -- One reason often cited for not getting vaccinated against COVID-19 is the belief that "natural immunity" gained from being infected with the virus is just as good -- if not better -- than the immunity created by the vaccines.
There are a few problems with that line of thinking, four in particular.
1.
You don't know if you'll have mild or severe illness
There's no way to know ahead of time how sick you might get if you become infected with the virus that causes COVID-19. Generalizations can be made about your risk based on factors such as your age or underlying health, but there's no guarantee such a generalization will be true for you in particular.
Throughout the pandemic, there have been many stories of those who believed they had nothing to fear from the virus only to find themselves hospitalized or worse when they became sick.
There's also no way to know whether you might have long-lasting side effects, which have come to be known as "long COVID." Those can include a loss of stamina, a loss of taste and smell, prolonged "brain fog," and more.
2. You don't know how long your immunity will last
According to the Centers for Disease Control and Prevention (CDC), the level of protection received from having COVID-19 can vary depending on how mild or severe the illness was, the time since infection, your age, and any underlying health conditions. There is no way to reliably determine if a person is currently protected from re-infection.
The vaccines create a more predictable immune response than infection, providing a high level of protection against severe illness.
There's evidence that shows getting a vaccine after you recover from COVID-19 boosts your immune system. According to one study, those who don't get vaccinated after their recovery from the virus are two times more likely to get the virus again when compared to those who were fully vaccinated after their recovery.
3.
Getting infected makes you another link in the chain of spread
When you become infected with the virus, you're contagious before symptoms begin to appear. That means even if you follow CDC isolation/quarantine guidelines, you still could spread the virus to others in the days before you realize you're sick.
Getting vaccinated not only protects yourself, it protects all those around you and all those around them, particularly anyone at increased risk for severe illness because of their age or a health condition such as cancer, a recent organ transplant, or something else that compromises their immune system.
4.
Every time the virus reproduces in the body, it has the chance to mutate and create a new variant
When viruses take over cells in our body, they use the cells' machinery to make more of the virus. That process isn't perfect. Copying mistakes are made, leading to mutations in the virus. Sometimes those changes end up being harmless. Other times they lead to the emergence of variants such as the Delta and Omicron versions that have created so much havoc since the fall.
The more the virus that causes COVID-19 spreads, the more likely it is another variant will emerge to cause new problems. Vaccination reduces the chances for the virus to spread.
The bottom line is this: Relying on "natural immunity" is a bad idea. The benefits from being vaccinated far outweigh the risks that come from infection.
Reid Health is giving out FREE primary doses and booster shots of the vaccines at Lingle Grand Hall on the lower level of Reid's main campus in Richmond. Hours there are 6 a.m. to 5 p.m. weekdays and 9 a.m. to 1 p.m. Saturdays.
You don't have to schedule an appointment or pre-register. Walk-ins are welcome, and there are no long wait times.
For those who would like to make an appointment, Indiana residents can find vaccination sites and schedule a time by going to ourshot.in.gov. Ohio residents should use gettheshot.coronavirus.ohio.gov. You may also call Reid's vaccine clinic directly at (765) 935-8484.
Today's COVID-19 stats
Patients in containment areas: 56

Number of those patients who are unvaccinated: 39 (69.6%)

COVID-19 patients in the ICU: 7

Number of those patients who are unvaccinated: 4 (57.1%)

COVID-19 patients on ventilators: 4

Number of those patients who are unvaccinated: 2 (50%)

Tests submitted since last update: 363

Lab-confirmed positives since last update: 65 (17.9% positivity rate)

Suspected COVID-19 admissions in the past 24 hours: 25
Unvaccinated, as defined by the CDC, includes anyone who either has not received a dose or has received only the first of a two-dose vaccine.
Reid Health serves an eight-county area, including Wayne, Randolph, Henry, Union, Fayette, and Franklin counties in Indiana and Darke and Preble counties in Ohio. The statistics above represent patients from throughout the service area.
Key reminders
You should never delay care. Previous surges have seen patients put off necessary care for emergent issues such as chest pain, stroke symptoms, appendicitis, and even symptoms of cancer. Delaying care can have life-altering consequences.
COVID-19 vaccines are FREE. They are safe. Make an informed decision by consulting sites such as the

CDC

and

FDA

.

Indiana residents can find vaccination sites and schedule an appointment by going to

ourshot.in.gov

. Ohio residents should use

gettheshot.coronavirus.ohio.gov

.

Reid's COVID-19 Hotline staff can assist with scheduling a test, receiving test results, and seeking clinical advice. The hotline is open seven days a week by calling (765) 965-4200. Hours are 8 a.m.-5 p.m.

If you need to be tested for COVID-19, Reid offers drive-thru testing at 1200 Chester Blvd. in Richmond and at 2025 Virginia Ave. in Connersville. Appointments are required at both sites. The Richmond location is open 8 a.m. to 4:30 p.m. daily while the Connersville location runs 10 a.m. to 3 p.m. Monday through Friday. To schedule an appointment, call Reid's COVID-19 Hotline.

Those with risk factors for severe COVID-19 illness

might qualify for an infusion of monoclonal antibodies

, a treatment designed to help your immune system fight viruses. The infusion works best when given within a few days of the start of symptoms and can be given regardless of whether you've been vaccinated. For more information, call Reid's COVID-19 Hotline.

Before you come to a Reid Health site to see a loved one or accompany them to an appointment, be sure to check our latest

visitor policy and screening procedures

.

Surgical masks are required in all Reid Health facilities. Cloth masks are not acceptable. Reid will provide you with a surgical mask upon entry if needed.
Safe Pathways to Care: Learn more about COVID-19 and vaccinations