2020 Rhoads winner known for excellent care, leadership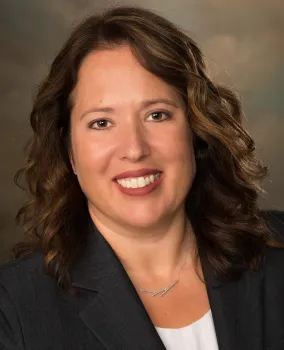 Jennifer Bales, M.D., 2020 Rhoads Honoree
The 2020 Paul S. Rhoads Humanity in Medicine Award winner played critical leadership roles during unprecedented times for the Reid Health system.
Jennifer Bales, M.D., emergency department (ED) board-certified physician and the 2019-2020 Chief of Staff, "was the right person in the right place at the right time," said Craig Kinyon, Reid Health President/CEO. Dr. Bales was announced as the 2020 Rhoads winner in a mostly virtual celebration Friday evening. Kinyon noted Dr. Bales' ability to continue to provide excellent bedside care while handling a leadership role at an unprecedented time for the health system.

Because of the pandemic, the annual event to honor the winner and welcome new physicians was limited for in-person attendance to the winner, a few of her guests and new physicians. Other attendees watched virtually as she was presented the award by Reid Health Governing Board Chair Tom Hilkert.

"On behalf of the Governing Board, I enthusiastically congratulate Dr. Bales for receiving this high honor. She is an exceptionally competent and compassionate physician, and the perfect choice for the 2020 Rhoads Humanity in Medicine Award," he said. "Dr. Bales is an energetic, inspirational and results-focused leader. She excels in providing and communicating her valuable insight for the Governing Board's decision making. Dr. Jennifer Bales is unquestionably a vital asset, not only for the board, but also for the entire Reid Health team and the communities we are privileged to serve."

Erica Kretchman, D.O., a peer and friend, cited Dr. Bales' ability to handle whatever may come her way. "As an ED physician, you have to be able to handle stress and take on any situation. You have to keep your cool, figure the situation out in the moment. She has the ability to be ready for whatever situation presents."

Others who work with her echoed the sentiment. "She leads by the motto that leaders go first," said Anna Osborn-Brown, Director of Emergency Services. Samuel Iden, M.D., Medical Director for Emergency Services, said he frequently gets compliments on Dr. Bales, "how she took time to sit down and go over results." William Black, M.D., said it simply: "She's an excellent physician. She gives really good care."

Kinyon said that aside from a "compelling set of nominations," Dr. Bales illustrated clear and strong leadership through two major events in the past year - the transition/opening of a new Reid Health emergency department in Connersville and the COVID-19 pandemic that hit the region in March and is expected to continue indefinitely. "And yet she still maintained her role as a full-time emergency physician who never let the stress of leading during a pandemic affect her ability to continue to provide excellent, compassionate bedside care."

"Dr. Bales really stands out for her leadership and her willingness to dive into big issues, like her work to improve physician resilience and develop activities and programs to reduce stress and retain caregivers," Kinyon said. ""She also took ownership of our response to the pandemic, working long hours, working with others to quickly develop policies and processes for handling patients, and still continued to provide excellent bedside emergency care."

Dr. Bales, a native of Lexington, KY, came to the area 15 years ago when she was recruited to the emergency department from the Indiana University Emergency Medicine Residency Program. She obtained her bachelor's degree in biology from Johns Hopkins University in 1998, and her Medical Degree from the University of Kentucky College of Medicine in 2002.

Rohit Bawa, M.D., Reid ENT and also chair of the Reid Health Physician Associates Network Operating Council, works directly with Dr. Bales in her various roles at Reid. "She is a very engaged contributor to the NOC, and has been an active Chief of Staff very often handling difficult issues. Her emergency medicine background and leadership skills have been critical to our successful response to the pandemic at Reid Health."

"I've wanted to be a doctor for as long as I can remember," Dr. Bales said. She chose emergency care to allow her to see a range of patients and ages, while at the same time making it possible to better balance her home life. She and her husband, Dwayne Phillips, have two children Jackson Bales and Mary "Katie" Phillips.

"I am honored and humbled to be added to what I consider to be a very distinguished list of physicians," she said of the award. "I can only pray that I can continue to display the attributes for which I was given the award. My passion is physician well-being, and I hope in the future I can help other physicians embrace the humanity in the practice of medicine and love it the way I do."

Besides leading as Reid Health's first female Chief of Staff, Dr. Bales has also been involved in extensive efforts to mentor, encourage and increase resilience for physicians. Helping them deal with the high stress of healthcare reduces burnout and increases the likelihood that caregiver will remain with the health system long-term.

Nominations for the award are solicited each year from patients, physicians and health care workers in honor of the late Paul S. Rhoads, M.D., who received the first award in 1983.

The Humanity in Medicine award and celebration, authorized as an annual event by Reid's governing board in 1983, honors the memory of Dr. Rhoads for his service to patients and medicine. He was the founding director of Reid's Medical Education Department, helped organize the hospice program and the Wayne County adult clinic for the indigent.

"I've wanted to be a doctor for as long as I can remember." -- Dr. Jennifer Bales