Right
beside
you.
'Rock Steady Boxing - Reid Health' fights Parkinson's symptoms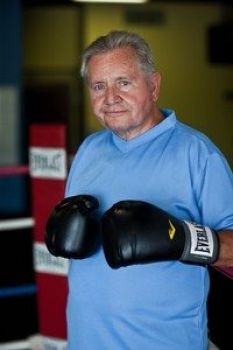 Richard Ross
When it comes to Parkinson's disease there's one thing you can't do: stop fighting. Richard Ross has taken his fight to a new level - by putting on boxing gloves.
It's part of a program at Reid Health called "Rock Steady Boxing -- Reid Health," a unique form of exercise that attacks Parkinson's at its vulnerable points. Classes focus on overall fitness with non-contact workouts that include ring work punching bags jump rope drills calisthenics and weight training.
Richard who lives in Cambridge City began taking classes in Indianapolis. "These classes have made such a difference in our lives already" said Richard's wife Linda. "We are thrilled that Reid is introducing the program to our community- everything the hospital does is a first-class operation."
Richard has been dealing with Parkinson's symptoms - tremors muscle rigidity memory loss and sleeping difficulties - for about four years. Physical therapy at Reid has helped him with his balance and stability. "A rehab therapist at Reid told us about Rock Steady Boxing and Richard was reluctant at first because he had never boxed before" said Linda. "But I felt like it could be just what we were looking for. I called that same day for an assessment."
So far Richard has made strides with his flexibility strength and confidence and he no longer shuffles his feet while walking. But the impact of these classes is more than physical Linda said. "Being around positive energetic people who are fighting back against Parkinson's has given us hope that we can too" she explained. "Richard has made new friends who are dealing with the disease and as a caregiver I have found the support of other caregivers too."
Thanks in large part to Rock Steady Boxing the Ross' are able to enjoy many of the activities that they always have such as doing landscaping projects at home and taking walks. She hopes that many community members will give Rock Steady a try. After all she said "you won't know until you come take a look."
For more information on Reid Rock Steady Boxing call (765) 983-3092.
---