Miraculous timing: New guidelines likely saved stroke patient's life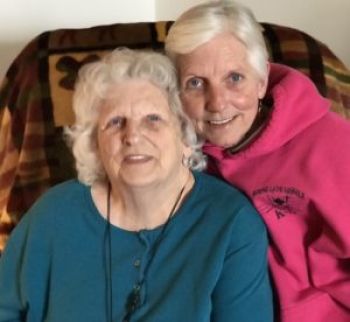 Jean Green left and daughter Pam McClurg. "She is looking better every day" Pam says.
Time is often the key to survival when someone suffers a stroke. For Jean Green timing was also a huge part of what she and her family say is a "miracle."
Consider: If the stroke Green suffered Feb. 2 had occurred less than two weeks earlier — before new national treatment guidelines were issued and quickly adopted at Reid – she would likely not have met the requirements for the life-saving treatment she received.
Also consider: If her cell phone had not been next to her on the bathroom counter she would not have been able to call her daughter right away. When the stroke began she says she wound up somehow being able to sit down in her bathroom with her right arm hanging by her side. "I tried to get my arm up. It just wouldn't move. I got the phone up enough to be able to call my daughter. All I could say is 'I can't move.' "
Of course her daughter Pam McClurg of Centerville immediately called 911 and rushed to her mother's apartment. The stroke apparently started sometime after 8 a.m. Within minutes Green was in an ambulance to Reid Health where she was quickly evaluated and determined to be a candidate for transfer to Indianapolis for a clot-removal procedure only done within a specific time frame. This time frame and other protocols had only recently been updated and announced in January by the American Heart Association/American Stroke Association based on the latest science and research.
"In Mrs. Green's case she arrived after the new guidelines were implemented" said Allison Swihart RN Reid Health's Stroke Coordinator. The stroke program had just sent a group of eight nurses and the Dr. Jordan Raynor Medical Director to the international stroke conference where the new guidelines were announced and released. Reid Health's team members from numerous stroke care areas had also been freshly trained for emergency stroke care as part of work to obtain a new stroke care certification.
"With the new guidelines just implemented we knew we could offer this treatment to her. The timing of her visit and the quick implementation of the new guidelines at Reid allowed for her to receive the most recent evidence-based care" Swihart noted.
And it worked really well for Green a really active 80-year-old grandmother and great-grandmother. "She's looking better and better every day" says McClurg who lives near her mom and who has spent a lot of time with her since her hospital stays.
A few weeks after the stroke Green has made a remarkable recovery. She doesn't remember much about her first helicopter ride or her four-day stay in Indianapolis — or the clot-removal procedure that saved her life and her body from severe damage.
She is still having rehab sessions and walks with a walker because her right side remains slightly weak. Otherwise there is little evidence that she suffered a major stroke that could have killed or disabled her had everything not fallen into place for her quick treatment.
In strokes "time is brain." With Green timing clearly played a role in many other ways. "It was kind of a miracle I guess."