Right
beside
you.
An "outstanding" joint replacement experience at Reid Orthopedics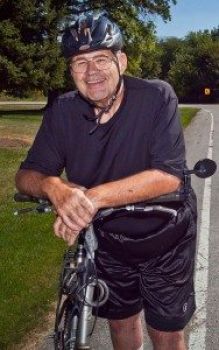 Ron Fansler
Ron Fansler can count his joint replacement surgeries on one hand—for now. In the last 15 years the Greenville resident has undergone joint replacement surgeries on both shoulders both knees and one hip.
Ron has severe degenerative arthritis throughout his body which has damaged his joints over the years. When it was time for his right hip joint to be replaced he didn't need to be told—the pain was unmistakable. His previous surgeries had taken place at a Dayton-area hospital but Ron wanted this one close to home. So he asked his cardiologist of 30 years Henry Chong M.D. for a referral. Dr. Chong a Reid physician gave him a list of several Reid orthopedic surgeons and Ron made an appointment with Mario Lee M.D.
Dr. Lee came into the exam room and his eyes went right to Ron's X-rays on the light board. The doctor's first words were 'oh wow.' "Sometimes a hip joint has deteriorated so much that surgery is the only solution" Dr. Lee explained. "In Ron's case I could tell that non-surgical treatments such as rehabilitation therapy or pain medication would not make a significant difference. He was going to need a brand new hip."
Ron agreed with Dr. Lee's assessment and underwent surgery at Reid Health in March 2015. He spent several days at the hospital's "Jazz Joint" (see box). There he participated in physical therapy with a group of other joint replacement patients; within four days he was practicing walking. "Everything about Reid was outstanding—the staff the facility itself the convenient parking and layout" he said. "Everyone at Reid was very knowledgeable professional and personable. … I was tickled to death with the entire experience."
Seven weeks after surgery this self-described outdoorsman was riding his bike—uphill—and taking long walks. Arthritis still causes significant pain in his back but the hip is pain free. "I'm hoping to avoid a sixth joint replacement" Ron said. "But if I do have to have one I'll know just where to go."
What is the "Jazz Joint"?
Patients who undergo joint replacement surgery at Reid spend a few days in the "Jazz Joint" an inpatient unit for orthopedic and spine surgery patients located on the hospital's fourth floor. This specially themed area celebrates the rich jazz heritage of Richmond and its energetic atmosphere reflects our team's passion for helping patients recover quickly from back neck hip and knee surgery. Our joint replacement program includes:
An informative pre-op class for patients and family members/coaches
DVD and online presentations that explain specific procedures
Group exercise/therapy sessions during the inpatient stay
Daily newsletters about what to expect during recovery
Educational wall displays answering the most frequently asked questions
A welcoming atmosphere for family members/coaches
Our team is committed to providing you with superior care—and we are achieving that goal! According to our 2013 patient satisfaction survey:
88% of patients are back to normal activities without pain six months after surgery
Our surgical complication rate is .3%—significantly lower than the national average
Our patient satisfaction scores are outstanding compared to hospitals nationwide
Questions about joint replacement surgery?
Just give us a call for the date and location of our next seminar at 888-935-RJSC (7572).